Archives

AND MORE...


Anatomy of Incompetence
_____________________


North Korea's Teletubby
____________________


North Korean Quickie
_____________________




Cruise To Paradise
____________________


N. Korea Orders People Home
____________________
May 14, 2015
Kooks With Nukes
South Korea's spy agency said on Wednesday that North Korean dictator Kim Jong Un executed his defense chief for falling asleep during a meeting and talking back to the young leader (see below).
The South Korean spy agency has a spotty record of tracking developments in North Korea, and information about the secretive, authoritarian state is often impossible to confirm. But reports like these about the North Korean regime's extreme brutality are not the first.
Led by a kook, known to his subjects as "the genius among the geniuses," North Korea also happens to have nukes. And it got those nukes despite having signed a 1994 nuclear agreement with the Clinton administration.
"This is a good deal for the U.S.," said then President Clinton. "The U.S. and international inspectors will carefully monitor North Korea to make sure it keeps its commitments."
Sound familiar? It should, as this is what President Obama and Secretary of State John Kerry are saying about the Iran nuclear deal.
With North Korea, it took only 12 years after signing the agreement for the regime to demonstrate its nuclear capabilities with its first underground nuclear test on October 9, 2006.
So why would an American administration today be so willing to sign a nuclear deal with another rogue regime of pathological liars, whom history has shown have zero intention of abiding by it. What's different today?
Basically nothing. As Ambassador John Bolton wrote in 2012, following the announcement of (another) "sham" agreement with North Korea:
"Iran, meanwhile, must be relishing this latest display of U.S. weakness and memory loss. Even as the acute threat of military force against Iran has been rising, Tehran sees with laser-sharp clarity that when the going gets tough, Team Obama gets negotiating." [Emphasis added]

So once again the West is preparing to capitulate to kooks with nukes, not only by lifting sanctions, but also by sweetening the deal with tens of billions of dollars. After all, giving Iran tens of billions in cash WON'T dramatically increase Iran's spending on terrorism and other nefarious activities, according to Treasury Secretary Jack Lew.
BTW, it's worth mentioning that Iran may already have nukes... tucked away in North Korea under the watchful eye of that "genius among geniuses," Dear Leader Kim Jong Un, but that shouldn't dissuade the West from signing a deal with it, eh?
FoxNews.com  |  May 13, 2015
North Korea Executes Defense Chief For Falling Asleep During Meeting, South Korea's Spy Agency Says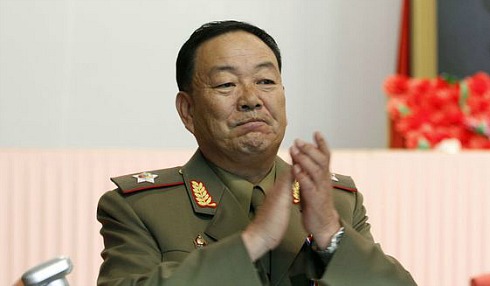 North Korea's Defense Chief, Hyon Yong Chol
South Korea's spy agency told the country's lawmakers Wednesday that North Korean dictator Kim Jong Un executed his defense chief for falling asleep during a meeting and talking back to the young leader.
Lawmaker Shin Kyoung-min says that officials from the National Intelligence Service told a closed-door parliamentary committee that People's Armed Forces Minister Hyon Yong Chol was killed by anti-aircraft gunfire with hundreds watching at a shooting range at Pyongyang's Kang Kon Military Academy in late April. Shin was one of the lawmakers who attended the briefing.
The office of another lawmaker, Lee Cheol Woo, released similar information about the NIS briefing.
The NIS didn't tell lawmakers how it got the information, saying only that it was from a variety of channels and that it believed it to be true, Shin said. The agency wouldn't comment when contacted by The Associated Press. South Korea's spy agency has a spotty record of tracking developments in North Korea. Information about the secretive, authoritarian state is often impossible to confirm.
U.S. State Department spokesman Jeff Rathke said Wednesday the U.S. can't confirm reporting of the execution of North Korean officials, but added that "these disturbing reports, if they are true, describe another extremely brutal act by the North Korean regime. These reports are sadly not the first."
Analyst Cheong Seong-chang at the private Sejong Institute think tank in South Korea questioned the authenticity of the report on Hyon's execution because the minister still frequently appears in state TV footage.
North Korea typically removes executed and purged officials from TV documentaries, but Hyon has appeared multiple times in a TV documentary on live fire drills between April 30 and May 11, according to Seoul's Unification Ministry. North Korea's state media hasn't mentioned Hyon since an April 29 report of his attendance of a music performance the previous day.
Hyon was named armed forces minister, the equivalent of South Korea's defense minister, in June of last year. He was made a vice marshal of the Korean People's Army in July 2012 before being demoted to a four-star general later that year, according to South Korea's Unification Ministry. Kim, the South Korean parliament's intelligence committee chief, said Hyon was the North Korean military's No. 2 after Hwang Pyong So, the top political officer at the Korean People's Army.
Since taking power upon the death of his dictator father in late 2011, Kim has orchestrated a series of purges in apparent efforts to bolster his grip on power. Analysts are split on whether the bloody power shifts indicate a young leader in firm control, or someone still struggling to establish himself. The most notable purge was in 2013 when Kim executed his uncle and chief deputy, Jang Song Thaek, for alleged treason.
Koh Yu-hwan, a North Korea expert at Dongguk University in Seoul, said Kim Jong Un appears to be using purges to keep the military old guard in check as they pose the only plausible threats to his rule. Koh said Kim could be resorting to a "reign of terror" to solidify his leadership but that would eventually have only a limited effect if he fails to produce breakthroughs in resolving the country's economic woes.
Last month, spy officials told lawmakers that North Korea executed 15 senior officials accused of challenging Kim's authority.
The Associated Press contributed to this report.
Original article here.
We welcome your comments, but please comply with our
Comment Rules.
You must be registered and logged in to leave a comment. Comments will display your Username and location.
Log In »
Notable Quotables

An ancient Mikveh (Jewish ritual bath) dated to the time of the second temple was unveiled in Jerusalem during archaeological excavating near the Western Wall. 

~  Michal Hever, Hebrew University. On Twitter.