Archives

AND MORE...


Anatomy of Incompetence
_____________________


The Groveling Continues
____________________


North Korea's Teletubby
____________________


Cell Phone Use A War Crime
____________________
March 16, 2012
North Korean Quickie
It took only two weeks for the Democratic People's Republic of Korea to violate the terms of the agreement over what Ambassador John Bolton has called the "umpteenth breakthrough toward the goal of denuclearizing North Korea."
At the time the State Department announced the agreement with much glee, as Secretary of State Hillary Clinton dubbed it a "modest first step." The rest of us simply looked on, willing the suspension of disbelief. The North Koreans, after all, have been playing these games for decades, so who could possibly believe anything they have to say today?!
Sure enough, never missing an opportunity to disappoint North Korea announced on Friday it would launch a long-range rocket next month (see below), making us look even bigger fools than we're already perceived as in the world today.
The Jerusalem Post | March 16, 2012
N. Korean Rocket Launch Plan Draws Condemnation
North Korea says rocket would carry "working" satellite; experts say launch is a long-range missile test.
By Reuters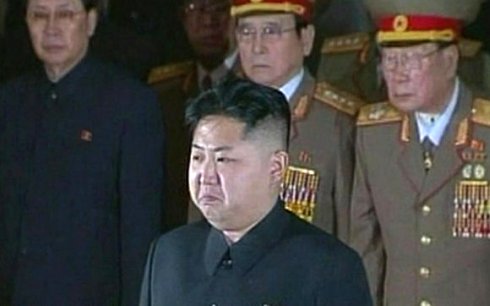 By REUTERS
SEOUL/WASHINGTON - North Korea said on Friday it will launch a long-range rocket carrying a "working" satellite to mark the centenary of founder Kim Il-sung's birth next month in a move that drew international condemnation and could scuttle US plans to resume food aid.
The United States warned North Korea that such a launch could violate Pyongyang's February agreement to stop nuclear tests, uranium enrichment and long-range missile launches and to allow checks by nuclear inspectors.
UN Secretary-General Ban Ki-moon, a former South Korean foreign minister, urged North Korea to comply with UN Security Council resolutions banning launches using ballistic missile technology.
Russia, South Korea, Japan, Britain, France and others also expressed concern. Russia's Foreign Ministry called for "maximum restraint from all sides," suggesting aggressive responses by North Korea's neighbors also would be ill-advised.
Experts said the launch was clearly another long-range missile test, and could be seen as an act of brinkmanship to pressure Washington into more talks in return for aid. Analysts said the launch also was aimed at boosting the communist country's new leadership.
US Secretary of State Hillary Clinton said the announcement was highly provocative and called on North Korea to honor its obligations including the UN Security Council resolutions banning ballistic missile launches.
"Such a missile launch would pose a threat to regional security and would also be inconsistent with North Korea's recent undertaking to refrain from long-range missile launches," she said in a statement.
The State Department said a launch could force the United States to halt plans for food aid that were announced alongside the nuclear deal and seen as a step to ease tensions following the December death of North Korean leader Kim Jong-il and the ascent of his young and untested heir, Kim Jong-un.
South Korea, still technically at war with the North after signing only an armistice to end the 1950-53 Korean War, and Japan said the ballistic launch threatened regional security.
North Korea pledged that next month's launch would not impact neighboring countries. Pyongyang has provided few details on the new satellite, but has said it will be a "working" satellite developed using indigenous technology.
The launch will take place between April 12-16, North Korea's official KCNA said. It is due to occur at around the time South Korea holds a parliamentary election, and just over three weeks after a global nuclear security summit in Seoul.
Original article here.
We welcome your comments, but please comply with our
Comment Rules.
You must be registered and logged in to leave a comment. Comments will display your Username and location.
Log In »
Notable Quotables

"Mr. Netanyahu is one of the most media-savvy politicians on the planet. On Friday he appeared live via video link on 'Real Time with Bill Maher,' taking the host's alternately sardonic and serious line of questioning with gazelle-like alacrity."

~  Anthony Grant, jourrnalist who has written for many major newspapers and worked in television at Paris and Tel Aviv, interviewing former PM Benjamin Netanyahu on Monday, at the outset of Mr. Netanyahu's new book (more here).