Archives
AND MORE...


"Pissing Away the War on Terror"
_____________________


Oh, Canada
_____________________


OUR Gutless Wonders
_____________________


Sanctions: The Farce
_____________________
January 27, 2012
Cell Phone Use A War Crime
No matter how much we hear about nutcase regimes like the one in N. Korea, it's still hard to believe that in the 21st century, they're allowed to roam free...
Telegraph.co.uk  |  January 26, 2012
North Korea Threatens To Punish Mobile-Phone Users As 'War Criminals'
North Korea has warned that any of its citizens caught trying to defect to China or using mobile phones during the 100-day mourning period for Kim Jong-il will be branded as "war criminals" and punished accordingly.
By Julian Ryall, Tokyo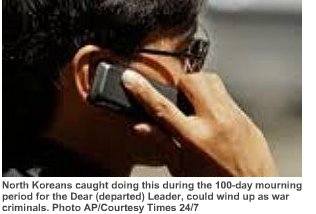 There are reports from within the isolated state that food supplies are again dwindling and that there has been an increase in the number of people attempting to cross the border into China. Many of those that do manage to cross the frontier eventually manage to reach South Korea, where an estimated 23,000 defectors have now settled.
The Workers' Party has issued the stern warning in an effort to deter more from attempting the already perilous journey, apparently in an effort to ensure the stability of the new regime of Kim Jong-un, who took over from his father, according to Good Friends, a South Korean relief group.
People who are caught attempting to flee the poverty and political oppression in the North, as well as those detained in China and sent back over the border, usually end up in the North's network of hard labour camps, human rights groups have reported, while repeat offenders can expect to be executed.
Kim Jong-il died on December 17 after suffering a heart attack that North Korean media has reported was brought on by overwork. He was 69.
The regime has been weakened by years of economic mismanagement and stagnation and there are apparently fears in Pyongyang that the death of Kim could trigger public unrest.
Any discontent would be encouraged by reports sent into the country by mobile phone about conditions outside North Korea, as well as coverage of the popular uprisings in the Middle East last year that toppled long-ruling dictators.
The Eurasia Group, the US-based research and consulting firm, has this week identified North Korea as the fifth-biggest threat to international stability in the world in 2012.
In a report, the firm said a "lack of information about events" in North Korea and its new leader is a risk that is being "severely underplayed."
Original article here.
We welcome your comments, but please comply with our
Comment Rules.
You must be registered and logged in to leave a comment. Comments will display your Username and location.
Log In »
Notable Quotables

"The Obama national-security team fell down on the job all too often, and now a veteran of that mess, Avril Haines, will be director of national intelligence. Joe Biden is likely to be a one-term president. He should embrace that and seize the opportunity to run some risks and take some chances. Instead, it's another installment of Night of the Living Dead Democrats."

~ Kevin D. Williamson, writer and journalist, in his piece entitled "Joe Biden cabinet picks are setting presidency up to be 'Swamp Things 2'" (more here).