Archives
AND MORE...


Groveling Is Not A Strategy
_____________________


Cell Phone Use A War Crime
____________________


Syria Using Human Shields On Tanks
____________________


Calling On Joe Wilson, 4th
____________________
February 13, 2012
The Groveling Continues
A U.S. envoy will meet with North Korean officials next week to "test" N. Korea's willingness to abandon its nuclear program (see article below).
Nothing like doing the same thing over and over and expecting different results, i.e., the definition of insanity, and U.S. foreign policy today.
Who can forget the last U.S. administration that believed in testing (i.e., wooing) nutcase regimes and their looney-toon leaders? That was the Clinton administration and the result was that North Korea got nukes, and America got warm & fuzzy memories like this: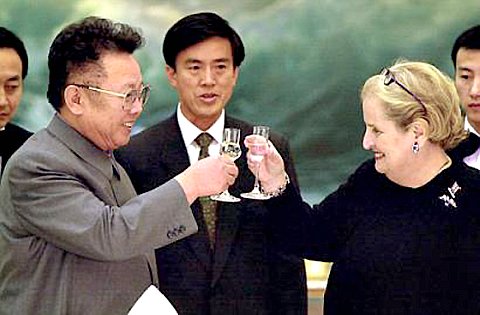 Popping champagne corks: North Korea's "Dear Leader" Kim Jong Il, and US Secretary
of State Madeline Albright in Pyongyang on Oct. 24, 2000.
CNN | February 13, 2012
U.S. To Hold First Talks With N. Korea Since Kim Jong Il's Death
By Elise Labott, CNN Senior State Department Producer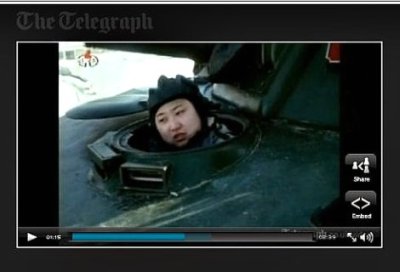 Celebrating his birthday on January 8th, Kim Jong-un, the new leader of
North Korea, marked the occasion by driving a tank and showing off his
military prowess. Photo: telegraph.co.uk
Washington (CNN) -- A U.S. envoy will meet with North Korean officials next week to test that nation's willingness to abandon its nuclear program, the State Department said Monday.
Special Representative for North Korea Policy Glyn Davies will meet with his counterpart, North Korean First Vice Foreign Minister Kim Kye Gwan, in Beijing on February 23, State Department spokeswoman Victoria Nuland told reporters.
Davies just returned from Russia, where he discussed continuing efforts to get North Korea to disarm.
The talks will mark the first high-level contact since the death of North Korea's longtime leader, Kim Jong Il, in December and the subsequent transition of power to his youngest son, Kim Jong Un.
Washington hopes the talks signal the new regime's desire to negotiate with the United States and address international concerns over its nuclear program.
Kim's death last month threw into flux U.S. plans for renewed diplomacy with North Korea, including formal talks on ending Pyongyang's nuclear program and possible resumption of U.S. food assistance.
The North Korea government was expected to suspend its uranium enrichment in exchange for food assistance as part of a deal that was to be announced around the time of Kim's death.
Original article here.
We welcome your comments, but please comply with our
Comment Rules.
You must be registered and logged in to leave a comment. Comments will display your Username and location.
Log In »
Notable Quotables

"Joe Biden isn't leading from behind. Joe Biden is sleeping from behind. This year has been one embarrassment after another. Russian hacks. Chinese threats. Iranian missiles. And twenty years after September 11th, Afghanistan is back in the hands of the Taliban."

~  Former U.N. Ambassador Nikki Haley tweeting Monday afternoon (more here).