Archives

AND MORE...


Deal To Release Taliban Leaders
____________________


Top Threat of 2012
____________________


I-n-d-e-f-e-n-s-i-b-l-e
____________________


Shameful Chapter In American History
____________________
January 8, 2012
North Korea's Teletubby
Behold below North Korea's new "genius among the geniuses," as he shows off his "military prowess" on his [fill in the blank] birthday.
This is the guy whose finger is on North Korea's nuclear button. The same genius among geniuses, who our deep-thinkers at the State Department will no doubt have difficulty outsmarting...
Telegraph.co.uk  |  January 8, 2012
Kim Jong-Un Celebrates Birthday By Driving A Tank

Kim Jong-un, the new leader of North Korea, may have celebrated his birthday on Sunday, but such is the secrecy surrounding him, no one is sure whether he turned 28, 29 or 30 years old.
By Malcolm Moore, Shanghai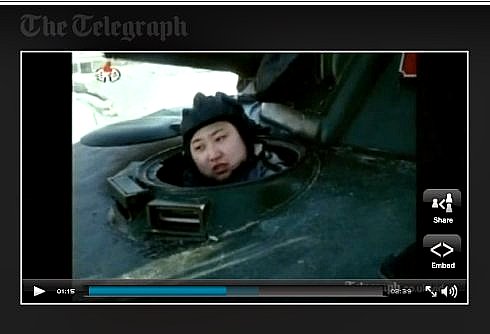 Snapshot: YouTube
If it was his birthday, he marked the occasion by driving a tank and showing off his military prowess.
South Korean intelligence experts believe the younger Kim, who succeeded his father, Kim Jong-il, as North Korea's "Supreme Commander" just before Christmas, was born on January 8.
The date was pinpointed using testimonies from Kenji Fujimoto, a Japanese chef who worked for the Kim family, North Korean defectors and Kim's childhood friends at the Liebefeld school in Bern, Switzerland, where he briefly studied as a teenager.
However there were few signs of celebration yesterday in Pyongyang.
North Korea used to treat the birthdays of Kim's father and grandfather as national holidays, throwing extravagant festivals and handing out presents to the public.
But there were no special events to mark the youngest Kim's birthday, which was also not marked in public calendars, which would have been printed before his elevation.
At the Kaesong Industrial park, a complex on the border between North and South Korea where some 48,000 North Koreans work, a normal weekend shift took place.
Yang Moo-jin, an expert at the University of North Korean Studies in Seoul, told the Korea Times newspaper that the date might not have been celebrated because "Kim's grip on power is not firm yet". He added, however, that North Korea may still be in mourning for Kim Jong-il, making a celebration inappropriate.
However, the new leader was praised in a documentary on North Korean television on Sunday as "the genius among the geniuses" in military strategy. The programme showed him driving a tank and giving orders to artillery, naval and air force troops. Other images showed him observing fighter jets and firing exercises, as well as posing for photographs with soldiers.
It added that he wrote his first thesis on military strategy at the age of 16 and was the "spitting image" of his father and grandfather.
"The respected comrade Kim Jong-Un is perfectly versed in all military strategies and [ ...] displays excellent military leadership," said the film, over images of soldiers jumping in joy at seeing Kim on field trips.
The film also said the younger Kim had been present in April 2009 when the North staged an intercontinental ballistic missile launch.
Original article here.


We welcome your comments, but please comply with our
Comment Rules.
You must be registered and logged in to leave a comment. Comments will display your Username and location.
Log In »
Notable Quotables

An ancient Mikveh (Jewish ritual bath) dated to the time of the second temple was unveiled in Jerusalem during archaeological excavating near the Western Wall. 

~  Michal Hever, Hebrew University. On Twitter.