Archives
AND MORE...


North Korea's Teletubby
_____________________


Cell Phone Use A War Crime
_____________________


The Groveling Continues
_____________________


Iran Outfitting Planes For Suicide Runs
_____________________
February 15, 2012
N. Korea Orders People Home
Oh yes, next week's State Department meeting with North Korean officials to "test" their willingness to abandon their nuclear program, is going to be a huge success.
Washington is hoping the talks signal the new regime's desire to negotiate with the U.S. and address international concerns over its nuclear program. Except judging from the item below, Junior & co. are going to be just as narcissistic and looney-toon as Dear Departed Leader and his regime.
Let's hope the US doesn't get suckered in like it did last time, when Maddy Not-Too Albright was photographed clinking champagne glasses with ronery departed Kim Jong Il.
Chosun.com  |  February 15, 1012
N. Korea Orders People Home for Kim Jong-il's Birthday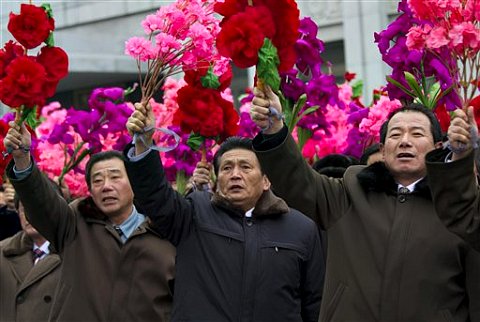 North Koreans cheer during the unveiling of new bronze statue depicting the late leader
Kim Jong Il and his father Kim Il Sung at Mansudae Art Studio in Pyongyang Tuesday, Feb. 14, 2012. As North Koreans prepare for what would have been the 70th birthday of late
leader Kim Jong Il this week, the country's state media have gone to great lengths to build
up the man who led the nation for 17 years until his death in December. David Guttenfelder / AP

North Korea has apparently ordered people studying or working abroad to return home by Thursday to mark the birthday of dead leader Kim Jong-il. The Daily NK, a website specializing in news about the isolated country, on Tuesday said the regime told North Koreans in China to come back.
The Daily NK quoted a North Korean working in Shenyang, China as saying, "Some North Koreans including students in China have already headed home. Those who can't afford to go back plan at least to send gifts or flowers."
According to the worker, the North is now ordering people home because fewer people than expected came back to attend Kim's funeral late last year. The regime is apparently giving North Koreans abroad one more chance to demonstrate their allegiance, promising to waive any punishment for failing to come back for Kim's funeral and pledging not to confiscate their belongings.
But experts believe the North is trying to collect cash from expatriates. The North Korean worker in Shenyang told the Daily NK, "Because it isn't clear whether the order came from the Worker's Party or from Kim Jong-un, high-ranking officials in Pyongyang may be trying to pad their pockets by recalling students and workers living overseas."
Original article here.
We welcome your comments, but please comply with our
Comment Rules.
You must be registered and logged in to leave a comment. Comments will display your Username and location.
Log In »
Notable Quotables

"The Obama national-security team fell down on the job all too often, and now a veteran of that mess, Avril Haines, will be director of national intelligence. Joe Biden is likely to be a one-term president. He should embrace that and seize the opportunity to run some risks and take some chances. Instead, it's another installment of Night of the Living Dead Democrats."

~ Kevin D. Williamson, writer and journalist, in his piece entitled "Joe Biden cabinet picks are setting presidency up to be 'Swamp Things 2'" (more here).