Archives
AND MORE...


Holy Nukes
_____________________


Ayatollah Hitler
_____________________


Iran Outfitting Planes For Suicide Runs
_____________________


WH More Worried About Israel Than Nuclear Iran
_____________________
February 14, 2012
Yes, You Can!
"Could there be a clearer example of 'leading from behind' than this?" (see below).
The world today is being held hostage by the prospect of a nuclear Iran. Imagine what it will look like when that prospect becomes a reality.
"Leading from behind" is the role of a horse's ass. Is it now also America's new role in the world?
CommentaryMagazine.com | February 13, 2012
What Obama's Reelection Would Mean for Iran's Nuclear Program
By Alana Goodman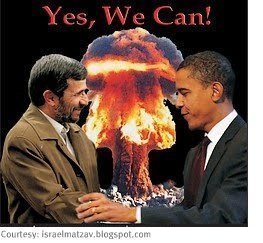 Newsweek has a must-read today on the cooperation between the U.S. and Israel on halting Iran's nuclear program. The detail getting the most attention is the Obama administration's decision to keep crucial intelligence from Israel regarding the locations of nuclear scientists. But the lack of intelligence-sharing goes both ways – Israel is also staying mum about when it will strike Iran, if it decides to take that course.
The reason for the silence seems to be a breakdown of trust between the Israeli government and the Obama administration. While the U.S. has the capability to attack the program after it goes fully underground, Israel's window of time for carrying out a successful attack is much shorter. And the Israelis have reason to doubt Obama would take military action if he wins reelection, Newsweek reports:
One former Israeli official tells Newsweek he heard this explanation directly from Defense Minister Ehud Barak. "If Israel will miss its last opportunity [to attack], then we will have to lean only on the United States, and if the United States decides not to attack, then we will face an Iran with a bomb," says the former Israeli official. This source says that Israel has asked Obama for assurances that if sanctions fail, he will use force against Iran. Obama's refusal to provide that assurance has helped shape Israel's posture: a refusal to promise restraint, or even to give the United States advance notice.
Could there be a clearer example of "leading from behind" than this? A nuclear Iran is perhaps the biggest threat the world currently faces, and yet Obama can't provide reassurances he'll take military action if necessary – knowing this will lay the brunt of the responsibility on Israel.
Original article here.
We welcome your comments, but please comply with our
Comment Rules.
You must be registered and logged in to leave a comment. Comments will display your Username and location.
Log In »
Notable Quotables

"The Obama national-security team fell down on the job all too often, and now a veteran of that mess, Avril Haines, will be director of national intelligence. Joe Biden is likely to be a one-term president. He should embrace that and seize the opportunity to run some risks and take some chances. Instead, it's another installment of Night of the Living Dead Democrats."

~ Kevin D. Williamson, writer and journalist, in his piece entitled "Joe Biden cabinet picks are setting presidency up to be 'Swamp Things 2'" (more here).