Archives
AND MORE...


Beware of Fishermen Bearing Gifts
_____________________


Waiting for Godot
_____________________


Ayatollah Hitler
_____________________


WH More Worried About Israel Than Nuclear Iran
_____________________
February 12, 2012
Iran Outfitting Planes For Suicide Runs
Iran has been outfitting its small, fast patrol aircraft in the Strait of Hormuz with large warheads for suicide runs at U.S. vessels (see below).
And the Obama administration is waiting for....... WHAT to happen?!
Newsmax | February 12, 2012
U.S. Naval Commander: We'll Stop Iran From Mining Hormuz Strait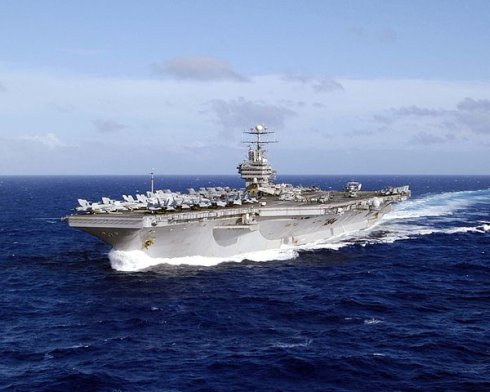 USS Abraham Lincoln Photo: wikipedia

Iran has increased the number of small, fast patrol aircraft in the strategically important Strait of Hormuz, some of which have been outfitted with a large warhead for a suicide run at U.S. vessels, the U.S. Navy's top Gulf commander said.
It also has boosted the number of coastal-defense cruise missiles along the Strait and invested to make them mobile.
"They have a capability, and we take that capability very seriously and are prepared for it," said Vice Admiral Mark Fox, commander of the U.S. 5th Fleet.
The U.S. Navy would move to stop any Iranian attempt to lay mines in the Strait of Hormuz or Persian Gulf as an "act of war" the international community wouldn't tolerate, Fox said. More here...
We welcome your comments, but please comply with our
Comment Rules.
You must be registered and logged in to leave a comment. Comments will display your Username and location.
Log In »
Notable Quotables

"Don't threaten us with cutting off your aid. It will not work. I am not a Jew with trembling knees. I am a proud Jew with 3,700 years of civilized history. Nobody came to our aid when we were dying in the gas chambers and ovens. Nobody came to our aid when we were striving to create our country. We paid for it. We fought for it. We died for it. We will stand by our principles. We will defend them. And, when necessary, we will die for them again, with or without your aid."

~  Israeli PM Menachem Begin, in June 1982 at height of Lebanon War, responding to then Senator Joe Biden in front of Senate Foreign Relations Committee, after Biden had attacked Israeli settlements in Judea and Samaria and threatened to cut economic aid to Israel (more here).