Archives
AND MORE...


Chaos In Egypt
_____________________


WH More Worried About Israel Than Nuclear Iran
_____________________


OUR Gutless Wonders
_____________________


Murderous Vote
_____________________
February 8, 2012
Waiting for Godot
As the Syrian regime enters the 11th month of genocide against its citizens; Egypt is in free fall as the Muslim Brotherhood and Egyptian military duke it out for control of the country, and holds American citizens hostage (including Sam LaHood, son of Sec of Transportation Ray LaHood); and chaos and upheaval reign supreme throughout the Arab world, what is the so-called "international community" (including the U.S.) doing?
Massaging their chairs at the UN, and playing Truth or Dare in the UN Security Council;
Issuing histrionic/bombastic statements like, "The United States is disgusted…" (US Ambassador Susan Rice, after UNSC resolution calling for Syrian President Bashar Assad to step down was vetoed by China and Russia);
Sending an assembly line of U.S. emissaries, including U.S. Sec of Defense Leon Panetta to Israel, to warn the Israelis (no less) about taking action against Iran's nuclear build-up;
The leader of the free world and Commander-in-Chief of the world's only superpower, President Obama, is in full campaign mode and making moronic statements like:
º Diplomacy remains the "preferred solution" to resolving the [Iranian] standoff. [Apparently, the Iranians don't agree with you, Mr. President!]
º "We're not taking any options off the table. I've been very clear that we're going to do everything we can to prevent Iran from getting a nuclear weapon and creating an arms race, a nuclear arms race, in a volatile region." [That perfunctory statement is getting old, Mr. President.]
º The U.S. is working in lockstep with Israel to solve the crisis, hopefully diplomatically. [Looks like Mr. Obama considers the dispatch of U.S. diplomats to Israel to warn the Israelis against taking any action, as "working in lockstep" with Israel.]
So while all this is happening, what is the so-called "international community" doing? Why, they're gathering gas masks and formulating evacuation plans for their citizens in case of a missile attack on Israel (see below).
Behold the gutless "international community," in all its impotence. May G-d help any nation that waits for the international community to come to its aid.
Ynetnews.com | February 8, 2012
Israel Embassies Preparing For Iran Strike?
Diplomats stationed in Israel request gas masks, prepare contingency plans in case of missile attacks; envoys fear that thousands of dual-citizenship Israelis will seek evacuation
By Itamar Eichner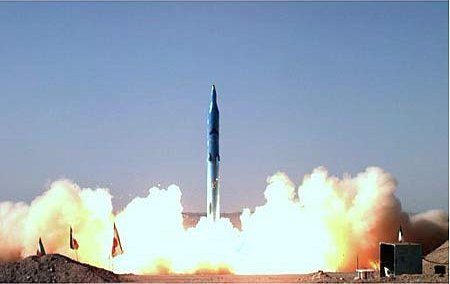 Iranian missile (Archives) Photo: AFP
Preparing for Iran strike? Foreign embassies in Israel have recently started to formulate contingency plans to evacuate their citizens from the Jewish State in case of a missile attack on Israel.
Senior officials in Jerusalem said that several diplomatic missions have shown great interest in preparing for various emergency situations, Yedioth Ahronoth reported Tuesday.
In the framework of the preparations for possible fallout in case of an Israeli strike on Iran, foreign diplomats stationed in Israel requested that the Foreign Ministry equip them and their family members with gas masks.
Meanwhile, the Foreign Ministry has provided foreign embassies in Israel with a list of public bomb shelters across the country, as well as an instructional pamphlet in English produced by the IDF Home Front Command.
Diplomatic officials deployed in Israel are particularly concerned about the possibility of a missile offensive on the Jewish State that would prompt thousands of Israeli citizens with foreign passports to seek evacuation from country.
A senior European diplomat said that in such case, the European Union does not have the means to undertake a massive evacuation operation within a short period of time.
Meanwhile, the Home Front Command is preparing to launch a two-day drill in the southern Israeli city of Ashkelon on Wednesday. IDF forces, firefighters, police officers and Magen David Adom emergency services will be taking part in the exercise.
Army officials said that heavy military and emergency vehicle traffic is expected in the city's Shimshon neighborhood during the day. The drill marks the latest in a series of Home Front exercises held in Israel in recent months.
The Air Force will also be holding major maneuvers Wednesday, in the northern Israel Galilee region.
Maor Buchnik contributed to the report.
Original article here.
We welcome your comments, but please comply with our
Comment Rules.
You must be registered and logged in to leave a comment. Comments will display your Username and location.
Log In »
Notable Quotables

"Joe Biden isn't leading from behind. Joe Biden is sleeping from behind. This year has been one embarrassment after another. Russian hacks. Chinese threats. Iranian missiles. And twenty years after September 11th, Afghanistan is back in the hands of the Taliban."

~  Former U.N. Ambassador Nikki Haley tweeting Monday afternoon (more here).