Archives
AND MORE...


OUR Gutless Wonders
_____________________


Sanctions: The Farce
_____________________


3 Days of Venom at UPenn
_____________________


Beware of Fishermen Bearing Gifts
_____________________
February 4, 2012
Murderous Vote
U.S. President Barack Obama denounced the "unspeakable assault" on Homs (in Syria), demanded that Syrian President Bashar Assad leave power immediately, and called for U.N. action against Assad's "relentless brutality." Is this the same Assad that the Obama administration not too long ago referred to as a true reformer?
Shortly thereafter, Russia and China vetoed a UN Security Council resolution calling for the murderous Assad to resign (see below). Anyone surprised that NOTHING meaningful can get done at the U.N.?
The US reacts with "disgust" that Council members thwarted international action to stop 11 months of violence. Anyone surprised the U.S. carries little sway today at the UN? Or that no one in the world gives a damn about U.S. "disgust" or whatever President Obama calls for?
The Jerusalem Post  |  February 4, 2012
US 'Disgusted' At Russia, China UNSC Veto On Syria
By Oren Kessler and Reuters
Further bloodshed "will be on your hands," Washington's UN envoy warns; Obama decries "unspeakable" violence.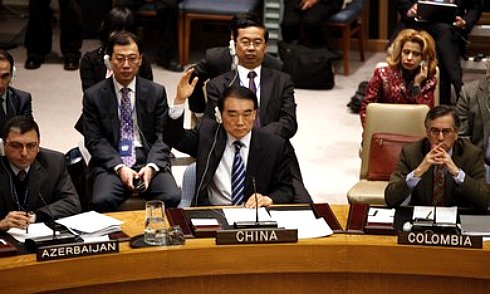 By Reuters/Allison Joyce

Russia and China vetoed a UN Security Council resolution on Saturday calling for Syrian President Bashar Assad to resign, prompting the US delegate to react with "disgust" that the permanent council members had thwarted international action to stop 11 months of violence.
"The United States is disgusted that a couple of members of this council continue to prevent us from fulfilling our sole purpose," US Ambassador Susan Rice said.
"For months, this council has been held hostage by a couple of members" that have been "delaying and stripping bare any text to force Assad to stop his actions," she said The vetoes were "even more shameful" given that Russia has continued to sell weapons to Damascus, Rice said. In language far more aggressive than Washington had yet employed, she called the vetoes "unforgivable" and said "any further blood that flows will be on their hands."
The setback in diplomatic efforts came after world leaders and Syrian opposition activists accused Assad's forces of killing hundreds of people in a bombardment of the city of Homs on Friday, the bloodiest night in the nearly year-long uprising.
Shortly before the Security Council vote, US President Barack Obama denounced the "unspeakable assault" on Homs, demanded that Assad leave power immediately and called for UN action against his "relentless brutality."
"Yesterday, the Syrian government murdered hundreds of Syrian citizens, including women and children, in Homs through shelling and other indiscriminate violence, and Syrian forces continue to prevent hundreds of injured civilians from seeking medical help," Obama said.
"Any government that brutalizes and massacres its people does not deserve to govern."
Obama, along with other Western and Arab leaders, put unprecedented pressure on Assad's veto-wielding ally Russia to allow the Security Council to pass a resolution backing an Arab League call for Assad to transfer powers to a deputy.
Apart from Russia and China, the other 13 Security Council members voted in favor of the resolution, which said that the council "fully supports" an Arab League plan for a peaceful transition in the country.
US Secretary of State Hillary Clinton said Saturday it had not been possible to work constructively with Russia ahead of the vote, even though military intervention in Syria – fiercely opposed by Moscow – had been absolutely ruled out.
"I thought that there might be some ways to bridge, even at this last moment, a few of the concerns that the Russians had. I offered to work in a constructive manner to do so. That has not been possible," she told reporters at the Munich Security Conference.
"If we do not begin the process, I know what will happen: more bloodshed, increasing resistance by those whose families are being killed and whose homes are being bombed and a greater likelihood that Syria will descend into civil war."
Clinton told the conference, "As a tyrant in Damascus brutalizes his own people, America and Europe stand shoulder to shoulder. We are united, alongside the Arab League, in demanding an end to the bloodshed and a democratic future for Syria."
Russia has balked at any Security Council language that would open the door to regime change in Syria, a rare Middle East ally where Moscow operates a naval base and sells billions of dollars in advanced weapons.
Diplomats said China had been expected to follow Russia's lead. Russia's decision to vote against the resolution came after US and European officials rejected a series of Russian amendments to the draft resolution.
Moscow said before the vote that the resolution was not "hopeless," but its wording needed to be altered to avoid "taking sides in a civil war." Russian Foreign Minister Sergei Lavrov said it was still possible to reach a consensus, but Rice said amendments that Russia had proposed were "unacceptable."
After what US officials called "vigorous" talks between Clinton and Lavrov, Moscow announced that its foreign minister would fly to Syria in three days to meet Assad.
Muhammad Loulichki, the UN ambassador of Morocco, the sole Arab member of the 15- nation council, voiced "great regret and disappointment" that Moscow and Beijing joined forces to strike down the resolution.
French Ambassador Gerard Araud told the council, "It is a sad day for this council, a sad day for all Syrians, and a sad day for democracy," while French Foreign Minister Alain Juppé said, "The Syrian authorities have jumped a new hurdle in savagery: The massacre in Homs is a crime against humanity and those responsible will have to answer for it."
In remarks aimed at Moscow, Juppé said any country that blocked UN action would bear a "heavy responsibility in history."
Syria's erstwhile allies have one by one peeled away. Turkey said hundreds had been killed and the United Nations must act. Turkish Foreign Minister Ahmet Davutoglu said, "If the Syrian administration is given the understanding that the current situation of hundreds of people dying daily can continue and the UN will not take a stance against it, the atmosphere of clashes will increase more."
Tunisia announced it was expelling the Syrian ambassador and revoking recognition of Assad's government, and the head of a committee of parliamentarians from Arab states said Arab countries should expel Syrian ambassadors and cut ties.
Original article here.
We welcome your comments, but please comply with our
Comment Rules.
You must be registered and logged in to leave a comment. Comments will display your Username and location.
Log In »
Notable Quotables

"Mr. Netanyahu is one of the most media-savvy politicians on the planet. On Friday he appeared live via video link on 'Real Time with Bill Maher,' taking the host's alternately sardonic and serious line of questioning with gazelle-like alacrity."

~  Anthony Grant, jourrnalist who has written for many major newspapers and worked in television at Paris and Tel Aviv, interviewing former PM Benjamin Netanyahu on Monday, at the outset of Mr. Netanyahu's new book (more here).