Archives
AND MORE...


The Groveling Continues
_____________________


Just Another "Business" Arrangement
_____________________


Yes, You Can!
_____________________


FBI Warns Of New Threat
_____________________

February 14, 2012
Big Mullah Is Watching...
In anticipation of parliamentary elections on March 2, the Iranian government has instituted an Internet blockade (see below).
"We have never considered Google as appropriate to serve Iranian users, because Google is at the service of the CIA," said Mohammad Reza Aghamiri, a member of the Iranian government's Internet filtering committee.
Internet filtering committee?! Such a civilized bunch, those Mullahs....
Reuters | February 14, 2012
Internet In Iran Severely Disrupted As Elections Loom
By Marcus George, Dubai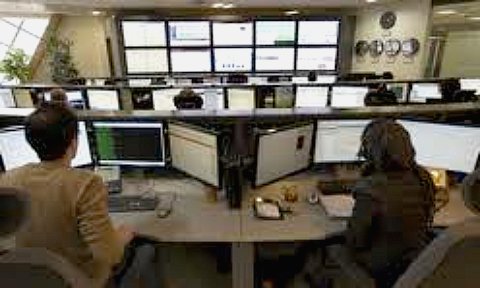 Control room of Internet provider in Iran Photo: Caren Firouz / Reuters
(Reuters) - Millions of Iranians have suffered serious disruption recently in accessing email and Internet social networking sites, raising concerns authorities are stepping up censorship of opposition supporters ahead of parliamentary elections next month.
Iranians have grappled with increased obstacles to using the Internet since opposition supporters used social networking sites to organize widespread protests after the disputed 2009 re-election of President Mahmoud Ahmadinejad.
The country is preparing to hold parliamentary elections on March 2, the first time Iranians will go to the polls since President Ahmadinejad's disputed re-election. The government denied any fraud in the vote, which ignited street protests that were crushed violently by security services after eight months.
The new Internet blockade affected the most common form of secure connections from Friday, according to outside experts and Iranian bloggers. Traffic was said to have returned to normal on Monday. "I haven't been able to open pages for days but now it's working again, although slowly," said Hamid Reza, a 20-year-old student in Tehran, who was reluctant to give his surname.
The cut-off appeared to target all encrypted international websites outside Iran that depend on the Secure Sockets Layer protocol, which display addresses beginning with https, according to Earl Zmijewski of Renesys, a U.S. company that tracks Internet traffic worldwide.
Google, which uses SSL for its Gmail service, reported that traffic from Iran to its email system fell precipitously.
Iran's Ministry of Communications and Technology denied knowing of the disruption, saying the origin was elsewhere.
"The government is testing different tools," said Hamed Behravan, who reports on Iranian technology issues for the U.S. government-funded Voice of America. "They might have wanted to see the public reaction."
NATIONAL INTERNET SYSTEM?
Many Iranians are concerned the government may be preparing to unveil its much documented national internet system, effectively giving the authorities total control over what content Iranian users will be able to access.
The authorities say it is designed to speed up the system and filter out sites that are regarded as "unclean."
"The Internet is an uninvited guest which has entered our country," said Mohammad Reza Aghamiri, a member of the Iranian government's Internet filtering committee, "and because of its numerous problems, severe supervision is required."
He told the daily Arman that Internet search engines like Google were a threat to the country.
"We have never considered Google as appropriate to serve Iranian users, because Google is at the service of the CIA," he said. "It has adopted a vivid hostile stance against us."
Opposition supporters believe Iranian authorities were targeting their attempts to hold a rally calling on the government to release leaders of the opposition Green movement, Mirhossein Mousavi and Mehdi Karoubi.
The two leaders were placed under house arrest on February 14 last year after they urged their supporters to join a rally in support of uprisings across the Arab world.
Iranian authorities have vowed to quell any public protest against the protracted house arrest of Mousavi and Karoubi.
"It could just be a coincidence but my guess is that the system was looking to block communication between opposition supporters," said an Iranian analyst who did not want to be named.
The disruption has riled some Iranian members of parliament and they have vowed to look for those responsible.
An MP, Ahmad Tavakoli, told the semi-official Mehr News Agency that the issue was creating widespread discontent that could "cost the establishment dearly."
"This filtering leads people to break the law, and using proxies makes the blocking of sites and signals ineffective, because using proxies becomes widespread," he said.
Authoritarian Arab governments under popular pressure have sought to shut down Internet service to make it harder for opponents to mobilize protests, but with little success.
Original article here.
We welcome your comments, but please comply with our
Comment Rules.
You must be registered and logged in to leave a comment. Comments will display your Username and location.
Log In »
Notable Quotables

"The Obama national-security team fell down on the job all too often, and now a veteran of that mess, Avril Haines, will be director of national intelligence. Joe Biden is likely to be a one-term president. He should embrace that and seize the opportunity to run some risks and take some chances. Instead, it's another installment of Night of the Living Dead Democrats."

~ Kevin D. Williamson, writer and journalist, in his piece entitled "Joe Biden cabinet picks are setting presidency up to be 'Swamp Things 2'" (more here).