Archives

AND MORE...


Europe Simply Being Europe
_____________________


Feeding The Crocodile... Again
_____________________


PU to the EU
_____________________


Brits Reverting To Chamberlainism
_____________________


Hogwash: "Don't Blame Islam For Toulouse Killings"
_____________________


Offending Whose Sensibilities?
_____________________


Entry Denied
_____________________



Another Genocidal Mufti of Jerusalem
_____________________

May 6, 2013
Europe Aids & Abets... Again
Turns out the continent that gave us Communism, Fascism, Nazism and currently collaborating with Islamism (not to mention, having great difficulty deciding whether to blacklist Hezbollah as a terror group), is also the Continent that provided Syria with technology and equipment to develop and produce its sarin gas and other chemical weapon stockpiles (see below).
Which means Europe, the Continent that never met a deadly movement it didn't like, has aided and abetted AGAIN in gassing people, except this time in Syria, i.e., dangerously close to its previous victims, the Jews in Israel.
So remind us again why ANYONE of sane mind would look to Europe for any kind of moral guidance? (For reminders about Europe, see posts listed in left margin of this page.)
Foreign Policy | May 6, 2013
How Europe Helped Build The Syrian Site Israel Just Bombed
By David Kenner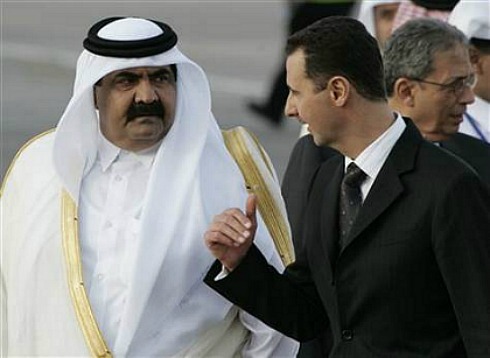 In this March 28, 2008 file photo, Syrian President Bashar Assad, right, speaks with Emir of Qatar Sheik Hamad bin Khalifa Al Thani, left, upon his arrival at Damascus international airport to attend the Arab Summit, in Damascus, Syria. Qatari support for Islamist-learning rebels is causing tensions within the ranks of the highly fragmented Syrian opposition movement. (AP Photo/Hussein Malla; courtesy: nbcnews.com)
On early Sunday morning, the skies over Damascus lit up with explosions as Israeli jets launched airstrikes near the capital. The target was reportedly the innocuously named Center of Scientific Studies and Research in the suburb of Jamraya, which goes by its French initials CERS.
CERS, according to Western intelligence agencies, is in charge of research and development for Syria's chemical and biological weapons programs. It has long been on the radar of the Israelis: As far back as 2010, an Israeli general warned that the site "will be demolished" if it continued to transfer weapons to Hezbollah and Hamas, and it was already targeted by a suspected Israeli strike in January. While CERS is an ostensibly civilian agency, it works hand in glove with the Syrian military: In the 1990s, the U.S. Defense Department reported that the Assad regime had set up a production line to manufacture bomblets containing VX nerve agent at an underground site in the same location as CERS's Damascus facility.
How did CERS acquire the know-how to manufacture such weapons? The crucial period was in the 1970s and 1980s, when the Assad regime researched and acquired sarin gas, which it nowstands accused of using in small quantities on its own people. During this period, Syria did not rely on rogue states, or even entirely on its alliance with the Soviet Union, to acquire its chemical weapons stockpile -- it simply asked European companies for the technology.
Foreign assistance was of "critical importance in allowing Syria to develop its chemical warfare capability, and...West European firms were instrumental in supplying the required precursor chemicals and equipment," testified then CIA Director William Webster before Congress in 1989. "Without the provision of these key elements, Damascus would not have been able to produce chemical weapons."
In order to receive European help, Syria exploited gaping loopholes in the Western anti-proliferation regime. President Hafez al-Assad established CERS in 1971 as a civilian agency dedicated to research in unthreatening fields such as solar energy, sewage treatment, and telecommunications. In reality, by the 1980s CERS reported directly to Assad and the agency director-general was promoted to the rank of cabinet minister. CERS's true aim was to scour Europe for dual-use technology that could bolster its chemical weapons program.
The Assad regime was massively successful. CERS received financial support to purchase equipment from the U.N. cultural agency UNESCO, and it sent its engineers for training at the French government's official research agency, the Centre Nationale de Recherche Scientifique (CNRS). Until the early 1990s, the French government was actively encouraging French high-tech companies to do business with CERS, according to a 1992 report by Middle East Defense News(Mednews).
European companies, rather than inquiring about how their sensitive technology would be used, looked to make a quick profit by providing CERS with whatever it desired. In the mid-1980s, the West Germany company Schott Glasswerke provided high-durability glass instruments for what the Syrians dubbed the "Borosilicate Glass Project" - but which was, in reality, a project to manufacture sarin gas. According to Mednews, over a dozen major German companies also supplied CERS with sensitive hardware.
By 1992, Europe had wised up to the military research being conducted by CERS -- but the damage had already been done. The Assad regime had already acquired stockpiles of sarin gas and potentially VX nerve agent. These same weapons are now causing headaches for governments across the globe: Israel's recent strike allegedly targeted ballistic missiles bound for Hezbollah, and one reason Jerusalem acted so aggressively is no doubt because it fears Assad could enable the Lebanese militant group to launch chemical weapon-tipped missiles.
But even while Syria's chemical weapons program was advancing, some European officials knew that something was not quite right. "Every day I sign off on export licenses," Mednews quoted a senior French licensing official as saying, "and I wonder whether I have not just signed my resignation."
Original article here.
We welcome your comments, but please comply with our
Comment Rules.
You must be registered and logged in to leave a comment. Comments will display your Username and location.
Log In »
Notable Quotables

"Mr. Netanyahu is one of the most media-savvy politicians on the planet. On Friday he appeared live via video link on 'Real Time with Bill Maher,' taking the host's alternately sardonic and serious line of questioning with gazelle-like alacrity."

~  Anthony Grant, jourrnalist who has written for many major newspapers and worked in television at Paris and Tel Aviv, interviewing former PM Benjamin Netanyahu on Monday, at the outset of Mr. Netanyahu's new book (more here).