Archives

AND MORE...


STOP Apologizing On Our Behalf
_____________________


Where's The Outrage?
_____________________


It's Not You, Islam, It's Us
_____________________


So Where Are The Apologies Now?
_____________________
October 13, 2012
Entry Denied
Britain apparently believes that whereas offending Muslim sensibilities leads to violence, anyone who offends Islam or Muslims is guilty of inciting violence.
How else can one explain Britain's decision to deny entry to two US filmmakers behind the controversial anti-Mohammed video "Innocence of Muslims" (see below)?
What Islamists are doing is holding the world hostage to their beliefs. And what Britain is doing is appeasement.
Who or what will the Brits ban next for fear of offending you-know-who/what?
Telegraph.co.uk | October 12, 2012
US Filmmakers Banned From Britain Over Anti-Mohammed Video
Two filmmakers behind the controversial video "Innocence of Muslims", which denigrates the Prophet Mohammed, have been banned from setting foot in Britain over fears they could incite violence.
By Rob Crilly, Islamabad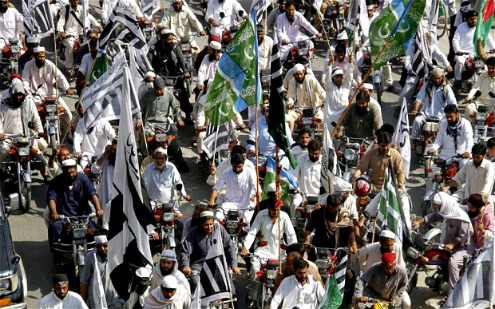 The worst of the protests were in Pakistan, where 20 people died in clashes between anti-film protesters and police. Photo: Arshad Arbab/EPA
The Daily Telegraph can also reveal that a Pakistani cabinet minister who offered a reward for anyone killing the producers of the amateurish video has also been told by British officials that he is not welcome.
A trailer for the film posted on YouTube provoked angry demonstrations throughout the Muslim world.
The amateurish clip, produced on a tiny budget by Nakoula Basseley Nakoula, a 55-year-old Egyptian Coptic Christian resident in the United States, depicts the Prophet Mohammed as a fool and sexual deviant.
As a result of the controversy, Nakoula was arrested for violating probation terms for a pre-existing fraud offence which barred him from using the internet.
The worst of the protests were in Pakistan, where 20 people died in clashes between anti-film protesters and police during a day of protests last month.
The angry scenes prompted Ghulam Ahmad Bilour, federal railways minister, to say he would pay a bounty for what he called "the sacred duty" pf Muslims.
"I will pay whoever kills the makers of this video $100,000," he told a press conference last month. "If someone else makes other similar blasphemous material in the future, I will also pay his killers $100,000."
Now, both he and the makers of the film have been barred from entering the UK on security grounds, according to a British official.
"We can confirm that Mr Bilour has been excluded from the UK on the grounds that his being able to enter would not be conducive to the public good," he told The Daily Telegraph on Friday.
"We can also confirm that we have taken steps to exclude two of those involved in the making of the film, The Innocence of Muslims, on the same grounds.
"The government makes no apologies for refusing people access to the UK if we believe they might seek to undermine our society.
"Coming here is a privilege that we refuse to extend to those who seek to incite violence."
The inflammatory clip was uploaded to YouTube in July but it made little impact until September 11 when it was broadcast by Arabic TV stations, setting off a series of demonstrations.
YouTube has resisted pressure to remove the clumsy video, but did restrict access in Egypt and Libya after protesters gathered at US diplomatic properties.
Four Americans, including Christopher Stevens, the US ambassador to Libya, were killed in an attack on the US consulate in Benghazi last month. Their deaths were initially blamed on anger sparked by the video.
Original article here.
We welcome your comments, but please comply with our
Comment Rules.
You must be registered and logged in to leave a comment. Comments will display your Username and location.
Log In »
Notable Quotables

"Joe Biden isn't leading from behind. Joe Biden is sleeping from behind. This year has been one embarrassment after another. Russian hacks. Chinese threats. Iranian missiles. And twenty years after September 11th, Afghanistan is back in the hands of the Taliban."

~  Former U.N. Ambassador Nikki Haley tweeting Monday afternoon (more here).