Archives

AND MORE...


No One Is Listening, Mr. President
_____________________


Incentivizing Killers
_____________________


Groveling Is Not A Strategy
_____________________


Premature Prostration
_____________________
February 26, 2012
STOP Apologizing On Our Behalf
An American lieutenant colonel and major were both shot dead in Afghanistan on Saturday, and seven American soldiers were wounded on Sunday (see below), all because Afghans are convulsing over the inadvertent burning of some books. Yes, books, albeit holy books, but nevertheless books, which were used by Taliban prisoners at Bagram to illicitly communicate with each other and write extremist messages inside.
So they defile, and Americans are killed for desecrating defiled books?! Only in the Orwellian world of our Apologizer-in-Chief and his minions, who've been going around groveling and apologizing to the savages (and their enablers) who murdered American soldiers.
In case anyone is not sufficiently sick to their stomach from that, then check out senior Pentagon official apologizes multiple times to Washington-area Muslims for the burning of Qurans at a military base in Afghanistan, here.
The sad thing about all this is our grovelers are making the situation worse, which is usually the case when you try to appease barbarians.
Nation-building, which is supposedly what we're doing in Afghanistan, means showing primitives what civilized behavior looks like, NOT placating bad behavior or serving as punching bags.
FoxNews.com | February 26, 2012
7 US Troops Wounded in Afghanistan, As Protests Against Koran Burnings Continue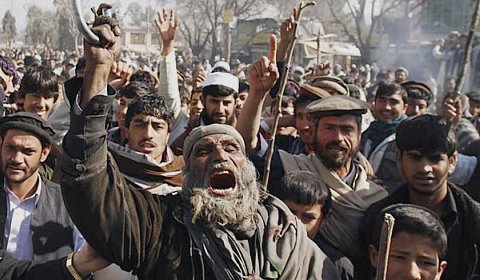 Anti-U.S. protests in Afghanistan. Courtesy: nationalreview.com
Demonstrators protesting against the burnings of Korans at a U.S. base in Afghanistan tossed grenades at an American base Sunday in a sixth consecutive day of violence that left seven US troops wounded and two Afghans dead.
Afghan authorities also identified and launched a manhunt for a suspect in the killing of two U.S military advisers -- a lieutenant colonel and a major -- inside an Afghan ministry on Saturday.
The attacks were the latest in six days of violence across the country by Afghans furious at the way some Korans at an American base outside of Kabul were disposed of in a burn pit.
The Koran burning incident has swiftly spiraled out of control leaving dozens of people dead, including four U.S. troops killed by their Afghan counterparts, in a sign of the tenuous nature of the relationship between Afghanistan and the U.S.
In Kunduz province, thousands of demonstrators started out protesting peacefully but then the group turned violent as they tried to enter the district's largest city, said Amanuddin Quriashi, district administrator. People in the crowd fired on police and threw grenades at a U.S. base on the city outskirts, he said.
Seven NATO troops were wounded and one of the protesters was killed when troops fired out from the U.S. base, Quriashi said. Another demonstrator was killed by Afghan police, he added. Provincial police spokesman Sarwar Hussaini confirmed the casualties.
A NATO spokesman said that an explosion occurred outside the base, but that the grenades did not breach its defenses.
"Initial reports indicate that there were no ISAF service member fatalities," said Navy Lt. Cmdr. Brian Badura, referring to NATO's International Security Assistance Force. He declined to comment on whether there were any wounded.
More than 30 people have been killed in clashes since it emerged Tuesday that copies of the Muslim holy book and other religious materials had been thrown into a fire pit used to burn garbage at Bagram Air Field, a large U.S. base north of Kabul.
The death toll from days of unrest includes four U.S. soldiers — two killed last week by an Afghan soldier, and two military advisers shot Saturday at the Interior Ministry.
NATO and the British government recalled their international advisers from Afghan ministries in the capital late Saturday after the two advisers — a lieutenant colonel and a major — were found dead in their office, shot in the back of the head. The names of the victims have not been released.
The main suspect in the shooting is an Afghan man who worked as a driver for an office on the same floor as the advisers' office, Interior Ministry spokesman Sediq Sediqi. He did not provide further details about the man or his possible motive.
"There is a suspect who is an employee of the Interior Ministry. He has been identified. Right now the police are trying to arrest him. He is on the run," the Afghan Interior Ministry said in a statement Sunday, citing initial findings by investigators.
The Taliban claimed that the shooter was one of their sympathizers and that an accomplice had helped him get into the compound to kill the Americans in retaliation for the Koran burnings.
Afghan President Hamid Karzai renewed his calls for calm in a televised address to the nation Sunday.
"Now is the time to return to calm and not let our enemies use this situation," he said. Asked about the unprecedented recall of NATO staff, Karzai said it was understandable.
"It is a temporary step at a time when the people of Afghanistan are angry over the burning of the holy Koran," Karzai said.
Members of the international military coalition described the removal of advisers as a temporary security measure, stressing that they did not expect it to affect partnerships with the Afghans that are key to preparing the country's security forces to take on more responsibility as international troops draw down.
"We continue to move forward and stand by our Afghan partners in this campaign. We will not let this divide the coalition," said Lt. Col. Jimmie Cummings, a spokesman for the international force. The NATO recall affects advisers numbered "in the low hundreds," Cummings said.
Catherine Arnold, a spokeswoman for the British Embassy, said Britain that "as a temporary measure" the embassy has "withdrawn civilian mentors and advisers from institutions within Kabul and that we're keeping the situation under review." She declined to say how many people were affected by the decision.
The U.S. government had already ordered its government advisers to stay inside the secure embassy compound earlier in the week out of fear of retribution, said Gavin Sundwall, a U.S. Embassy spokesman.
President Barack Obama and other U.S. officials have apologized for what they said was a mistake, but their regrets did not quell the anger of Afghans, who viewed the Koran burnings as an illustration of what they perceive as foreign disrespect for their culture and religion.
The shootings of U.S. service members were the latest in a rising number of incidents where Afghan soldiers or policemen, or gunmen wearing their uniforms, have killed NATO forces. Last month, France suspended its training program and threatened to withdraw its forces from Afghanistan a year ahead of schedule after an Afghan soldier shot and killed four French soldiers on a base in the east.
The Associated Press contributed to this report.
Original story here.
We welcome your comments, but please comply with our
Comment Rules.
You must be registered and logged in to leave a comment. Comments will display your Username and location.
Log In »
Notable Quotables

"Mr. Netanyahu is one of the most media-savvy politicians on the planet. On Friday he appeared live via video link on 'Real Time with Bill Maher,' taking the host's alternately sardonic and serious line of questioning with gazelle-like alacrity."

~  Anthony Grant, jourrnalist who has written for many major newspapers and worked in television at Paris and Tel Aviv, interviewing former PM Benjamin Netanyahu on Monday, at the outset of Mr. Netanyahu's new book (more here).