Archives

AND MORE...


STOP Apologizing On Our Behalf
_____________________


Premature Prostration
_____________________


Beheadings Raise "Doubts"?!
_____________________


No One Is Listening, Mr. President
_____________________
February 26, 2012
So Where Are The Apologies Now?
Latest attack on a Nigerian church kills at least four people on Sunday. And more than 100 have been killed in recent months at Nigerian places of worship, as Islamist group, Boko Haram targets Christians and Muslims it considers insufficiently Islamic.
So where are the apologies, which the Muslim world is currently demanding from Americans? (Afghan Muslims are rioting and murdering American soldiers over an inadvertent burning of already-desecrated Qurans.)
Don't hold your breath. In the Muslim world, religious sensitivities/sensibilities are a ONE-SIDED thing, i.e., only Muslims are entitled to be indignant, riot, burn and kill over perceived slights to their religion.
CNN | February 26, 2012
Latest Attack On Nigerian Church Kills 4
By Holly Yan and Hassan John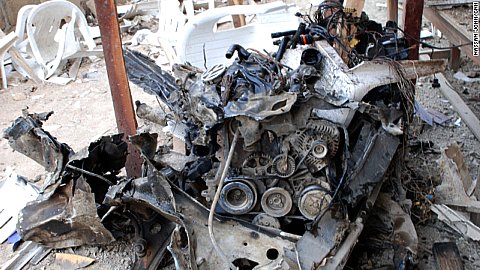 Police said a car packed with explosives rammed into the compound of the Church of Christ headquarters in Jos.
Jos, Nigeria (CNN) -- Fear and anxiety gripped churchgoers in Nigeria on Sunday after four people were killed in the latest church attack.
Police said a car packed with explosives rammed into the compound of the Cocin (Church of Christ) headquarters in Jos.
Some church members emerged from the scene covered in dust.
"It's pandemonium. There are a lot of people who are concerned -- some are on their way to church" and fear more attacks, said Mark Lipdo, program coordinator for the Stefanos Foundation, which aims to help persecuted Christians in Nigeria and elsewhere.
Lipdo -- who is also a member of the church -- said the car apparently went through a security checkpoint and toward a gate, which had been left open.
The driver struck and killed one woman before his car exploded, killing two churchgoers, Lipdo said. He said the driver's body was found in pieces.
The blast was so intense it could be heard for kilometers away. About 30 cars in the compound had their glass blown out, Lipdo said.
It was not immediately clear who was responsible for the attack.
Nigeria has suffered a rash of attacks on churches and mosques in the past year.
In December, Nigerian President Goodluck Jonathan declared a state of emergency in several northern states following a series of Christmas Day attacks on churches.
The attacks in five cities killed 35 people last Christmas, including 32 people at a Catholic church in Madalla, a national secuirty adviser said. The militant Islamist group Boko Haram has claimed responsibility for that attack.
And in November, dozens of Boko Haram assailants descended on Damaturu, capital of the northern Nigerian state of Yobe, and killed more than 100 people in a coordinated series of bombings and gun attacks.
Many of those targeted were Christians, but police stations and mosques deemed "insufficiently Islamic" were also attacked.
Boko Haram translates from the local Hausa language as "Western education is outlawed." The group has morphed into an insurgency responsible for dozens of attacks in Nigeria in the past two years.
Boko Haram's targets include police outposts and churches, as well as places associated with "Western influence."
According to the Red Cross, rumors have swirled in recent months that Muslims in the largely Christian south may also become targets of attacks.
Red Cross official Dan Enowoghomwenma in southern Edo state said last month one mosque had been burned and another vandalized during clashes in Benin City.
About 3 million people belong to the Cocin church across Nigeria, and about 3,000 worshipers attend services at the headquarters in Jos -- including several hundred who had fled Yobe because of church violence there, Lipdo said.
He said Sunday's attack took place about 15 minutes into the first service of the day. Lipdo was planning to attend the second service.
"I am lucky to be alive," he said. But "it makes me feel tense, knowing this ... we don't know to which extent this will go until it is controlled."
Original article here.
We welcome your comments, but please comply with our
Comment Rules.
You must be registered and logged in to leave a comment. Comments will display your Username and location.
Log In »
Notable Quotables

"Mr. Netanyahu is one of the most media-savvy politicians on the planet. On Friday he appeared live via video link on 'Real Time with Bill Maher,' taking the host's alternately sardonic and serious line of questioning with gazelle-like alacrity."

~  Anthony Grant, jourrnalist who has written for many major newspapers and worked in television at Paris and Tel Aviv, interviewing former PM Benjamin Netanyahu on Monday, at the outset of Mr. Netanyahu's new book (more here).