Archives

AND MORE...


Syria Using Human Shields On Tanks
_____________________


Today's Freedom Fighters Tomorrow's Terrorists?
_____________________


Um, Freedom To Do What?!
_____________________


Those Ever Lovin' "Freedom Fighters"
_____________________


"Freedom Fighters" Attack Women At Rally
_____________________
October 12, 2012
Jihactivists
A jihadi group linked to al-Qaida fought alongside Syrian rebels who seized a government missile defense base on Friday, activists said, heightening fears that extremists are taking advantage of the chaos to acquire advanced weapons (see below).
"Extremists taking advantage of the chaos" is exactly what is happening today in the Arab/Muslim world (e.g., Muslim Brotherhood in Egypt). And it will continue to happen, so long as the Muslim world continues to tolerate "extremist" groups living and operating in their midst.
Americans have a habit of romanticizing popular uprisings and viewing them in terms of good guys vs. bad guys. But what if the dueling sides are bad guys vs. a mixed bag of jihactivists (i.e., activists and jihadists)?
Today we're witnessing this scenario many times over in Egypt, Libya and throughout the Arab world. Yet America's national security/foreign policy continues to be at best incoherent, if not hypocritical, amateurish and clumsy.
So what should America do with respect to Syria? First and foremost, STOP arming those who have a history of using arms against us and/or our allies.
FoxNews.com | October 12, 2012
Islamic Militants Join Rebels To Seize Syrian Air Defense Near Aleppo, Activists Say
By Associated Press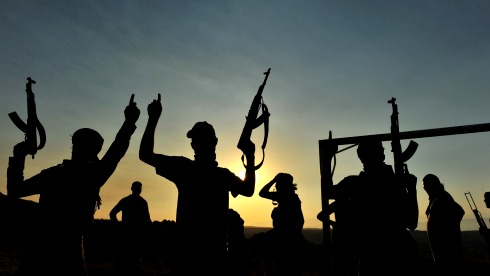 Members of Jihadist group Hamza Abdualmuttalib train near Aleppo on July 19, 2012.
Photo credit: BULENT KILIC/AFP/GettyImages; courtesy: npr.org
BEIRUT – A shadowy jihadi group believed to be linked to al-Qaida fought alongside rebels who seized a government missile defense base in Syria on Friday, activists said, heightening fears that extremists are taking advantage of the chaos to acquire advanced weapons.
Videos posted online Friday said to have been shot inside the base said the extremist group, Jabhat al-Nusra, participated in the overnight battle for the air defense base near the village of al-Taaneh, east of Aleppo in northern Syria. The videos show dozens of fighters inside the base near a radar tower, along with rows of large missiles, some on the backs of trucks.
A report by a correspondent with the Arabic satellite network Al-Jazeera who visited the base Friday said Jabhat al-Nusra had seized the base. The report showed a number of missiles and charred buildings, as fighters covered their faces with black cloths.
Two Aleppo-based activists and Rami Abdul-Rahman, head of the Syrian Observatory for Human Rights, also said Jabhat al-Nusra fought in the battle.
Little is known about Jabhat al-Nusra, or the Support Front, which began claiming attacks in Syria earlier this year in postings on jihadi forums often used by al-Qaida. While neither group has officially acknowledged the other, analysts say al-Nusra's tactics, jihadist rhetoric and use of al-Qaida forums point to an affiliation.
Western powers — and many Syrians — worry that Islamist extremists are playing an increasing role in Syria's civil war, which started in March 2011 as a mostly peaceful uprising against President Bashar Assad.
Activist say more than 32,000 people have been killed in the conflict.
Despite their opposition to the Assad regime, the U.S. and others have cited the presence of extremists among the rebels as a reason not to supply them with weapons. Rebel leaders argue that the lack of military aid leaves a vacuum that extremists can exploit.
The base captured Friday is part of the large air defense infrastructure Syria has built across the country over the years, mostly for use in a possible war with archenemy Israel.
Last week, the rebels reported seizing another air defense base outside the capital, Damascus, as well as a base in the southern province of Daraa. Online videos shows them torching vehicles and seizing boxes of ammunition in the Daraa base.
The storming of such bases by rebels from inside Syria embarrasses the Assad regime, though it is unclear if the rebels have the know-how to deploy these bases' weapons.
Nor is it clear if the rebels are holding the bases after storming them.
Friday's Al-Jazeera report said rebels were already preparing to withdraw, fearing airstrikes by regime jets — a threat rebels can do little about.
Rebel forces have been vulnerable to airstrikes by the Syrian military, though they have shot down a few attack helicopters and claim to have downed at least one warplane.
One Aleppo activist said the rebels had taken all the munitions they could from the newly captured base, and he hoped they could find a way to use the missiles against Assad's air force.
"We have asked all countries to help us with anti-aircraft weapons and no one has, so hopefully these will help," said the activist, Mohammed Saeed.
Original article here.
We welcome your comments, but please comply with our
Comment Rules.
You must be registered and logged in to leave a comment. Comments will display your Username and location.
Log In »
Notable Quotables

"The UN Human Rights Council is flawed and needs reform but walking away won't fix it. The best way to improve the Council, so it can achieve its potential, is through robust and principled U.S. leadership. Under POTUS Biden, we are reengaging and ready to lead."

~ US Secretary of State Antony Blinken announcing Monday that the Biden administration had decided to return the US to the UN Human Rights Council, reversing the departure by former president Donald Trump, who pulled out of the council in 2018 due to its disproportionate focus on Israel, which has received by far the largest number of critical council resolutions against any country (more here).