August 21, 2010
Offending Whose Sensibilities?
Just as Libya made fools of the Brits over release of the Lockerbie bomber (see below), the Islamic world is having a field day over everything from America's obsession with political-correctness to the current controversy over the Ground Zero mosque.
As we debate whether or not to allow the Muslim world to build a mosque on or near the site where 3,000 Americans were murdered by Muslims radicals - and name it "Cordoba House" ("Cordoba" being the symbol of Islamic conquest to faithful Muslims around the world) to boot - the Saudis, who are custodians of Islam's two holiest places, are busy doling out 7th century judicial sentences like stoning adulterers to death, chopping off thieves' hands, sentencing criminals to blindness (i.e., taking their eyes out) and the latest and greatest: rendering criminals' spinal cords nonfunctional, i.e., paralyzing them (story here).
Rest assured that words like "tolerance", religious or otherwise, much less civil debate, elicit much laughter in the Islamic world, which views Americans as foolish and weak.
[Oh, and check out "Britain warns Libya not to celebrate anniversary of Lockerbie bomber's release"]


Telegraph.co.uk | August 20, 2010
Libya Has Made Fools Of Us All Over Lockerbie Bomber Megrahi, And Much Else Besides
Gaddafi was playing Tony Blair long before the release of the Lockerbie bomber, argues Con Coughlin.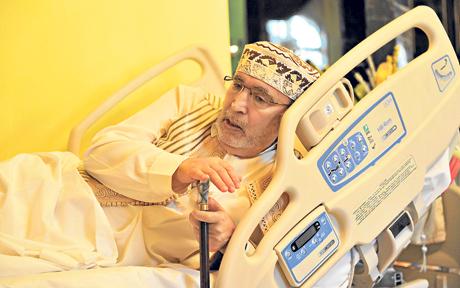 Sick bed: according to what we were told at the time, Megrahi should not be around to
celebrate the one-year anniversary of his repatriation. Photo: Glasgow Syndication
By Con Coughlin
It doesn't matter how much money BP stands to make from its deep-water exploration off the Libyan coast – it is never going to compensate for the humiliation Britain has suffered over last year's decision to repatriate the Lockerbie bomber, Abdelbaset Ali Mohmed al-Megrahi.
Britain's leading oil company says it has postponed plans to drill its first deep-water well in Libya's Gulf of Sirte until later in the year, because of the concerns that have been raised by the disaster in the Gulf of Mexico. But that is not the only reason BP is holding fire: its senior executives fear that if work commences just as Megrahi is celebrating his first year of freedom, it would further infuriate the members of the US Senate who are already demanding a full Congressional inquiry into the circumstances surrounding Megrahi's release.
The fact of the matter is that Megrahi, according to what we were told at the time, should not be alive, and certainly not the subject of the sickening spectacle that has been arranged today by Saif al-Islam Gaddafi, the Libyan dictator's son and political heir. This will see 500 teenagers, flown in from around the world at vast expense, acting as guests of honour at a ceremony to mark the one-year anniversary of Megrahi's return home from his Scottish prison cell.
Precisely what role BP played in securing Megrahi's release, or what bearing this had on its $900 million oil exploration contract, remains unclear. The company says it did no more than lobby the Scottish Parliament for a prisoner swap. But many senior officials in the Obama administration believe that BP was more deeply involved. They point to the role played by Sir Mark Allen, a former senior MI6 officer who headed the negotiations that persuaded Libya to stop work on its nuclear weapons programme, in late 2003, and wrote to the Foreign Office seeking Megrahi's release.
The lenient approach that Scottish officials adopted in dealing with Megrahi's case, in which no serious assessment appears to have been made of the terrorist's medical condition, certainly fits with the approach that Tony Blair encouraged British officials to adopt towards Libya following the nuclear deal. Colonel Muammar Gaddafi might remain one of the region's less appealing dictators, but that did not prevent Mr. Blair from working tirelessly to bring him in from the diplomatic cold.
Mr Blair even went so far as to accept an official invitation to visit Tripoli just before he left Downing Street in 2007, where he hailed the "transformation" that he claimed had taken place in British-Libyan relations. It was during this visit that BP announced that it was returning to the country after a 30-year absence, caused by Gaddafi's nationalisation of the oil industry shortly after he seized power in 1969.
Yet hopes that Britain's courtship of the Libyan regime might persuade it to mend its ways, both at home and abroad, have come to little. Domestically, it remains as repressive as ever. Student protesters are no longer hanged from lamp-posts, as was the case at Benghazi University in the 1980s. But floggings are still regularly employed as a punishment for adultery, and Libya's internal security agency, which reports directly to Gaddafi, can arrest and detain anyone who dares to challenge the state's authority. Earlier this summer, Amnesty International reported that detainees are held incommunicado for long periods, tortured and denied access to lawyers. It accused Britain and other Western countries of turning a blind eye to such human rights abuses.
Nor has there been much improvement in the way the Gaddafi clan conducts itself abroad. Earlier this year, police were called to the £4,000-a-night suite at Claridge's occupied by Gaddafi's playboy son Hannibal, after an incident involving his 29-year-old wife. Two years ago, Libya threatened to cut its oil supplies to Switzerland after Hannibal was imprisoned for two days after an altercation in Geneva.
Meanwhile, Saif-al-Islam ("Sword of Islam", in Arabic) has sought to improve his claim to succeed his father by sending a Libyan cargo vessel to join the flotilla of "peace" ships attempting to break Israel's blockade of the Hamas-controlled Gaza strip.
As for Gaddafi Snr, there has been no let-up in the periodical outbursts that once prompted Ronald Reagan to label him "the Mad Dog of the Middle East". During a rambling speech to the United Nations General Assembly last year, he launched a blistering attack on the Security Council, which he denounced as a "terror council". In another speech, he called for Switzerland to be abolished, and its territory divided equally between its neighbours.
The more you look at the way the Gaddafi regime conducts itself, the more you realise that Britain has been the victim of a clever Libyan con-trick, which began when Gaddafi Snr succeeded in persuading Mr Blair that he was serious about rebuilding relations with the West, and culminated in the Scottish government's reprehensible decision to release Megrahi on compassionate grounds.
Alex Salmond, Scotland's First Minister, continues to insist that he made the right decision. But that is not how the rest of the world will see it when they watch the Libyans celebrate the release of their terrorist hero.
Original article here.

We welcome your comments, but please comply with our
Comment Rules.
You must be registered and logged in to leave a comment. Comments will display your Username and location.
Log In »
Notable Quotables

"Joe Biden isn't leading from behind. Joe Biden is sleeping from behind. This year has been one embarrassment after another. Russian hacks. Chinese threats. Iranian missiles. And twenty years after September 11th, Afghanistan is back in the hands of the Taliban."

~  Former U.N. Ambassador Nikki Haley tweeting Monday afternoon (more here).