Archives

AND MORE...


Entry Denied
_____________________


Brits Reverting To Chamberlainism
_____________________


Council of Fools
_____________________


Offending Whose Sensibilities?
_____________________
January 25, 2013
Feeding The Crocodile... Again
British Prime Minister Winston Churchill once said: "An appeaser is one who feeds a crocodile - hoping it will eat him last."
Yet that is exactly what Britain is doing today. The country that released convicted Lockerbie bomber Abdelbaset al-Megrahi, in order to drum up sordid business deals from Libyan strongman Muammar Gaddafi is now doing the bidding of the infamous UN Human Rights Commission - a body described by Walter Russell Mead as a "self-parodying collection of imbeciles and lickspittles" - against Israel (see below).
Israel would do well to remind the peace-in-our-lifetime crowd, who continue to draw lines and borders, that cartography was never one of their strong points. Just look at the mess they created last time they mucked around in the Middle East and the world.
Telegraph.co.uk | January 25, 2013
Britain Lists Israel Next To Iran As Nation With Human Rights Record 'Of Concern'
Britain has included Israel on a list of 28 countries whose human rights record is of 'concern' to the government.
By Phoebe Greenwood, Jerusalem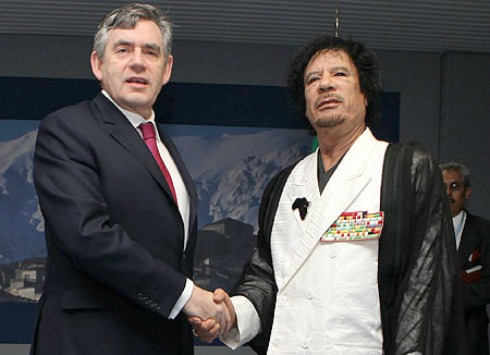 Former British PM Gordon Brown (L) and Libyan strongman Muammar Gadaffi (R). Photo courtesy: bbc.co.uk
The criticism will unsettle the Jewish State, which proudly boasts it is the only democracy in the Middle East, and considers the UK an ally amid an increasingly critical Europe.
In the quarterly report published on Thursday, which considers the period between October and December 2012, Israel sits in the company of Afghanistan, Belarus, Iran and Zimbabwe – countries the foreign office considers to have a human rights record 'of particular concern'. The Palestinian Authority is also included, although it is noted that Israel's refusal to deliver Palestinian customs revenue has undermined the leadership's capacity to enforce law and order.
The four-page entry on Israel lingers on November's intense bombing campaign in the Gaza Strip and recently announced plans to expand dramatically Israel's settler presence in the West Bank.
Following the Palestinian Authority's successful bid for upgraded status at the United Nations last November, Israel announced it would push ahead with plans to build 3,000 new settler homes in the E1 areas of East Jerusalem and the West Bank. The UK, along with Spain, Denmark and Sweden, to summoned its Israeli ambassador in protest.
British diplomats in Israel will admit that Downing Street has grown increasingly frustrated with Benjamin Netanyahu's stubborn expansion of Israeli settlements into what should be the future Palestinian state – a policy Britain believes could derail the peace process entirely – and is taking ever stronger action to demonstrate this frustration.ement regarding E1, Matthew Gould, Britain's ambassador, warned Israel that continued settlement expansion was eroding its international support.
Prior to both the latest escalation in the Gaza conflict and Mr Netanyahu's announcement regarding E1, Matthew Gould, Britain's ambassador, warned Israel that continued settlement expansion was eroding its international support.
"Support for Israel is starting to erode and that's not about these people on the fringe … The interesting category are those members of parliament in the middle, and in that group I see a shift," Mr Gould told Israel's Channel 10 in August.
The Israeli government declined to issue an official response to the UK's report on Friday, but sources in the Israeli foreign office confirmed they had read the report and found only differences of opinion that they were already aware of – "there is nothing new here," one diplomatic source said.
Britain's criticism has come as the United States urged Israel not to carry out its anticipated boycott of the United Nations Human Rights Council, which is meeting in Geneva next Tuesday, and is likely to raise both Israeli settlement expansion and its ongoing blockade of the Gaza Strip. Israel has complained of an 'inherent bias' against the Jewish state within the UN. If it does not appear before the council for review, it would be an unprecedented snub.
Original article here.
We welcome your comments, but please comply with our
Comment Rules.
You must be registered and logged in to leave a comment. Comments will display your Username and location.
Log In »
Notable Quotables

"Don't threaten us with cutting off your aid. It will not work. I am not a Jew with trembling knees. I am a proud Jew with 3,700 years of civilized history. Nobody came to our aid when we were dying in the gas chambers and ovens. Nobody came to our aid when we were striving to create our country. We paid for it. We fought for it. We died for it. We will stand by our principles. We will defend them. And, when necessary, we will die for them again, with or without your aid."

~  Israeli PM Menachem Begin, in June 1982 at height of Lebanon War, responding to then Senator Joe Biden in front of Senate Foreign Relations Committee, after Biden had attacked Israeli settlements in Judea and Samaria and threatened to cut economic aid to Israel (more here).