Archives

AND MORE...


Shocker!
_____________________


Holy Nukes
_____________________


Fric & Frac
_____________________


Selective Secrecy
_____________________
February 22, 2012
"Useful" Idiots?
We are posting this op-ed for one reason and one reason only, and that is to show you the depth and breadth of denial, not to mention ignorance (and idiocy) out there today.
Read the op-ed below, if you must, but the title and byline say it all. (Also, be sure to read our earlier posting about Iran denying access to IAEA inspectors, entitled Shocker!)
As a reminder, co-author Richard Haass and the Council on Foreign Relations (CFR) hosted a meeting of council members with Iranian President Mahmoud Ahmadinejad in 2006, while the latter was in NY attending the UN General Assembly. No doubt hearing A-mad's reasons for denying the Holocaust was very illuminating for the deep-thinkers at CFR.
Wall Street Journal | February 22, 2012
How to Talk Down Tehran's Nuclear Ambitions
Before deciding on war or containment, the West should offer a good-faith compromise to the mullahs and the Iranian people.
By Richard Haass and Michael Levi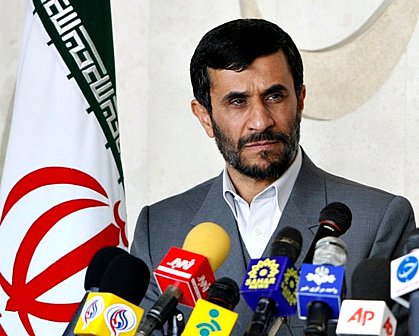 President Mahmoud Ahmadinejad Photo courtesy: newsone.com
After months of escalating tensions, Iran has indicated a willingness to restart talks over its nuclear program with the five permanent members of the United Nations Security Council and Germany. The United States and the other countries should take Iran up on its offer with a firm proposal of their own.
Iran is motivated by pain from economic sanctions that have made it more difficult for Tehran to sell oil and have weakened its currency, thereby raising the cost of essential imports. Iran's leaders are also concerned that their country could be the target of military attacks from Israel, the... more here
We welcome your comments, but please comply with our
Comment Rules.
You must be registered and logged in to leave a comment. Comments will display your Username and location.
Log In »
Notable Quotables

An ancient Mikveh (Jewish ritual bath) dated to the time of the second temple was unveiled in Jerusalem during archaeological excavating near the Western Wall. 

~  Michal Hever, Hebrew University. On Twitter.