Archives

AND MORE...


Premature Prostration
_____________________ 


So Where Are The Apologies Now?
_____________________


Where's The Outrage?
_____________________


Dear Devout Muslims
_____________________


STOP Apologizing On Our Behalf
_____________________
May 7, 2015
Offense Alert
With all the brouhaha over blogger Pamela Geller's recent "Draw Muhammad" free speech art exhibit, which came under attack by Islamic radicals on Sunday in Garland, Texas, here's something to ponder (see below).
Cowards on both sides of the ideological spectrum have been attacking Geller for instigating the terror attack in Garland. Even so-called 'Conservatives' in the media, while defending Geller's right to free speech, have qualified their defense with ad hominem attacks against Geller personally.
If there is a right to free speech in America, then there's a right to free speech, no ifs, ands or buts. Gratuitously insulting Geller in the process only diminishes that right.
What did Geller say or do that so offended Americans' sensibilities? Did she propagate lies? Did she mislead the public? Did she hold a mass riot? No, she offended those oh-so 'delicate' Islamist sensibilities, by holding a closed free speech event and inviting people to submit cartoons of Muhammad. Except it turns out that depictions of Muhammad are forbidden or offensive to many Muslims.
So? Jews and Christians are ridiculed and mocked in cartoons, newspapers, books, events, conferences, and exhibits throughout the Muslim world and on a daily basis. Nice? Of course not, but explaining hasn't helped, so time to show the Islamic world that respect is a two-way street; and you get what you give.
Americans need to learn that being democratic and tolerant does not mean being stupid or allowing Islamists to use our rights and freedoms against us. We do not honor or respect those who do not honor or respect us. Simple.
So to those braying that the issue is not about 'free speech' but whether the speech was appropriate, we say YOU BETCHA. Ms. Geller's event was not only instructive, but appropriate as well, given what we in the West have to endure from the Muslim world.
Stop pandering; we're not the Islamic world's punching bags.
Time of Israel  |  April 7, 2015
Iran Holocaust Cartoon Contest Draws 839 Entries
Over 300 artists, including from France, Turkey and Brazil, turn in works for competition derided by UNESCO
By Joshua Davidovich and Justin Jalil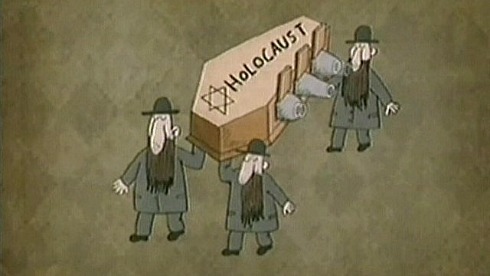 Iranian Holocaust cartoon (photo credit: Channel 2 screen capture)
Hundreds of people from Iran and around the world have submitted art for a "Holocaust cartoon contest," an official from the competition said Monday.
Secretary Masud Shojaei-Tabatabaii told Iran's semi-official Fars news agency that 839 works had been submitted to the Second International Holocaust Cartoon Contest, a cynical sequel to a much derided 2006 competition making light of the slaughter of 6 million Jews in Europe during World War II.
Organizers putting on the contest say it is designed to highlight the world's double standard in defending caricatures of the Muslim prophet Mohammed, whose depiction is taboo in Islam.
The works are also meant to question why Palestinians are "oppressed in compensation" for the Holocaust and warn of other Holocausts, including Gaza, according to a website for the contest.
A second caricature section carries the "theme" of Israeli Prime Minister Benjamin Netanyahu and Adolf Hitler, according to the website.
Shojaei-Tabatabaii said 312 artists had submitted works to the contest, including 104 from Iran and 208 from a smattering of other countries, including France, Turkey and Brazil.
The contest was announced in January in response to international support for French satirical weekly Charlie Hebdo following an attack on the magazine's offices by Islamists apparently incensed by the magazine's depiction of Mohammed.
Israel asked the UN to condemn the contest, saying it contributed to an atmosphere of anti-Semitism.
"The contest legitimizes Holocaust denial and encourages those who deny the Shoah to continue with their incitement," Israeli ambassador to the UN, Ron Prosor, wrote in a letter in February.
UNESCO head Irina Bokova later spoke out against the contest, according to the World Jewish Congress.
The deadline for entries was April 1. The winner will receive a cash prize of $12,000, with those in second and third place taking home $8,000 and $5,000 respectively, according to the website.
Top works from the upcoming competition will be displayed at the Palestine Museum of Contemporary Art in Tehran and several other locations throughout the Iranian capital.
The competition is the second iteration of an earlier Holocaust cartoon contest in 2006 launched after Danish newspaper Jyllands-Postens published cartoons depicting Mohammed.
The winner of the previous contest, Abdellah Derkaoui of Morocco, drew an Israeli crane erecting a wall around the Dome of the Rock. The Auschwitz-Birkenau concentration camp is featured on the wall.
That contest was condemned by the US State Department, as well as then-UN secretary general Kofi Annan, officials in Israel and the anti-Defamation league.
Iran has held a number of events questioning the Holocaust in the past, including a conference intended to prove the Shoah as exaggerated.
Original article here.
We welcome your comments, but please comply with our
Comment Rules.
You must be registered and logged in to leave a comment. Comments will display your Username and location.
Log In »
Notable Quotables

"Mr. Netanyahu is one of the most media-savvy politicians on the planet. On Friday he appeared live via video link on 'Real Time with Bill Maher,' taking the host's alternately sardonic and serious line of questioning with gazelle-like alacrity."

~  Anthony Grant, jourrnalist who has written for many major newspapers and worked in television at Paris and Tel Aviv, interviewing former PM Benjamin Netanyahu on Monday, at the outset of Mr. Netanyahu's new book (more here).