Archives

AND MORE...


N. Korea Orders People Home
_____________________


Creepy & Sad
_____________________


North Korea's Teletubby
_____________________


Anatomy of Incompetence
_____________________


Cell Phone Use A War Crime
_____________________
July 30, 2013
It's The Politics...
On the 60th anniversary of the end of the Korean War, North and South couldn't be more different, even though the cultural heritage of the two countries is identical. Why the difference?
Read the very interesting piece below. According to Max Boot, it's the politics that made the difference. We'd add: and a little bit of luck.
Los Angeles Times | July 28, 2013
Korea And The Power Of Politics
North and South, on the 60th anniversary of the end of the Korean War, couldn't be more different.
By Max Boot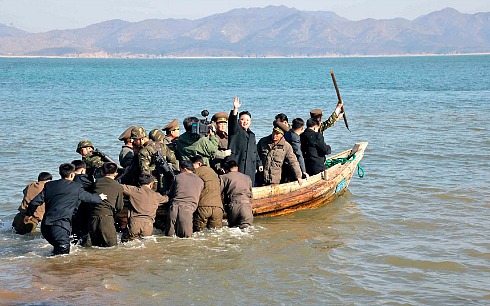 North Korean leader Kim Jong-Un waves while in a boat during his visit to the Wolnae Islet Defence Detachment in the western sector of the front line, which is near South Korea's Baengnyeong Island. Picture: REUTERS/KCNA; Courtesy: telegraph.co.uk
SEOUL — Americans like to pretend that politics don't matter and to bemoan the slight differences between our political parties. These are luxuries we can afford as the world's richest and most stable country. But for much of the world, politics are a matter of life and death. That is particularly evident in South Korea, which this weekend celebrates the 60th anniversary of the armistice that ended the Korean War.
It is hard to exaggerate how devastated the Korean peninsula was in 1953; Gen. Douglas MacArthur said he vomited after he looked "at that wreckage." Three years of conflict killed about 3 million people, most of them civilians. One-third of all homes and two-fifths of all factories were destroyed. Seoul, Pyongyang and all other cities were little more than rubble. Food was scarce, orphans plentiful.
Both North and South Korea received extensive assistance to rebuild — the former from the Soviet Union and its allies, the latter from the U.S. and its allies. North Korea, using Stalinist central planning, actually had more success initially. Its economy grew faster than South Korea's until the 1970s, helped by the fact that the northern part of the peninsula had more manufacturing facilities to start with. South Korea in the 1950s and 1960s was one of the poorest countries in the world, with per capita income of less than $100 a head — comparable to the poorest countries of sub-Saharan Africa today.
Kongdan Oh, a scholar at the Brookings Institution who grew up in South Korea in the 1950s, remembers that "food was sometimes scarce."
"In the springtime, after the autumn harvest had been eaten and before new crops could be gathered, poor people would scour the hills for edible herbs and plants, just as they do in North Korea today," she wrote in 2010. "Schoolrooms lacked desks and chairs and had little heat in the winter. Many school children depended on foreign food donations like powdered milk for their lunch."
It is almost impossible to believe, traveling across South Korea today, that this is the same land. Just 60 years later, according to CIA statistics, South Korea has the 12th-largest economy in the world, with GDP of more than $1 trillion annually and per-capita income of more than $32,000. It produces bestselling products such as Hyundai automobiles, LG appliances and Samsung phones. Its exports are worth more than those of the Britain, Saudi Arabia or Switzerland. Its shipyards produce eight times more vessels than their U.S. counterparts. It has even created a pop culture sensation — the singer Psy's "Gangnam Style."
More to the point, but harder to quantify, there is a dynamism and vitality to Korean culture that is evident to anyone who comes here. Seoul, with a population of more than 10 million, is one of the great cities of the world. It has endless miles of high-rise apartment buildings, restaurants, bars, art galleries, stores and, especially, cafes, which seem more ubiquitous than in Seattle. (My favorite chain, purely because of its name, is Angel-in-us.) Commercial districts are lit up in a blaze of garish neon that signals the pleasures to be had within, from fine dining and chic goods comparable to the best L.A. has to offer to karaoke and drinking — lots and lots of drinking.
And the prosperity does not end at the city limits. Busan is a port city in the south that was the last redoubt of U.S. troops ("the Pusan perimeter") in the dark days of 1950 after the North Korean invasion. It is now a flourishing metropolis with glass-and-steel skyscrapers and Korean-style-sashimi restaurants abutting its crowded beaches.
How different is North Korea, which over the last 60 years has performed the unprecedented feat of de-industrializing: It has gone from being the most developed part of the Korean peninsula to a place where millions have died of hunger and hundreds of thousands more are imprisoned in Soviet-style gulags. Its per-capita income is among the lowest in the world; its misery among the greatest.
What has made the difference between North and South? Politics, pure and simple. The cultural heritage of the two countries is identical. The difference is that North Korea has been a victim of the Kim dynasty — grandfather Kim Il Sung, son Kim Jong Il, now grandson Kim Jong Un — who are the world's last practitioners of Stalinist collectivism and totalitarianism. South Korea, by contrast, began to take off economically in the 1960s and 1970s under the authoritarian modernizer Park Chung-hee, father of the current president, Park Geun-hye.
Park was a general turned dictator who could give his ham-handed Egyptian counterparts lessons in governing. Like his fellow strongmen Lee Kuan Yew, in Singapore, and the much less benign Augusto Pinochet, in Chile, he put in place policies for economic growth. After Park's assassination in 1979, South Korea entered a period of turmoil that resulted in the emergence of a vibrant democracy to match its flourishing economy. There is no more inspiring story in the world over the past half-century — or a more compelling example of how political decisions can shape people's lives.
Max Boot is a senior fellow at the Council on Foreign Relations and a contributing editor to Opinion.
Original article here.
We welcome your comments, but please comply with our
Comment Rules.
You must be registered and logged in to leave a comment. Comments will display your Username and location.
Log In »
Notable Quotables

"Joe Biden isn't leading from behind. Joe Biden is sleeping from behind. This year has been one embarrassment after another. Russian hacks. Chinese threats. Iranian missiles. And twenty years after September 11th, Afghanistan is back in the hands of the Taliban."

~  Former U.N. Ambassador Nikki Haley tweeting Monday afternoon (more here).