Archives
AND MORE...


Iran Triples Its Capacity
_____________________


Fric & Frac
_____________________


Shocker!
_____________________


Iran Outfitting Planes For Suicide Runs
_____________________
March 7, 2012
Iran Cleaning Up
Satellite images of an Iranian military facility appear to show trucks and earth-moving vehicles at the site, indicating an attempted cleanup of radioactive traces possibly left by tests of a nuclear-weapon trigger (see below).
So much for being elated, ecstatic, giddy, hopeful and generally deluded about the new round of nuclear talks scheduled between Iran and the P5-plus-1 (i.e., the five permanent members of the UN Security Council plus Germany).
The only thing we would add, other than what we said here, here, here, here, here, here and here, are Ayn Rand's famous words, i.e.: "You can avoid reality, but you cannot avoid the consequences of avoiding reality."
FoxNews.com | March 7, 2012
Iran Reportedly Cleaning Up Nuclear Work
By Associated Press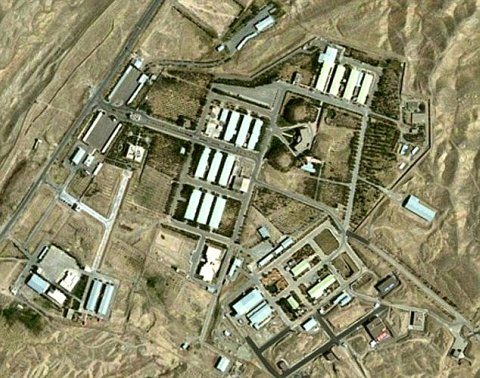 The base in Parchin where Iran conducted nuclear tests. (Courtesy: Haaretz.com)
VIENNA – Satellite images of an Iranian military facility appear to show trucks and earth-moving vehicles at the site, indicating an attempted cleanup radioactive traces possibly left by tests of a nuclear-weapon trigger, diplomats told The Associated Press on Wednesday.
Two of the diplomats said the crews may be trying to erase evidence of tests of a small experimental neutron device used to set off a nuclear explosion. A third diplomat could not confirm that but said any attempt to trigger a so-called neutron initiator at the Parchin site could only be in the context of trying to develop nuclear arms.
The images, provided to the IAEA by member countries, are recent and constantly updated, said one of the diplomats.
The diplomats are nuclear experts accredited to the International Atomic Energy Agency. All asked for anonymity to discuss sensitive information.
Iran is under growing international pressure over its nuclear program, which it insists is peaceful. Israel has warned that it may resort to a pre-emptive strike against Iran's nuclear facilities to prevent Tehran from obtaining atomic weapons.
The IAEA has already identified the Parchin military site as the location of suspected nuclear weapons-related testing. In a November report, it said it appeared to be the site of experiments with conventional high explosives meant to initiate a nuclear chain reaction.
It did not mention a neutron initiator as part of those tests but in a separate section cited an unnamed member nation as saying Iran may have experimented with a neutron initiator, without going into detail or naming a location for such work.
In contrast, the intelligence information shared with the AP by the two diplomats linked the high-explosives work directly to setting off a neutron initiator at Parchin.
Explaining such a device, the agency's November report said that "if placed in the center of a nuclear core of an implosion-type nuclear device and compressed,(it) could produce a burst of neutrons suitable for initiating a fission chain reaction."
If Iran did try to trigger a neutron initiator, it would harden international suspicions by adding a nuclear component to a suspected string of experiments linked to weapons development that generally have not included radioactive material.
The diplomats said they suspected attempts at sanitization because some of the vehicles at the scene appeared to be haulage trucks and other equipment suited to carting off potentially contaminated soil from the site.
Such cleanups would not be new. Iran razed the Lavizan Shian complex in northern Iran, before allowing IAEA inspectors to visit the suspected repository of military procured equipment that could be used in a nuclear weapons program five years ago. Tehran said the site had been demolished to make way for a park, but inspectors subsequently found traces of uranium enriched to or near the level used in making the core of nuclear warheads... more here
We welcome your comments, but please comply with our
Comment Rules.
You must be registered and logged in to leave a comment. Comments will display your Username and location.
Log In »
Notable Quotables

"Mr. Netanyahu is one of the most media-savvy politicians on the planet. On Friday he appeared live via video link on 'Real Time with Bill Maher,' taking the host's alternately sardonic and serious line of questioning with gazelle-like alacrity."

~  Anthony Grant, jourrnalist who has written for many major newspapers and worked in television at Paris and Tel Aviv, interviewing former PM Benjamin Netanyahu on Monday, at the outset of Mr. Netanyahu's new book (more here).