Archives

AND MORE...


Shocker!
_____________________


Fric & Frac
_____________________


"Rational" Actors
_____________________


Here Comes Da Bomb
_____________________
February 24, 2012
Iran Triples Its Capacity
While our Apologizer-in-Chief is busy prostrating himself to a bunch of Afghan savages who murdered American soldiers over an accidental Koran burning, and:
...a new IAEA report reveals that Iran has tripled its capacity to enrich uranium to elevated levels, making it easier for them to turn the material into bomb-grade material (see below).
MEMO to the Israelis: Don't even think about relying on the current American administration for anything, much less cooperation, since even if it's inclined to cooperate (which it clearly is not), the ineptitude that has damaged U.S. national security, will only portend catastrophe for yours.
Haaretz.com | February 24, 2012
UN Watchdog: Iran Rapidly Increases Controversial Nuclear Work
International Atomic Energy Agency says in report that Iran has tripled its capacity to enrich uranium to elevated levels.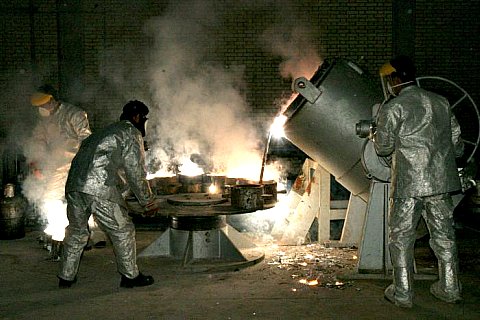 Technicians work at a uranium processing site in Isfahan, Iran. (Reuters: Raheb Homavandi) Courtesy: abc.net.au
Iran has tripled its capacity to enrich uranium to elevated levels, the United Nations nuclear watchdog said in a report on Friday.
Iran's enrichment of uranium up to 20 per cent has caused concern in the West because it is theoretically much easier to turn such material into bomb-grade material than uranium enriched at below five percent.
Iran has doubled the number of centrifuges for enriching to 20 percent at its fortified underground site at Fordo, according to a copy of the report by the International Atomic Energy Agency (IAEA) obtained by DPA.
Iran has now made more than 100 kilograms of higher-enriched material, less than half the amount needed for a nuclear warhead, the document said. Iran denies seeking a nuclear weapon.
Officials in Teheran this week gave the IAEA a document that aimed to answer allegations about nuclear projects, but the document contained nothing but dismissals of the agency's concerns, "largely on the grounds that Iran considered them to be based on unfounded allegations," the IAEA said.
Original article here.
We welcome your comments, but please comply with our
Comment Rules.
You must be registered and logged in to leave a comment. Comments will display your Username and location.
Log In »
Notable Quotables

"The Obama national-security team fell down on the job all too often, and now a veteran of that mess, Avril Haines, will be director of national intelligence. Joe Biden is likely to be a one-term president. He should embrace that and seize the opportunity to run some risks and take some chances. Instead, it's another installment of Night of the Living Dead Democrats."

~ Kevin D. Williamson, writer and journalist, in his piece entitled "Joe Biden cabinet picks are setting presidency up to be 'Swamp Things 2'" (more here).