Archives

AND MORE...


Europe Simply Being Europe
_____________________


Brits Reverting To Chamberlainism
_____________________


Feeding The Crocodile... Again
_____________________


Missiles & Olympics
_____________________


Offending Whose Sensibilities?
_____________________

May 28, 2013
What "Islamic" Problem?
Britain's counter-terror police are investigating a vicious attack on a prison guard, who was left beaten and bloodied on Sunday by three Islamic "fanatics" (see below).
This latest attack came after last week's hacking attack in which a young British soldier was beheaded on a southeast London street, in broad daylight, by two men with machetes, yelling "Allahu Akbar!" The perpetrators stuck around to pose for photos and explain their motivations to passersby. As Mark Steyn wrote in "Hacking A Soldier To Death In Name Of Peaceful Islam":
"As grotesque as this act of savagery was, the aftermath was even more unsettling. The perpetrators did not, as the Tsarnaev brothers did in Boston, attempt to escape. ...There [was] a disturbing passivity to this scene: a [southeast London] street full of able-bodied citizens being lectured to by blood-soaked murderers who have no fear that anyone will be minded to interrupt their diatribes."
Indeed, and as much as the Brits like to tout their multiculturalism, Londonistan's chickens are coming home to roost.
Britain's appeasement policies are not working, which comes as zero surprise to those of us who've studied history and know appeasement NEVER works.
America, take note.
Express.co.uk | May 28, 2013
Terror Unit Steps In As Islamic Convicts Break Guard's Jaw After 'Pray For Lee Rigby Plea'
COUNTER-terror police are investigating an attack on a prison guard who was left beaten and bloody after three fanatics launched a vicious assault when they were asked to pray for soldier Lee Rigby.
By Natalie Chalk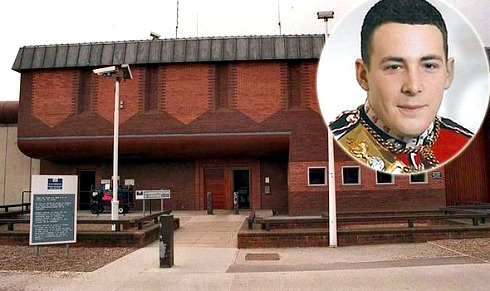 Full Sutton Prison where the attack believed to be linked to Lee Rigby (inset) took place
The terrified officer, in his 30s, was lucky to escape with his life after five hours of being battered by the Islamic convicts who told him they would kill him at the British maximum security jail.
He was freed by a specialist riot squad who stormed the cleaning room where he had been held at Full Sutton jail, near York.
A female officer was also injured as she tried to stop the three male prisoners, two aged 25, one 26, dragging her colleague away.
The North East counter terrorism unit has now taken over the investigation at the prison amid the reports that the attack was Muslim inspired.
The kidnapped officer, who is now recovering at home and expected to be off work for weeks after receiving a broken jaw bone, was grabbed near the kitchens of the jail's E wing around 4pm on Sunday.
After being freed the unnamed warder was taken to hospital with what were described as serious injuries.
Governor Paul Foweather ordered a lockdown of the 600 inmates to keep the explosive situation from descending into a riot.
An MoJ spokesman said: "An incident involving three prisoners took place at HMP Full Sutton on 26 May from 4.25pm and was successfully resolved at 8.40pm after staff intervened.

"A police investigation is on-going."
The men battered the officer with mop handles and allegedly threatened to pour toilet cleaner in his eyes.
He was bloodied and bruised and suffered a broken jaw in the vicious assault.
The incident was sparked after the prison imam asked the inmates to pray for Drummer Rigby who was killed in Woolwich, south-east London, last week near his Army barracks.
The ringleader reportedly flew into a rage at the request insisting the death of the 25-year-old soldier was justified, it was reported.
A prison source said: "The fear was that the gang had somehow got hold of knives from the prison kitchen and they would attempt to behead him.
"The leader wanted to start a riot and after taking a hostage he was shouting for true Muslims to join a holy war. He was the main person behind the savage beating of the prison officer who feared for his life.
"By the time the attack finished the officer was covered in bruises and blood. He feels very lucky to be alive. He was told they would kill him."
Of the attack a source said: "We could see this was coming but nothing was done."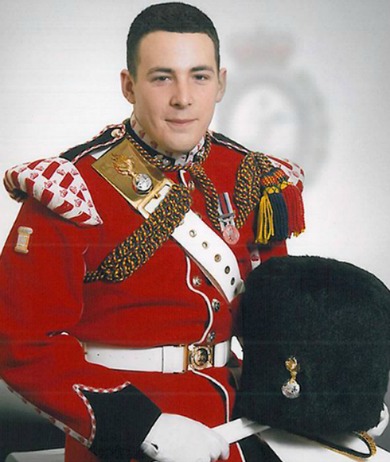 Drummer Lee Rigby was brutally murdered last week
Bosses were worried about causing offence among terrorists "and as a result, we are very lucky not to be dealing with the death of a prison officer".
The three men were taken into segregation units.
The Prisoner Officers Association said cutbacks on the number of guards had increased fears of ­attacks.
Terrorism expert Neil Doyle said the attack appeared to offer support to those who had murdered Lee Rigby.
He said: "Terrorist incidents like that of last week often serve to inspire others. Al Qaeda has for some time now been preaching a strategy based on smaller individual attacks.
"Prison officers are under no illusions of the dangers they face and will be on high alert for copycat attacks."
Original article here.
We welcome your comments, but please comply with our
Comment Rules.
You must be registered and logged in to leave a comment. Comments will display your Username and location.
Log In »
Notable Quotables

"Joe Biden isn't leading from behind. Joe Biden is sleeping from behind. This year has been one embarrassment after another. Russian hacks. Chinese threats. Iranian missiles. And twenty years after September 11th, Afghanistan is back in the hands of the Taliban."

~  Former U.N. Ambassador Nikki Haley tweeting Monday afternoon (more here).