Archives
AND MORE...


R-E-S-P-E-C-T
____________________


Spies Caught
____________________


Holy Nukes
____________________


Missiles & Olympics
____________________
December 9, 2011
The Wonders of Green Energy
Behold the wonders of green energy technology (see pictures below).
We're told that a good thing about wind turbines is they're mostly harmless to the environment, although large areas of land are required, and the environment-friendly turbines make for a very ugly environment (see below).
We're told that another good thing about wind turbines is they don't require manpower for operation, although when they catch on fire (see below), you'll need some firefighters and EMT folk to rescue anyone/anything hit by flaming debris (see below).
And we're told that wind turbines are a renewable resource, which is great, although make sure to stock up on candles for when the wind doesn't blow!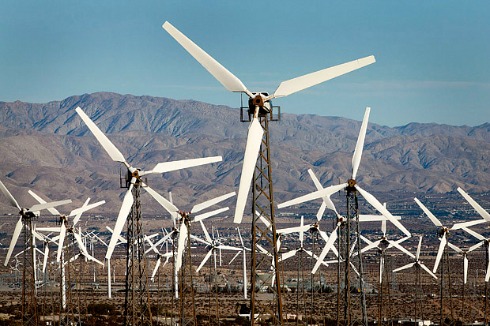 Wind turbines generate power at the San Gorgonio Pass Wind Farm in Whitewater, California (more here). Photo by Konrad Fiedler/Bloomberg; Courtesy: go.bloomberg.com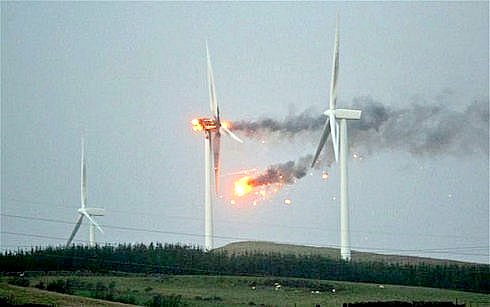 A £2 million, 100 metre tall wind turbine catches fire in hurricane-force winds at Ardrossan, North Ayrshire, Scotland. The wind turbine was spinning so fast it caught fire. The engine of the giant turbine went up in flames and its blades were blackened by smoke. The turbine was one of 15 set up on hills overlooking the Scottish coast, built to supply green electricity to 20,000 homes. Courtesy: Telegraph.co.uk | Photo by: Stuart McMahon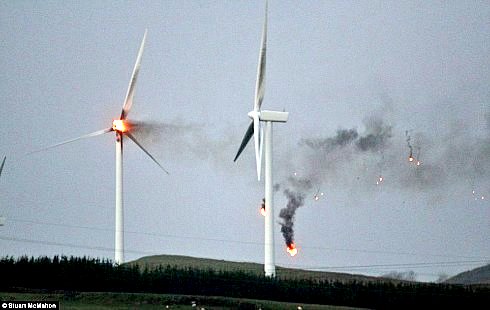 Burning: The flaming debris from the wind turbines flew off into nearby fields due to the wind Courtesy: Dailymail.co.uk | Photo by: Stuart McMahon
We welcome your comments, but please comply with our
Comment Rules.
You must be registered and logged in to leave a comment. Comments will display your Username and location.
Log In »
Notable Quotables

"The UN Human Rights Council is flawed and needs reform but walking away won't fix it. The best way to improve the Council, so it can achieve its potential, is through robust and principled U.S. leadership. Under POTUS Biden, we are reengaging and ready to lead."

~ US Secretary of State Antony Blinken announcing Monday that the Biden administration had decided to return the US to the UN Human Rights Council, reversing the departure by former president Donald Trump, who pulled out of the council in 2018 due to its disproportionate focus on Israel, which has received by far the largest number of critical council resolutions against any country (more here).