September 11, 2011
Monuments To Lunacy
And how long did it take to get rid of those Flat Earth theories???


Telegraph.co.uk  |  September 11, 2011
Wind farms: the monuments to lunacy that will be left to blot the landscape
These pointless monstrosities will continue to proliferate until the Government sees sense.
By Christopher Booker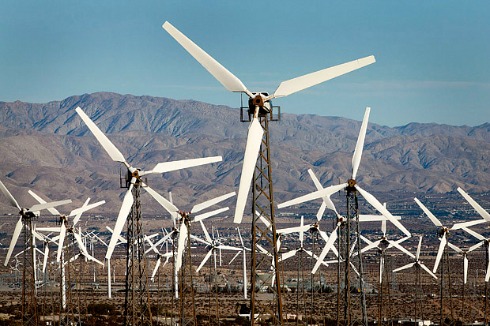 Wind turbines generate power at the San Gorgonio Pass Wind Farm in Whitewater, Calif. Photo by Konrad Fiedler/Bloomberg; Courtesy: go.bloomberg.com
Three separate news items on the same day last week reflected three different aspects of what is fast becoming a full-scale disaster bearing down on Britain. The first item was a picture in The Daily Telegraph showing two little children forlornly holding a banner reading "E.On Hands Off Winwick".
This concerned a battle to prevent a tiny Northamptonshire village from being dwarfed by seven 410-foot wind turbines, each higher than Salisbury Cathedral, to be built nearby by a giant German-owned electricity firm. The 40 residents, it was reported, have raised £50,0000 from their savings to pay lawyers to argue their case when their village's fate is decided at an inquiry by a Government inspector.
In the nine years since I began writing here about wind turbines, I have been approached by more than 100 such local campaigns in every part of Britain, trying to fight the rich and powerful companies that have been queuing up to cash in on the vast subsidy bonanza available to developers of wind farms. Having been the chairman of one such group myself, I know just how time-consuming and costly such battles can be. The campaigners are up against a system horribly rigged against them, because all too often – although they may win every battle locally (in our case we won unanimous support from our local council) – in the end an inspector may come down from London to rule that the wind farm must go ahead because it is "government policy".
I long ago decided that there was little point reporting on most of these individual campaigns, because the only way this battle was going to be won was by exposing the futility of the national policy they were up against. My main aim had to be to bring home to people just how grotesquely inefficient and costly wind turbines are as a way to make electricity – without even fulfilling their declared purpose of reducing CO2 emissions.
Alas, despite all the practical evidence to show why wind power is one of the greatest follies of our age, those who rule our lives, from our own politicians and officials here in Britain to those above them in Brussels, seem quite impervious to the facts. More here...
We welcome your comments, but please comply with our
Comment Rules.
You must be registered and logged in to leave a comment. Comments will display your Username and location.
Log In »
Notable Quotables

"Mr. Netanyahu is one of the most media-savvy politicians on the planet. On Friday he appeared live via video link on 'Real Time with Bill Maher,' taking the host's alternately sardonic and serious line of questioning with gazelle-like alacrity."

~  Anthony Grant, jourrnalist who has written for many major newspapers and worked in television at Paris and Tel Aviv, interviewing former PM Benjamin Netanyahu on Monday, at the outset of Mr. Netanyahu's new book (more here).