Archives

AND MORE...


Don't Know Much About Much
_____________________


Fire The Flunkers (& Clunkers)
_____________________


Eeny, Meeny, Miny, Moe
_____________________


Fumbling From Behind
_____________________
June 2, 2012
Pivoting Into Irrelevance
Defense Secretary Leon Panetta's speech at the Shangri La Dialogue apparently convinced NO ONE that President Obama's new "strategic pivot" from the Middle East to Asia was serious.
Asian defense ministers asked whether the U.S. could afford to pivot to Asia given its current defense budget cuts (see below). Quite a legitimate question, to which there was no legitimate answer.
Another legitimate question we would have asked (and which others may have wondered about) is upon formulating this not-so-brilliant "strategic pivot to Asia," did the U.S. bother to inform its enemies in the Middle East, e.g., Iran, Syria, Hezbollah, etc. - not to mention allies like Israel - that threats from that part of the world (e.g., Islamic extremism) had diminished?
No wonder America's efforts to mediate conflict and effect change in some of the world's most troubled regions have "been met lately with a startling response, in country after country -- defiance."
When the rest of the world views America's Commander-in-Chief as a lightweight that leads from behind, why would anyone follow America's lead?!
FoxNews.com | June 2, 2012
Panetta Says New Pentagon Strategy To Pivot Focus To Asia Not Designed To Contain China
By Jennifer Griffin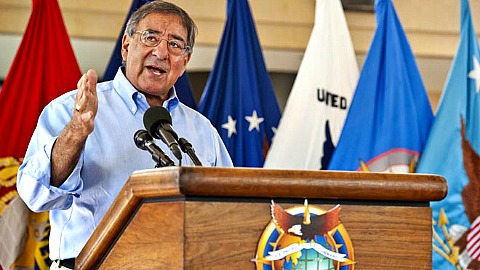 May 31, 2012: Secretary of Defense Leon E. Panetta speaks to service members and civilian employees of at Camp Smith, Hawaii. (AP)
SINGAPORE – In his first speech in Asia since the president announced a strategic pivot to Asia, Defense Secretary Leon Panetta sought to reassure China that the new U.S. strategy to pivot military resources and focus to Asia is not designed to contain China.
"Some view the increased emphasis by the United States on Asia-Pacific as a challenge to China, I reject that view entirely," Panetta told a top level conference of Asian defense ministers sponsored by the International Institute for Strategic Studies.
At the conference known as the Shangri La Dialogue, Panetta announced that the U.S. would shift 60 percent of its naval assets to Pacific ports. Currently, the 11 aircraft carriers are split between Asia and the Middle East.
"By 2020, the Navy will re-posture its forces from today's roughly 50/50 percent split between the Pacific and the Atlantic to about 60/40 split between these two oceans - including six aircraft carriers, a majority of our cruisers, destroyers, Littoral Combat Ships, and submarines," Panetta said.
The questions from Asian defense ministers focused on whether the U.S. could afford to pivot to Asia given its current defense budget cuts.
The first question to Panetta came from a representative of China's People's Liberation Army.
"My question is, sir, could you enlighten me a little more how the U.S. plans to develop military-to-military relations with China?" More here...
We welcome your comments, but please comply with our
Comment Rules.
You must be registered and logged in to leave a comment. Comments will display your Username and location.
Log In »
Notable Quotables

"The UN Human Rights Council is flawed and needs reform but walking away won't fix it. The best way to improve the Council, so it can achieve its potential, is through robust and principled U.S. leadership. Under POTUS Biden, we are reengaging and ready to lead."

~ US Secretary of State Antony Blinken announcing Monday that the Biden administration had decided to return the US to the UN Human Rights Council, reversing the departure by former president Donald Trump, who pulled out of the council in 2018 due to its disproportionate focus on Israel, which has received by far the largest number of critical council resolutions against any country (more here).