Archives

AND MORE...


Surprise!
_____________________


Sitting Ducks
____________________


SEALS Slam Obama
_____________________


A Perfect Storm?
_____________________
May 22, 2012
Fire The Flunkers (& Clunkers)
"Coping with China and Iran at the same time is stretching the Navy thin, and it will soon have to choose which theater to prioritize," warned recently retired admiral Peter Daly (see below).
Why do we need to choose which theater to prioritize, or to "pivot to Asia" if both theaters require our presence (and readiness)?!
Yes, we're broke, but national defense and security should be at the bottom of the cost-cutting list. Why not start with government-ville bureaucracy, i.e., in Washington, DC, where the unemployment rate is one of the lowest in the country?! How many departments of education, for example, do we need? We have departments of education on state and local levels, so why waste money we don't have on a federal bureaucracy we don't need? Especially when the only thing this bureaucracy has succeeded in doing is dumbing-down generations of schoolchildren?
The one thing our Commander-in-Chief and government are supposed to be dealing with is national security, but they're flunking miserably and laying the groundwork for major problems in the future. With global threats proliferating on a regular basis, we can no longer afford a Commander-in-Chief who prefers dabbling in domestic affairs rather than national security and foreign affairs. In fact, we had a president like that throughout the 1990's, and some of you may remember a small terrorist group that emerged and grew uninterrupted during those (Clinton) years, i.e., a group by the name of al Qaeda?
AOL Defense | May 21, 2012
Navy Strains To Handle Both China And Iran At Once
By Sydney J. Freedberg Jr.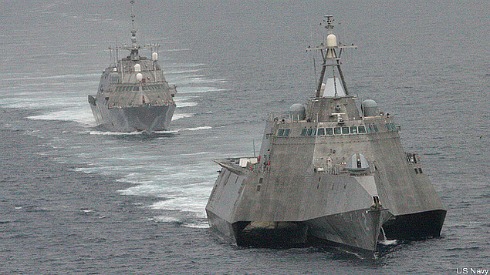 Navy Needs Both LCS Versions For War With China, Iran - In Different Ways Photo credit: U.S. Navy
VIRGINIA BEACH, VA: Coping with China and Iran at the same time is stretching the Navy thin, and it will soon have to choose which theater to prioritize, warned Peter Daly, the recently retired admiral who now heads the prestigious US Naval Institute.
The Obama administration's new strategic guidance said the US would boost its presence in the Pacific as it drew down in the Middle East, but subsequent statements have qualified that as a "pivot to Asia." The first problem is the force isn't truly fungible: it's mainly ground troops coming out of Afghanistan and Iraq, while the Pacific requires mainly ships and long-range airpower. The second problem is that Iran isn't cooperating.
"The annoying realities of the Iranian situation fly in the face of this wonderfully crafted strategy," Daly said. Instead of shifting carrier strike groups and other naval forces from the Persian Gulf to the Western Pacific, the Navy is trying to reinforce both at once. That's not an effort the fleet can sustain indefinitely.
"We've been on a 'temporary' bump up to two carriers in Southwest Asia, and now that is likely to continue," Daly explained in an interview with AOL Defense on the sidelines of the annual Joint Warfighting Conference co-sponsored by the Naval Institute and the industry group AFCEA. "If the Navy is asked to do two carriers in the Gulf after the fall, you could see deployment lengths at least at nine months, possibly more, and you'll see some tradeoffs of carrier coverage in the Pacific coming back to Southwest Asia, when the plan said the flow would go the other way."
Carriers are particularly critical because the Navy has already dropped from 12 to 11 of the massive floating airfields, and when the 50-year-old USS Enterprise is retired this fall, said Daly, "we're going to go down to 10 deployable carriers between now and the time the Ford comes out in 2016." But carriers aren't the only ship in short supply.
Although the Chinese have an aggressive policy towards maritime neighbors like the Philippines and an estimated 100,000 naval mines, soon just six of the Navy's 14 Avenger-class minesweepers will soon be in the Pacific and eight in the Gulf, with four of the small ships leaving the West Coast for Bahrain. "They just left Long Beach a few days ago," said Daly. Although Chief of Naval Operations Adm. Jonathan Greenert announced the move in March, "there's a lot that had to be done" to get them ready to go, Daly said, including loading the relatively small minesweepers onto more seaworthy "heavy lift" vessels to haul them across the ocean. Now they're actually en route, Daly said, "it should take at least five weeks to get them over there."
Since demand is growing and the fleet is not, the short-term expedient is to use each ship more. The almost 11-month deployment of the USS Bataan (pictured, in the Strait of Hormuz) was extreme, but it's a sign of things to come. "Right now demand exceeds supply, so that is driving longer deployments," Daly said, "getting much, much more out of the existing force." Before 9/11, on a typical day, about a third of Navy ships were out of port and underway and about 28 percent were actually deployed, operating in foreign seas rather than training in waters close to home. "Today those numbers are much, much higher," Daly said, more like 44 percent of ships underway and 38 percent deployed.
In the long term, though, this higher tempo of operations puts more strain on both sailors and ships. A warship's complex systems take a lot of work to maintain, much of which can't be done underway but rather requires the facilities of a port. With more, longer deployments and shorter intervals in between, "when that ship has to be maintained, that's the time," said Daly. There's no more margin of error for delays or unexpected problems – including sequestration:
"All these ship repair contracts and all these ship repair actions...they'll come to a screeching halt" if there's a sequester, Daly warned. "The Navy will be forced only to execute emergency maintenance actions," and with the pace of deployments up, "there're only certain windows where you can do maintenance."
The long-term salvation of the fleet is supposed to be the Littoral Combat Ship, an innovative and affordable class of smaller vessels intended to be the most numerous in the Navy, with a planned buy of 55. LCS isn't a battleship by any means, but it's intended as a versatile workhorse to hunt submarines, mines, and small boats of the kind employed by the Iranians or Somalia pirates. "It's probably an inefficient use of a multi-mission platform like an Arleigh Burke [guided-missile destroyer] to assign them to anti-piracy missions off Somalia," said Daly. "LCS is much better suited to missions like that." Likewise, the move of more minesweepers to the Gulf highlights up the Navy's longstanding shortfalls in mine warfare, which the LCS is intended to correct – when its mine-hunting "mission module" completes testing and enters production sometime around 2014. "There's a real need for this LCS package capability, but it's just not going to be ready," said Daly. "There has to be something now."
Daly also has misgivings about the way the LCS program has been run, particularly the Navy's decision to award two different companies contracts to build two different variants of the vessel, each with its own unique demands for training and spare parts. "I think it was a missed opportunity not to take more time and neck down to a single type-model series," he said. "But it's not irretrievable. Now you have to go back and ensure that you're building a sustainable, effective platform and fielding it correctly." With the world unlikely to get much safer any time soon, the Littoral Combat Ship is something the Navy needs to get right.
Original article here.
We welcome your comments, but please comply with our
Comment Rules.
You must be registered and logged in to leave a comment. Comments will display your Username and location.
Log In »
Notable Quotables

"Mr. Netanyahu is one of the most media-savvy politicians on the planet. On Friday he appeared live via video link on 'Real Time with Bill Maher,' taking the host's alternately sardonic and serious line of questioning with gazelle-like alacrity."

~  Anthony Grant, jourrnalist who has written for many major newspapers and worked in television at Paris and Tel Aviv, interviewing former PM Benjamin Netanyahu on Monday, at the outset of Mr. Netanyahu's new book (more here).