Archives

AND MORE...


Oops, They Meant It...
____________________


While We Were Sleeping
____________________


"I Have Israel's Back"
____________________


Anatomy of Incompetence
____________________
April 10, 2012
Surprise!
According to a brand new congressional commission report, the U.S. government and private analysts missed the emergence of significant military developments by China that caught intelligence agencies by surprise.
Details (and excuses) below.
Anyone wanna bet their life (or the lives of their loved ones) on the U.S. government's assessments regarding Iran?!
Washington Free Beacon | April 10, 2012
Blinded By Beijing
Congressional report highlights U.S. intelligence failures regarding China military buildup
By Bill Gertz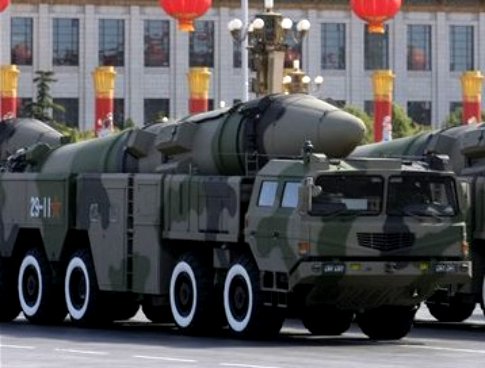 DF-21D / AP Images
U.S. government and private analysts missed the emergence of significant military developments by China that caught intelligence agencies by surprise, according to a congressional commission report.
New Chinese military developments that caught the United States off guard included new attack submarines, an anti-satellite missile system, aircraft carrier-killing missiles, and a new stealth jet.
"A decade on, it is now clear that much of the conventional wisdom about China dating from the turn of the century has proven to be dramatically wrong," says the staff report by the U.S. China Economic and Security Review Commission, a congressional group.
"These predictive errors carry with them serious geopolitical consequences," said the report, made public April 5. "To avoid being similarly caught off-guard in 2022, U.S. analysts should carefully reexamine many of their widely-held assumptions about the Chinese government and its policy goals."
The report examined what it termed the "surprise" military developments and whether they showed "a pattern of underestimating the speed and depth of Chinese military development."
The report is the latest in a series of challenges to what critics say has been more than a decade of faulty U.S. intelligence analyses of China that underestimate Beijing's development in an apparent bid to play down the threat it poses to regional security and the resulting need for a U.S. response.
Commission staff members Amy Chang and John Dotson produced the report. It highlights analytical failures by both government and non-government China hands.
Commission member Carolyn Bartholomew said the staff report was based on open sources and "identified several factors that might have contributed to the U.S. government and intelligence community's analysis missing some key developments in China's military modernization."
"These factors included old ways of thinking about China's growth, technological competence, and strategic goals," she said.
It is hoped that the report "will spur a reconsideration of analytical models and an updating of the bureaucratic framework for understanding China's defense capabilities and its growing role in the world," she said.
Larry Wortzel, another commission member, said a number of the commissioners believe the panel should be focusing on two areas: whether there were intelligence shortcomings, like missed clues on the J-20 and submarines; and continuing failures in a number of agencies to understanding China's political and military system.
The latter has produced "false portrayals or the acceptance of false explanations about what senior leaders know."
"For instance, arguably the Central Military Commission and the Politburo Standing Committee knew about the J-20 and the anti-satellite test, but since the Foreign Ministry is not part of any national security apparatus, they had no idea what was going to happen," Wortzel said. "Yet many in the U.S. government accepted the suggestion that it was the PLA acting on its own."
Also, Wortzel said the Navy for a long time refused to accept that the Chinese military was capable of building the DF-21D, which can be used against Navy carriers.
Government sources said the report appears to coincide with intelligence shortcomings outlined in a version of the Pentagon's annual report to Congress on China's military. That report included a section on under- and over-estimates of Beijing's decades-long military buildup and modernization that included both conventional and strategic force enhancements.
A Defense Intelligence Agency spokesman said the U.S. intelligence community's annual threat assessments have addressed Chinese military modernization, along with diplomatic and economic progress, for more than 10 years. "The intelligence community reassessed threats over time and IC leaders' testimonies to Congress have reflected awareness of China as a rising power with ongoing military modernization efforts," the spokesman said.
Separately, another U.S. official defended analysis of China, saying intelligence agencies have "consistently throughout the years described China as a rising power." The official said the commission's new report "contains many old criticisms."
"The intelligence community regularly reviews its analytic assessments for accuracy—including those on China's military—to inform and improve future analysis," this official said.
But one U.S. official said the report is a wake-up call for Congress to conduct a probe into intelligence failures related to China. "Members of Congress should request details of the failures identified by the report," the official said.
Spokesmen for the House and Senate intelligence oversight committees had no immediate comment on whether those panels would pursue the intelligence shortcomings identified by the report.
The report examined four key weapons systems now being developed or deployed by China. They include the Type 039 Yuan-class diesel-electric attack submarine, the satellite-killing SC-19 anti-satellite (ASAT) missile, the DF-21D precision-guided anti-ship ballistic missile (ASBM), and the J-20 stealth fighter jet.
The Yuan submarine was developed in secret. U.S. intelligence agencies did not learn about it until photos of the submarine, which employs an advanced air-independent drive system, appeared on the Internet in 2004. Four of the new submarines—part of China's more than 40 new submarines built in the past three decades—are deployed.
The anti-satellite missile program was known in 2007, but the test firing against a Chinese weather satellite that year was a surprise. It left tens of thousands of pieces of debris orbiting in space that threaten both manned and unmanned spacecraft, the report said.
"The test, which produced history's greatest single instance of human-created space debris, provoked U.S. and international concern about space environmental safety and further raised questions regarding the implications of the test for the vulnerability of U.S. satellite systems to adversarial attacks," the report said.
China's speedy development of its anti-ship ballistic missile also caught U.S. intelligence by surprise.
Regarding the missile, the report quoted Navy Vice Adm. David "Jack" Dorsett as saying, "We've been on the mark on an awful lot of our assessments but there [have also] been a handful of things we have underestimated."
Navy and defense officials have said the DF-21 threatens U.S. carriers and could have the effect of forcing the Navy to operate at further distances from China's coasts. That would undermine U.S. support of key allies and freedom of navigation in strategic Pacific waterways.
China's new J-20 stealth jet fighter was also a surprise development when it was first flight tested in January 2011, the report said.
U.S. officials have said that the Pentagon canceled the purchases of the Air Force's most advanced stealth jet, the F-22, based on intelligence indicating that the J-20 would not be deployed until the 2020s.
Richard Fisher, who specializes in Chinese military affairs at the International Assessment and Strategy Center, said the commission report is the kind of analysis Congress is not getting from the executive branch, which "was at times ignoring or even suppressing the truth about China's military intentions."
Fisher noted that the commission should also examine the intelligence community's failure from 2003 when they claimed that Beijing would not build aircraft carriers. China has a carrier nearing deployment and at least two others on the drawing board.
Another intelligence shortcoming, according to Fisher, is the failure to clearly assess the military role of China's manned space program.
Fisher said the commission report failed to clearly explain the mistakes and who made them.
"There are many analysts who have been warning of China's threatening intentions and its accumulating military build up," he said. "These individuals deserve some recognition."
Also, the commission should make further recommendations about how to respond to the failures to estimate correctly Chinese strategic intentions and capabilities, Fisher said.
A force of 400 F-22s instead of current plans for 187 jets is one suggestion, along with developing space combat capabilities.
"Who will now say that Americans need to prepare for the fact that China intends to pose a global conventional and unconventional military challenge to the United States for as long as it remains a Communist dictatorship?" Fisher asked.
The critical report highlights earlier classified assessments that concluded U.S. intelligence agencies have underestimated Chinese military developments.
The report mentions congressional legislation passed in 2000 that questioned the quality of CIA analysis on China. That led to a classified study by a group of analysts led by retired Army Gen. John Tilelli that criticized China analysis for minimizing the military threat.
In 2008 the State Department's International Security Advisory Board criticized State Department intelligence analysis of China and noted that "Chinese military modernization is proceeding at a rate to be of concern even with the most benign interpretation of China's motivation."
A 2005 study produced by CIA-affiliated contractor concluded that U.S. intelligence missed key military developments by China, including several other weapons systems identified in the congressional study.
That still-classified report concluded that analysts missed China's development and deployment of the DH-10 land attack cruise missiles, the development of warships equipped with stolen U.S. battle management technology, and China's importation of advanced weapons systems including submarines, warships, and fighter bombers
We welcome your comments, but please comply with our
Comment Rules.
You must be registered and logged in to leave a comment. Comments will display your Username and location.
Log In »
Notable Quotables

"Mr. Netanyahu is one of the most media-savvy politicians on the planet. On Friday he appeared live via video link on 'Real Time with Bill Maher,' taking the host's alternately sardonic and serious line of questioning with gazelle-like alacrity."

~  Anthony Grant, jourrnalist who has written for many major newspapers and worked in television at Paris and Tel Aviv, interviewing former PM Benjamin Netanyahu on Monday, at the outset of Mr. Netanyahu's new book (more here).