Archives

AND MORE...


A Brutal Blast of Adverbs
____________________


U.S. of Blissful Ignorance
____________________


Go Ahead, Make Our Day
____________________


Operation A Success, But Patient Dead
____________________
May 29, 2012
Fumbling From Behind
Every time we hear about President Obama's doctrine of "leading from behind," we're reminded of something else that leads from behind, i.e., a horse's ass.
As for the White House's strategy to "coax the Russians into agreeing to help ease Mr. Assad from power while preserving the bulk of the regime" (see below), we're reminded of the definition of insanity, i.e., doing the same thing over and over and expecting different results.
When has this White House succeeded in coaxing anyone, much less Russia, into doing anything they didn't want to do? Successful coaxing requires the coaxee have a measure of respect for the coaxer, which few if any nations today have for the current occupant of the White House.
Wall Street Journal | March 29, 2012
Review & Outlook
Syria's Srebrenica
The U.N. again plays accomplice to a massacre.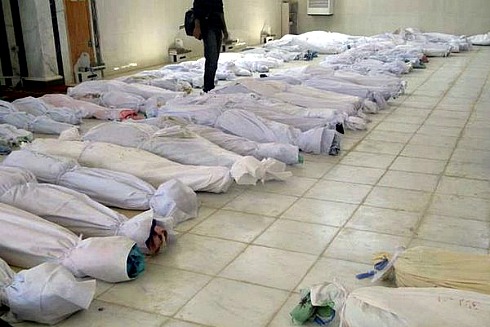 This citizen journalism image, provided by Shaam News Network, purports to show shrouded bodies following a Syrian government assault on Houla, Syria. The Syrian government denied its troops were behind an attack on a string of villages that left more than 90 people dead, blaming the killings on "hundreds of heavily armed gunmen" who also attacked soldiers in the area. Friday's assault on Houla, an area northwest of the central city of Homs, was one of the bloodiest single events in Syria's 15-month-old uprising. Photo credit: AP / Courtesy: washingtonpost.com

The United Nations Security Council on Sunday condemned Syria's government for the killing of 108 people, mostly women and children, in Houla on Friday. But the condemnation was incomplete: It should have included the Security Council itself for providing the diplomatic cover that has let the Assad government continue its killing.
Thanks to Russia and China, the Security Council has failed to impose any serious sanctions on Syria, much less endorse action to help the opposition amid more than 6,000 deaths. That's bad enough. But in April the U.N. turned to aiding and abetting the regime with its mission to... more here
We welcome your comments, but please comply with our
Comment Rules.
You must be registered and logged in to leave a comment. Comments will display your Username and location.
Log In »
Notable Quotables

"It was the Palestinian mob that prevented Abu Akleh's funeral from progressing to the church by hearse as the family had wanted. It was the mob that took the body without authorization, which forced Israeli Police to intervene with force to have them return the body to the hospital. Once returned, the body was transported to the church in the hearse under Israeli protection according to plan."

~  Itamar Marcus, Founder and Director of Palestinian Media Watch, on the hijacking of Shireen Abu Akleh's funeral (more here).