Archives
AND MORE...


Iranian Chic
____________________


RoP Strikes Again
____________________


The Multi-Culti Brigade
____________________


Royal Liars
____________________
December 28, 2011
One Step Forward, Two Back
Bravo to the Pentagon for responding as it did (see below). And thanks, but no thanks to the State Department for their 2 cents.
Iran and every troublemaker on earth have been testing American resolve from day one of President Obama's reign.
Whether or not Iran's threats are "bluster" (as they often are) is for the Pentagon to know/decide and proceed accordingly.
The only ones who derive benefit from the meaningless dribble of Appeasement Central (aka the State Department) are our enemies, so someone oughta remind State of the old adage: "Don't speak unless you can improve on the silence," as in most cases, they cannot.
FoxNews.com | December 28, 2011
Pentagon: Iranian Disruption of Oil Route 'Will Not Be Tolerated'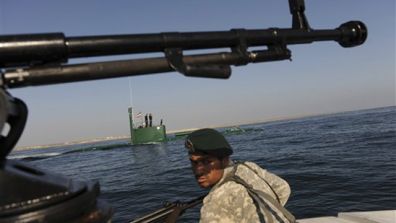 Dec. 28, 2011: Members of the Iran Navy participate in a drill in the Sea
of Oman. AP
U.S. military officials warned Wednesday that any attempt by Iran to disrupt oil shipments at the mouth of the Persian Gulf "will not be tolerated," as Iran threatened for the second day in a row to interfere with the critical passageway.
Pentagon spokesman George Little describe the route, the Strait of Hormuz, as an "economic lifeline" vital to stability in the region. He said any attempt to block it would be "problematic."
Meanwhile, a spokeswoman for the U.S. Navy's 5th fleet warned Iran against disrupting shipments in the strait, saying the U.S. Navy keeps a "robust presence in the region" and is "ready to counter malevolent actions to ensure freedom of navigation."
"Anyone who threatens to disrupt freedom of navigation in an international strait is clearly outside the community of nations; any disruption will not be tolerated," Fleet spokeswoman Lt. Rebecca Rebarich said.
The warning comes as Iranian officials stand by earlier threats to use the passageway to retaliate if the West imposes new sanctions targeting Tehran's oil exports over the country's suspect nuclear program.
Iran's navy chief warned Wednesday that his country can close the waterway. "Closing the Strait of Hormuz is very easy for Iranian naval forces," Adm. Habibollah Sayyari told state-run Press TV. "Iran has comprehensive control over the strategic waterway."
On Tuesday, Vice President Mohamed Reza Rahimi also threatened to close the strait, cutting off oil exports, if the West imposes sanctions on Iran's oil shipments.
All of this comes at a tense time, as the Iranian navy carries out a 10-day naval exercise that includes dispatching warships and drones over the vital waterway. The exercises are being carried out on the eastern side of the strait and down into the Gulf of Aden and could put Iranian ships on a collision course with U.S. naval vessels.
The strait is just 34 miles wide, and about 20 percent of the world's oil shipments pass through.
The mere threat of closing the strait has caused oil prices to rise above $100 a barrel.
With concern growing over a possible drop-off in Iranian oil supplies, a senior Saudi oil official said Gulf Arab nations are ready to offset any loss of Iranian crude.
That reassurance led to a drop in world oil prices. In New York, benchmark crude fell 77 cents to $100.57 a barrel in morning trading. Brent crude fell 82 cents to $108.45 a barrel in London.
But a closure of the strait could temporarily cut off some oil supplies and force shippers to take longer, more expensive routes that would drive oil prices higher. It also potentially opens the door for a military confrontation that would further rattle global oil markets.
The threats underline Iranian concern that the West is about to impose new sanctions that could target Tehran's vital oil industry and exports.
Western nations are growing increasingly impatient with Iran over its nuclear program. The U.S. and its allies have accused Iran of using its civilian nuclear program as a cover to develop nuclear weapons. Iran has denied the charges, saying its program is geared toward generating electricity and producing medical radioisotopes to treat cancer patients.
The U.S. Congress has passed a bill banning dealings with the Iran Central Bank, and President Obama has said he will sign it despite his misgivings. Critics warn it could impose hardships on U.S. allies and drive up oil prices.
The bill could impose penalties on foreign firms that do business with Iran's central bank. European and Asian nations import Iranian oil and use its central bank for the transactions.
Iran is the world's fourth-largest oil producer, with an output of about 4 million barrels of oil a day. It relies on oil exports for about 80 percent of its public revenues.
Iran has adopted an aggressive military posture in recent months in response to increasing threats from the U.S. and Israel that they may take military action to stop Iran's nuclear program.
As the Pentagon warns Iran against taking any action in the Strait of Hormuz, a State Department spokesman said Tuesday that "obviously there's an element of bluster" to some of the Iranian comments.
Fox News' Jennifer Griffin and The Associated Press contributed to this report.
Original article here.
We welcome your comments, but please comply with our
Comment Rules.
You must be registered and logged in to leave a comment. Comments will display your Username and location.
Log In »
Notable Quotables

"Mr. Netanyahu is one of the most media-savvy politicians on the planet. On Friday he appeared live via video link on 'Real Time with Bill Maher,' taking the host's alternately sardonic and serious line of questioning with gazelle-like alacrity."

~  Anthony Grant, jourrnalist who has written for many major newspapers and worked in television at Paris and Tel Aviv, interviewing former PM Benjamin Netanyahu on Monday, at the outset of Mr. Netanyahu's new book (more here).