Archives
AND MORE...


The Multi-Culti Brigade
____________________


Royal Liars
____________________


Whitewashing Campaign
____________________


China Hackers Strike Again
____________________
December 25, 2011
RoP Strikes Again
Deadly church blasts rattle Nigeria today, as once again, followers of the Religion of Peace attack Christians celebrating their holiest of holy days (see below).
Yes, yes, we know, not all Muslims engage in this kind of behavior, but most, if not all people who do, are Muslim.
Which begs the question: What is it about Islam that causes so many of its followers to engage in such violent behavior? The Muslim world would do well to focus on that, rather than blaming everyone else for what they perceive as slights to their religion.
And the U.S. government would do even better, if it stopped engaging in Whitewashing Campaigns (story here), and remembered that appeasing bad behavior only encourages more bad behavior.


Telegraph.co.uk  |  December 25, 2011
Coordinated Bomb Attacks Across Nigeria Kill At Least 39
A series of bomb attacks by the Muslim radicals Boko Haram aimed at churches across Nigeria has killed at least 39 people.
By Duncan Gardham, Laura Heaton in Nairobi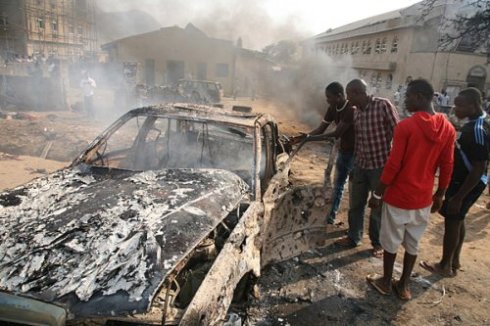 Men look at the wreckage of a car following a bomb blast at St. Theresa Catholic Church
outside the Nigerian capital Abuja on Dec. 25. (Sunday Aghaeze / AFP / Getty Images) 
Boko Haram, a group with ties to al-Qaeda, claimed responsibility for the attacks, as they continued to escalate a campaign against moderate Muslims, Christians and Western influence.
Nicknamed the Nigerian Taliban, they have become of increasing concern to British intelligence and are responsible for at least 500 killings this year.
Officials in the White House condemned the "senseless violence", calling the attacks an act of terrorism.
The first explosion struck at the St Theresa Catholic Church in Madalla, a satellite town about 25 miles from the capital, Abuja.
Rescue workers recovered at least 35 bodies from the church according to Father Christopher Barde, Assistant Catholic Priest of the church. Dozens more were injured.
The church was still packed when the explosion went off as members of the congregation poured out at the end of Christmas mass.
Eyewitness reports said the large church's front roof had collapsed in the blast which had also destroyed several houses and burned out five cars.
One witness, Nnana Nwachukwu, said the blast occurred on the road outside the church.
"Mass just ended and people were rushing out of the church and suddenly I heard a loud sound 'bam'. Cars were in flames and bodies littered everywhere," he added.
Timothy Onyekwere said: "We were in the church with my family when we heard the explosion. I just ran out. Now I don't even know where my children or my wife are. I don't know how many were killed but there were many dead."
Bashir Adigun, a local journalist who arrived at the shortly after explosion told the Daily Telegraph the attack appeared to be a car bomb and a vehicle was still burning when he arrived at the scene.
Thousands of angry youths set up burning road blocks on the highway from Abuja leading to Nigeria's largely Muslim north.
A second explosion struck in a business area of the city of Jos near the Mountain of Fire and Miracles Church and gunmen later opened fire on police guarding the area, killing one police officer.
Two bombs were also found in a nearby building and defused, according to Pam Ayuba a government spokesman.
The city of Jos is located on the dividing line between Nigeria's predominantly Christian south and Muslim north. Thousands have died in communal clashes there over the last decade. Jos was hit by bombings on Christmas Eve last year, which killed at least 32.
The northeastern city of Damaturu was also truck by two blasts, including a suicide car bombing, according to the local police commissioner, where three were killed. A further explosion targeted a church in the northeastern area of Gadaka, but no one was reported killed.
A Boko Haram spokesman, using the nom de guerre Abul-Qaqa, claimed responsibility for the attacks in an interview with the respected northern newspaper The Daily Trust.
William Hague, the Foreign Secretary, condemned the "cowardly attacks on families gathered in peace and prayer to celebrate a day which symbolises harmony and goodwill towards others."
Security sources have told the Daily Telegraph that Boko Haram has recently gained expertise from al-Qaeda in the Islamic Maghreb (AQIM) in North Africa and al-Shabaab in Somalia and has adopted an increasingly internationalist outlook.
The US Embassy in Abuja had issued a warning on Friday to be "particularly vigilant around churches and other places of worship, locations where large crowds may gather, and areas frequented by expatriates and foreign travellers."
On August 26, the group launched its first known suicide attack against the UN building in Abuja, killing at least 23 people and wounding 76 wounded in an explosion which gutted the ground floor.
Boko Haram fighters had launched attacks in Damaturu in the days before Christmas, leading to the deaths of at least 61 people, according to the Nigerian government.
On Christmas Day two years ago Umar Farouq Abulmutallab, a former student at University College London who was the son of a Nigerian banker, tried to kill blow himself up using a bomb in his underpants on a trans-Atlantic flight to Detroit.
Original article here.
We welcome your comments, but please comply with our
Comment Rules.
You must be registered and logged in to leave a comment. Comments will display your Username and location.
Log In »
Notable Quotables

"Mr. Netanyahu is one of the most media-savvy politicians on the planet. On Friday he appeared live via video link on 'Real Time with Bill Maher,' taking the host's alternately sardonic and serious line of questioning with gazelle-like alacrity."

~  Anthony Grant, jourrnalist who has written for many major newspapers and worked in television at Paris and Tel Aviv, interviewing former PM Benjamin Netanyahu on Monday, at the outset of Mr. Netanyahu's new book (more here).