Archives
AND MORE...


Whitewashing Campaign
____________________


China Hackers Strike Again
____________________


Deadly New Killer Flu
____________________


Evacuation of Expats From Eurozone
___________________
December 22, 2011
Royal Liars
When asked about the textbooks (see below), Prince Faisal Bin Abdullah Al-Saud, the Saudi minister responsible for the textbooks, said "I always say to people, please come. Come, try to see us. But come without a preconceived idea .... Especially when you want to raise the future, no one is going to introduce violence."
In other words, who are you going to believe, me or your lying eyes?
All this comes as the Obama administration works with the 57-member Organization of Islamic Cooperation (OIC) in Washington DC to stifle speech "offensive" to Muslims (story here).
FoxNews.com | December 21, 2011
Extremist Teachings Remain in Saudi Textbooks Despite Kingdom's Claims of Reform
By Catherine Herridge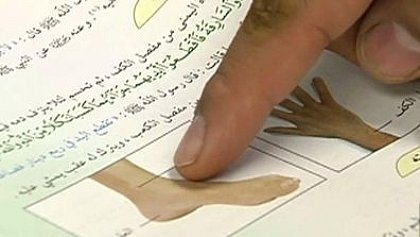 Recent textbooks for Saudi children include lessons on how to cut the feet and
hands off thieves. Fox News.
Despite Saudi Arabia's promises to clean up textbooks in the kingdom, recent editions continue to raise alarms in the West over jihadist language.
The recent editions were obtained by the Institute for Gulf Affairs in Washington, D.C., and the translations were first provided to Fox News.
"This is where terrorism starts, in the education system." Ali Al-Ahmed, director of the Institute for Gulf Affairs, told Fox News. Al-Ahmed, a Saudi national, said the textbooks, made and paid for by the Saudi government, were smuggled out of the kingdom through confidential sources.
In a textbook for 10th-graders, printed for the 2010-2011 academic year, al-Ahmed said teenagers are taught barbaric practices. "They show students how to cut (the) hand and the feet of a thief," he said. In another textbook, for ninth-graders, the students are taught the annihilation of the Jewish people is imperative. One text reads in part: "The hour (of judgment) will not come until the Muslims fight the Jews and kill them. ... There is a Jew behind me come and kill him."
According to the textbook translations provided to Fox News, women are described as weak and irresponsible. And al-Ahmed said the textbooks call for homosexuals to be put to death "because they pose a danger at society, as the Saudi school books teaches."
Al-Ahmed say the textbooks are both a Saudi and an American problem. "If you teach 6 million children in these important years of their lives, if you install that in their brain, no wonder we have so many Saudi suicide bombers."
After the Sept. 11 terrorist attacks, there was an intense focus on Saudi Arabia and its educational teachings because almost all of the attackers were from the kingdom. In 2006, Saudi Ambassador to the U.S. Prince Turki al-Faisal told the Chicago Council on Foreign Relationships that the Saudi king was determined to eradicate this ideology of hate.
"In Saudi Arabia, King Abdullah recognizes that above all else education is the key, and he has put forth a program of reforms in this area," al-Faisal said. "In recent years, the kingdom has reviewed all of its education practices and materials and has removed any element that is inconsistent with the needs of a modern education. Not only have we eliminated what is objectionable from old textbooks that were in our system, we have also implemented a comprehensive internal revision and modernization plan."
But the new textbooks, most from the 2010-2011 academic year, show the hateful speech remains.
In Atlanta earlier this month, the Saudi minister responsible for the textbooks talked about the importance of education for woman. Asked by Fox News about the textbooks, Prince Faisal Bin Abdullah Al-Saud said, "I always say to people, please come. Come, try to see us. But come without a preconceived idea. ... Especially when you want to raise the future, no one is going to introduce violence. Violence is absolutely against - I think this is, I don't know who put in those ideas."
When Fox News offered to show the quotes to the minister, he said, "there are many quotes" and walked away.
Fox News also asked the Saudi Embassy in Washington D.C., for comment on the textbooks and the translations, but there was no immediate response.
Fox News national correspondent Catherine Herridge's bestselling book "The Next Wave: On the Hunt for al Qaeda's American Recruits," published by Crown, draws on her reporting for Fox News into the American cleric Anwar al-Awlaki and his new generation of recruits -- Al Qaeda 2.0.
Original article here.
We welcome your comments, but please comply with our
Comment Rules.
You must be registered and logged in to leave a comment. Comments will display your Username and location.
Log In »
Notable Quotables

"Mr. Netanyahu is one of the most media-savvy politicians on the planet. On Friday he appeared live via video link on 'Real Time with Bill Maher,' taking the host's alternately sardonic and serious line of questioning with gazelle-like alacrity."

~  Anthony Grant, jourrnalist who has written for many major newspapers and worked in television at Paris and Tel Aviv, interviewing former PM Benjamin Netanyahu on Monday, at the outset of Mr. Netanyahu's new book (more here).