Archives
AND MORE...


The Twit Candidate
____________________


New Embassy!
____________________


Please Pretty Please
____________________


Witchcraft, Sorcery & More
____________________
December 20, 2011
Evacuation of Expats From Eurozone
It's feeling more and more like the early 1930's.....
See below.
Telegraph.co.uk | December 18, 2011
Eurozone Crisis: Foreign Office Plans Evacuation Of Expatriates

Britons living in Spain and Portugal could get government help to leave the countries if the crisis in the eurozone sends their banks into meltdown.
By Donna Bowater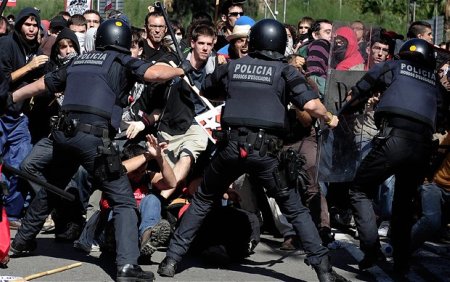 Police in Barcelona tackle protesters demonstrating against austerity measures
brought in as a bid to deal with the European debt crisis. Photo: AP
The Foreign and Commonwealth Office and the Treasury is putting measures in place to help evacuate thousands of expatriates living in Spain and Portugal in case they are stranded no access to their savings.
The two countries, which both have sizeable British populations, were among those made vulnerable by the "sustained deterioration" in funding.
Spain was warned by credit rating agency Fitch that it was facing a debt downgrade along with Italy, while Ireland, Belgium, Slovenia and Cyprus were also given the warning.
Meanwhile, around one million Britons live in Spain with around 50,000 in Portugal.
The Foreign Office said it was concerned they could be cut off from their accounts if the countries' banks called in loans.
A source told the Sunday Times the Government was considering chartering planes, ships and coaches to bring expats back to the UK.
"The nuclear scenario would be having thousands of Brits stranded at the airports in Spain and Portugal with no way to get money from the cash dispenser and no way to get home. Who would be blamed for this? The Foreign Office," an official said.
"We are looking at how we can help evacuate them if the banks in Spain and Portugal collapse, getting people cash, things like that, sending planes. We did similar things in Lebanon in 2006. We are coordinating with the Treasury."
Financial aid could also be sent to expats, many of whom are retired and living on small incomes.
A Treasury spokesman said: "Of course we plan for a range of contingencies. We are not going into the specifics of what we are planning for."
Last month, it was reported that the Foreign Office had asked embassies and consulates for contingency plans for rioting and social unrest in countries most affected by the eurozone crisis.
Diplomats were told to prepare for an evacuation of tens for/of thousands of British citizens as a banking collapse could mean they would be unable to withdraw cash.
An FCO spokesperson said: "Officials continue to contingency plan for a range of possible scenarios"
Original article here.
We welcome your comments, but please comply with our
Comment Rules.
You must be registered and logged in to leave a comment. Comments will display your Username and location.
Log In »
Notable Quotables

"Joe Biden isn't leading from behind. Joe Biden is sleeping from behind. This year has been one embarrassment after another. Russian hacks. Chinese threats. Iranian missiles. And twenty years after September 11th, Afghanistan is back in the hands of the Taliban."

~  Former U.N. Ambassador Nikki Haley tweeting Monday afternoon (more here).