Archives
AND MORE...


Witchcraft, Sorcery & More
____________________


His & Hers Demonstrations
____________________


Question of the Day
____________________
December 16, 2011
Please Pretty Please
That was pretty much the extent of America's statement to Iran over the loss of its RQ-170 Sentinel drone in Iran.
The $6 million aircraft, which is manufactured by Lockheed Martin and equipped with stealth technology, is so advanced that the U.S. Air Force has not even distributed a photo of it. It uses the same stealth technology as the drone used to monitor the compound during the raid that killed Usama bin Laden (story here).
Iran's response to our entreaties to return the aircraft? Aside from triumphant rhetoric over capture of the aircraft, they're showcasing their prize on television screens throughout the world.
In fact, so emboldened are the Iranians now, that they've issued us a warning (see below).
The upside(?!) to all of this is that President Obama has kept a campaign promise, i.e., to change how America is viewed in the world. Today, our enemies are thumping their chests in triumph, and our friends are shopping around for new alliances.
Yep, change you can believe in....
FoxNews.com | December 16, 2011
Iran Warns of Downing Other U.S. Drones in Its Skies
By Associated Press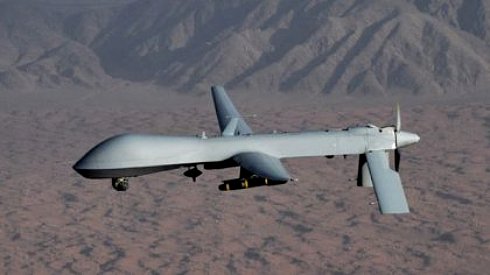 Undated handout image courtesy of the U.S. Air Force shows a MQ-1 Predator unmanned
aircraft. Reuters
TEHRAN, Iran – Iran will hunt down more American spy drones if the U.S. continues to violate its air space, a senior Iranian military official warned Friday, the latest in triumphant rhetoric from Tehran over the capture of the unmanned aircraft two weeks ago.
Rear Adm. Ali Shamkhani, Iran's former defense minister, said Iran won't remain inactive to future incursions by foreign surveillance drones.
"If U.S. spy planes continue their aggression, we won't be idle," Shamkhani was quoted as saying by the official IRNA news agency. "We will continue to hunt down their spy planes."
The comments were in response to U.S. Defense Secretary Leon Panetta who said Wednesday during a visit to Afghanistan -- from where the drone flew out -- that the United States will continue to conduct intelligence operations such as the one that led to the loss of its RQ-170 Sentinel over Iran.
Iran has displayed the pilotless U.S. aircraft it captured over the country's east as a feat of its military in a complicated battle of technology and intelligence with America, and has rejected a formal U.S. request to return the drone, calling its incursion an "invasion" and a "hostile act."
Shamkhani, who currently runs an Iranian military strategic studies center, claimed the fact that Iran brought down the pilotless surveillance aircraft nearly intact proves his nation's technological prowess.
"The Islamic Republic of Iran's capture of this spy drone shows the high capabilities of our armed forces," he said.
American officials have said that U.S. intelligence assessments indicate that Iran neither shot the drone down, nor used electronic or cybertechnology to force it from the sky. They contend the drone malfunctioned.
On Thursday, Tehran demanded that Afghanistan stop allowing the U.S. to use bases in the country to launch drone flights over Iran. Iran has said the drone was detected over the eastern town of Kashmar, some 140 miles from the Afghan border. Iranian state TV broadcast video last week of Iranian military officials inspecting the Sentinel.
American author and terrorism expert, Rachel Ehrenfeld, argues that the U.S. needs to keep spying on Iran but lamented the capture of the almost intact drone by the Iranians.
"I surely hope the U.S. is using all kind of techniques to spy on Iran. It's our enemy," she wrote in an email to The Associated Press in Tehran. "The shock is that President (Barack Obama) did not order the immediate destruction of the drone, instead he gave away one of the U.S. most advanced spying technologies."
Original article here.
We welcome your comments, but please comply with our
Comment Rules.
You must be registered and logged in to leave a comment. Comments will display your Username and location.
Log In »
Notable Quotables

An ancient Mikveh (Jewish ritual bath) dated to the time of the second temple was unveiled in Jerusalem during archaeological excavating near the Western Wall. 

~  Michal Hever, Hebrew University. On Twitter.