Archives
AND MORE...


One Step Forward, Two Back
____________________


Iranian Chic
____________________


RoP Strikes Again
____________________


The Multi-Culti Brigade
____________________
December 29, 2011
Temple of Doom
Apparently, it's "a matter of protocol" for the United Nations to honor the death of a murderous dictator, who brutalized, oppressed and starved millions of his people (see below).
An Orwellian scene, best described by the words of George Orwell himself: "We have now sunk to a depth at which restatement of the obvious is the first duty of intelligent men."
So here's the obvious: shame on the U.N., shame on its members, and shame on anyone who would honor such a despicable human being.
As for America funding this Hornet's Nest of an institution (aka the United Nations), shame on us.
Reuters | December 29, 2011
U.N. Lowers Flag To Half-Staff For Kim Funeral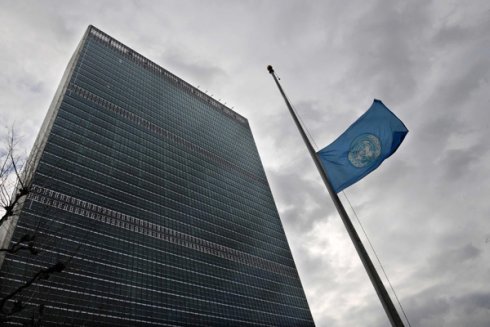 The UN flag flies at half-mast before the UN Secretariat Building in the compound on First Avenue in midtown Manhattan Photo/Xinhua; Coutesy ChinaDaily.com
U.N. offices around the world lowered their flags to half-staff to mark the funeral of North Korean leader Kim Jong-il on Wednesday in a move the world body said was routine but which prompted objections from some human rights activists.
In New York, where the flag outside U.N. headquarters was lowered, spokesman Eduardo del Buey said the gesture had been requested by Pyongyang's U.N. mission but was normal for the funeral of any head of state.
"It's a matter of protocol," he said.
North Korea is a full member of the 193-nation organization.
But UN Watch, a Geneva-based advocacy group, said the U.N. human rights message was "at serious risk of being blurred today" because of the honoring of Kim, who died on December 17.
"Today should be a time for the U.N. to show solidarity with the victims - the millions of North Koreans brutalized by Kim's merciless policies of starvation, torture and oppression - and not with the perpetrator," the group's executive director, Hillel Neuer, said in a statement.
Last Thursday, the U.N. General Assembly granted a request from North Korea and held a few moments of silence for Kim, although Western delegations boycotted it.
North Korea's U.N. mission made a similar request to the 15-nation Security Council, but Western diplomats said it was rejected. "We didn't think it would be appropriate," one diplomat said.
Pyongyang is under Security Council sanctions due to Kim's nuclear weapons program, which Western officials say ate up huge sums of money that could have been used to help feed North Korea's starving population.
(Reporting By Patrick Worsnip; Editing by Cynthia Osterman)
Original article here.
We welcome your comments, but please comply with our
Comment Rules.
You must be registered and logged in to leave a comment. Comments will display your Username and location.
Log In »
Notable Quotables

"Mr. Netanyahu is one of the most media-savvy politicians on the planet. On Friday he appeared live via video link on 'Real Time with Bill Maher,' taking the host's alternately sardonic and serious line of questioning with gazelle-like alacrity."

~  Anthony Grant, jourrnalist who has written for many major newspapers and worked in television at Paris and Tel Aviv, interviewing former PM Benjamin Netanyahu on Monday, at the outset of Mr. Netanyahu's new book (more here).