Archives

AND MORE...


Already Sanitizing
_____________________


The Surrender Continues...
_____________________


Sweetening The Capitulation
_____________________


Our Negotiating Buddies
_____________________
August 7, 2015
IF Iran Cheats
Despite being subject to an international travel ban and asset freeze by the UN, the "shadowy" commander of Iran's powerful Quds Force, Qassem Soleimani, visited Russia a couple of weeks ago for meetings with Russian President Vladimir Putin and Defense Minister Sergei Shoigu (see below).
Outgoing U.S. Army Chief of Staff Gen. Ray Odierno has characterized Soleimani as "the one who has been exporting malign activities throughout the Middle East for some time now. He's absolutely responsible for killing many Americans."
Although denied by the Kremlin, report of Soleimani's visit was corroborated by two US security sources who spoke with Reuters on Friday, as well as a senior Iranian source, according to Israel Radio.
The Iranian source said the sides discussed Russia's planned supply of advanced air-defense missiles to the Islamic Republic.
NEVERTHELESS, the White House said on Friday it could not confirm reports that Soleimani had visited Russia. White House spokesman Josh Earnest said reports of the trip are "an indication of ongoing concerns" the United States has with Iran's behavior.
Got that? Secretary of State John Kerry has said the U.S. government has "absolute knowledge" about Iran's past nuke activities, and the entire world knows about Soleimani's visit, but the US government cannot confirm whether Soleimani visited Russia a couple of weeks ago?!
"If Iran cheats, we can catch them and we will," said President Obama on Wednesday at American University.
Well, we caught 'em, Mr. Obama, so now what?
FoxNews.com  |  August 6, 2015
Exclusive: Quds Force Commander Soleimani Visited Moscow, Met Russian Leaders In Defiance Of Sanctions
By Jennifer Griffin, Lucas Tomlinson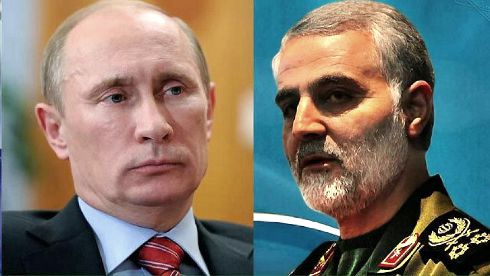 Russian President Vladimir Putin (L) and Iranian Quds Force commander Qassem Soleimani

The shadowy Iranian Quds Force commander Qassem Soleimani recently visited Moscow to meet with senior Russian leaders, according to two Western intelligence sources, despite a travel ban and U.N. Security Council resolutions barring him from leaving Iran.
On July 24, one week before Secretary of State John Kerry testified to the Senate Armed Services Committee and faced questions about the newly struck nuclear deal, Soleimani arrived in Moscow for meetings with Russian Defense Minister Sergei Shoigu and President Vladimir Putin. It was not immediately clear what the Iranian leader discussed, but the revelation comes as the United Nations and European Union arms embargo against Iran is slated to be lifted in five years as part of the comprehensive nuclear agreement announced July 14 from Vienna.
Soleimani was first designated a terrorist and sanctioned by the U.S. in 2005 for his role as a supporter of terrorism. In October 2011, the U.S. Treasury Department tied Soleimani to the failed Iranian plot to assassinate the Saudi ambassador to the United States at a popular restaurant in Washington, D.C. The Quds Force is the special forces external wing of the Iranian Revolutionary Guard, responsible for supporting terrorist proxies across the Middle East. It reports directly to Iran's Supreme Leader Ali Khamenei.
Soleimani is increasingly being recognized as a key player and point person as Iranian influence in the region grows, despite assurances from Kerry and others that Soleimani and the Quds Force will continue to face sanctions from the U.S. Treasury after U.N. sanctions are lifted against Soleimani as part of the nuclear deal.
Soleimani arrived in Moscow on Air Iran flight #5130, a commercial flight from Tehran, at 6:50 a.m. on July 24, a Friday. He left Moscow the following Sunday, July 26, at 10:25 p.m. on flight #5120, according to Western intelligence sources.
U.N. sanctions have not yet been lifted against Iran, and Soleimani, as head of the Iranian Quds Force is sanctioned as part of Security Council Resolution 1747. He is prohibited to travel, and any country that lets him transit or travel is defying the sanctions. (Russia is a permanent member of the Security Council and would have been aware of this restriction when meeting with him.)
Soleimani has been photographed during recent battles against the Islamic State in Iraq leading troops and advising Iranian backed Shia militias, most notably in the battle for Tikrit in March.
Apart from his official meetings in Moscow, Soleimani reportedly had some "fun time" built into his schedule that involved Russian entertainment.
Outgoing U.S. Army Chief of Staff Gen. Ray Odierno characterized the Iranian general in an exclusive exit interview with Fox News: "Qassem Soleimani is the one who has been exporting malign activities throughout the Middle East for some time now. He's absolutely responsible for killing many Americans, in fact I would say the last two years I was there the majority of our casualties came from his surrogates, not Sunni or Al Qaeda."
Sen. Tom Cotton, R-Ark., a former Army infantry officer and Iraq war veteran, asked Marine Corps Gen. Joseph Dunford, the next chairman of the Joint Chiefs of Staff, at his confirmation hearing how many Americans were killed by Iranian-backed forces under the command of Soleimani.
"The number has been recently quoted as about 500. We weren't always able to attribute the casualties we had to Iranian activity, although many times we suspected it was Iranian activity even though we didn't necessarily have the forensics to support that," Dunford said to lawmakers on July 15.
Cotton then asked Kerry on July 29, five days after the Iranian leader's Moscow visit, about Soleimani receiving sanctions relief.
Kerry responded: "Under the United States's initiative, Qassem Soleimani will never be relieved of any sanctions."
Original article here.
Jennifer Griffin currently serves as a national security correspondent for FOX News Channel . She joined FNC in October 1999 as a Jerusalem-based correspondent.

We welcome your comments, but please comply with our
Comment Rules.
You must be registered and logged in to leave a comment. Comments will display your Username and location.
Log In »
Notable Quotables

"Mr. Netanyahu is one of the most media-savvy politicians on the planet. On Friday he appeared live via video link on 'Real Time with Bill Maher,' taking the host's alternately sardonic and serious line of questioning with gazelle-like alacrity."

~  Anthony Grant, jourrnalist who has written for many major newspapers and worked in television at Paris and Tel Aviv, interviewing former PM Benjamin Netanyahu on Monday, at the outset of Mr. Netanyahu's new book (more here).