Archives

AND MORE...


Curious Timing
_____________________


State Department Disgrace
_____________________



Lies, Damned Lies & BO Lies
_____________________


Persian Spring
_____________________


Gratitude, Iranian-Style
_____________________
June 30, 2015
Sweetening The Capitulation
It appears the Obama administration helped secure the release of several Iranians detained in the US and UK, according to a report that came out on Sunday. This, as US prisoners continue to languish in Iranian jails (see below).
We've written extensively here about US prisoners in Iran (e.g., here and here, and most recently here), questioning why the Obama administration has done nothing to secure their release both before and during negotiations with Iran.
Now we hear the US released, as part of a "wish list" Iran presented to the US in 2009 before the current nuclear negotiations, four Iranian prisoners in 2012 and 2013
A "wish list" from Iran?! The US needed to cajole Iran to the negotiating table? Obama administration officials have been telling us for years that sanctions were the catalyst that brought Iran to the table.
Well, we (NSR) didn't believe it then, and we don't believe it today.
The original goal of sanctions was to force Iran to STOP its nuclear program. They didn't and Iran moved full speed ahead. It was clear at the time, and even clearer today that it was the Obama administration that desperately wanted a deal. Iran knew that and has since been using it to its advantage, milking the US for more concessions by the day.
Hence Iran's "wish list," and US capitulation to it.
Meanwhile, Iran will be receiving BILLIONS of dollars from the US, as sanctions are lifted.  And even if Congress refuses to lift US sanctions, there's nothing to stop the EU and other countries from relaxing or lifting theirs (American sanctions are only a small part of the total sanctions regime). Several countries have already begun doing business with Iran.
Any deal reached with Iran in the next few days/weeks will likely benefit Iran only. The Iranians have already gotten what they wanted, i.e., time to advance their nuclear program, so any concessions Iran extracts will simply be icing on the cake.
Washington Free Beacon  |  June 30, 2015
US Helped Release Iranian Prisoners As Sweetener for Nuclear Talks
At least three Americans still held in Tehran as negotiations reach final stage
By Daniel Wiser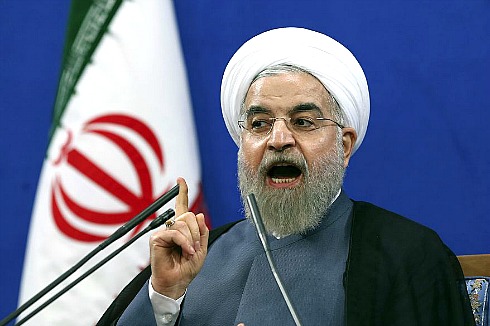 Iranian President Hassan Rouhani speaks during a press conference on the second anniversary of his election, in Tehran, Iran, Saturday, June 13, 2015. (AP Photo/Ebrahim Noroozi; Courtesy: washingtontimes.com)
The Obama administration helped to secure the release of several Iranians detained in the United States and the United Kingdom, some convicted of illegal arms smuggling, according to a report that comes as U.S. prisoners languish in Iranian jails.
The Wall Street Journal reported on Sunday that, as part of a "wish list" Iran presented to the United States in 2009 before the current nuclear negotiations, U.S. officials helped expedite the release of four Iranian prisoners in 2012 and 2013. Three were convicted of illegally sending arms or other banned materials to Iran while the international community sought to enforce sanctions on the country's nuclear program.
U.S. officials said that some of the prisoners had already served their full sentences, though authorities worked with Oman—a Persian Gulf country that helped facilitate the first clandestine nuclear talks between the United States and Iran—to swiftly return them to Tehran. One of the Iranian detainees, Mojtaba Atarodi, a scientist, reentered Tehran just days after he was convicted of transporting illicit materials to the country.
The releases of the four Iranians might have helped obtain the freedom of three American hikers who were imprisoned in Iran and released in 2011. American officials denied that any prisoner swaps occurred. But as the final deadline for the nuclear talks swiftly approaches, at least three other Americans are still held by Tehran. If a deal is reached without their release, U.S. officials face the prospect of having helped free convicted Iranian smugglers while Americans remain in jail—on what critics say are spurious charges.
The American prisoners in Iran include Jason Rezaian, the head of the Washington Post's bureau in Tehran, Amir Hekmati, a former U.S. Marine, and Saeed Abedini, a U.S. pastor. A fourth American, Robert Levinson, a retired FBI agent, is missing and believed to be in Iran.
A State Department official said in a statement that U.S. negotiators "always raise the cases of detained and missing U.S. citizens with Iranian officials on the sidelines of the P5+1 talks," the official name of the nuclear negotiations among the United States, Iran, and other world powers. "We will continue to do so until they are all home."
U.S. officials maintain that the nuclear talks should only address issues related to Iran's nuclear program, and not the imprisoned Americans. However, the Journal's report suggests that the U.S. release of Iranians helped to initiate the negotiations by establishing good will between the two countries.

"All of these U.S. citizens should be released independently of political negotiations with Iran; their freedom should not be tied to the outcome of these negotiations," the State Department official said.
The nuclear talks are expected to go past their Tuesday deadline as all sides attempt to bridge the gap on issues such as the inspection of Iranian nuclear facilities and the pace of sanctions relief.
Families of the Americans imprisoned in Iran are now urging U.S. negotiators to use the extra days to secure their relatives' release.
Saeed Abedini, the U.S. pastor detained in 2012 for helping to start Christian house churches years earlier in Iran, has now been imprisoned for more than 1,000 days. "Every day counts," said Saeed's wife, Naghmeh.
"The extension of the nuclear deadline by a few days means that our government has a few extra days at the table with Iran to ensure Saeed and the other Americans are returned home safely and promptly," she said. "Our government must capitalize on these opportunities and demand my husband's release. Please do not delay; every day matters."
Original article here.
We welcome your comments, but please comply with our
Comment Rules.
You must be registered and logged in to leave a comment. Comments will display your Username and location.
Log In »
Notable Quotables

"If I get to the point where there is a judgment that says, 'You must say you hate Israel and the Jews', I would rather cease to be Chief Justice."

~ Chief Justice of South Africa since 2011, Mogoeng Mogoeng, comes under sustained attack from his country's powerful pro-Palestinian lobby for his declaration of support for the State of Israel (more here).