Archives
AND MORE...


Top Threat of 2012
____________________


North Korea's Teletubby
____________________


Oh Yeah?!
____________________


Creepy & Sad
____________________
January 9, 2012
Gratitude, Iranian-Style
As the U.S. Navy was busy rescuing Iranian fisherman last week and the State Department and U.S. officials were gushing with glee and "couldn't stop talking about it" (story here), Iran was busy doing something else.
No, not officially responding, much less thanking the U.S. for the rescue, but convicting an Arizona man and former U.S. Marine on charges of spying for the United States, and sentencing him to DEATH (see below).
Hopefully the U.S. government is working behind the scenes and making it clear to these thugs that nothing better happen to this young man.
When will we ever learn who and what we're dealing with?!
FoxNews.com | January 9, 2012
Report: Iran Sentences U.S. Man to Death in CIA Spy Case
By Associated Press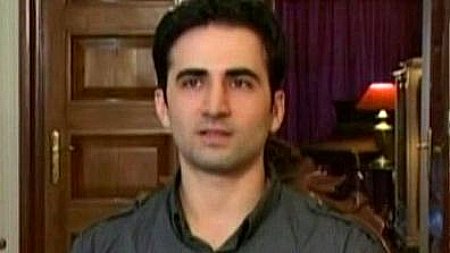 U.S. citizen Amir Mirzaei Hekmati, accused by Iran of spying for the CIA.
TEHRAN, IRAN – An Iranian court has convicted an American man of working for the CIA and sentenced him to death, state radio reported Monday, in a case adding to the accelerating tension between the United States and Iran.
Iran charges that as a former U.S. Marine, Amir Mirzaei Hekmati, received special training and served at U.S. military bases in Iraq and Afghanistan before heading to Iran for his alleged intelligence mission. The radio report did not say when the verdict was issued.
The 28-year-old former military translator was born in Arizona and graduated from high school in Michigan. His family is of Iranian origin. His father, a professor at a community college in Flint, Michigan, has said his son is not a CIA spy and was visiting his grandmothers in Iran when he was arrested.
Behnaz Hekmati, his mother, said in an email to The Associated Press that she and her husband, Ali, are "shocked and terrified" that their son has been sentenced to death. She said the verdict is "the result of a process that was neither transparent nor fair."
Under Iranian law, he has 20 days to appeal. Hekmati has a court-appointed lawyer who was identified only by his surname, Samadi, and there was no word about an appeal.
Gholam Hossein Mohseni Ejehei, spokesman for Iran's judiciary said if the verdict is appealed, it would go to Iran's Supreme Court, the official IRNA news agency reported.
Hekmati's trial took place as the U.S. announced new, tougher sanctions against Iran over its nuclear program, which Washington believes Tehran is using to develop a possible atomic weapons capability.
Iran, which says it only seeks nuclear reactors for energy and research, has sharply increased its threats and military posturing against stronger pressures, including the U.S. sanctions targeting Iran's Central Bank in attempts to complicate its ability to sell oil.
The U.S. State Department has demanded Hekmati's release.
The court convicted him of working with a hostile country, belonging to the CIA and trying to accuse Iran of involvement in terrorism, Monday's report said.
In its ruling, a branch of Tehran Revolutionary Court described Hekmati as a mohareb, an Islamic term that means a fighter against God, and a mofsed, or one who spreads corruption on earth. Both terms appear frequently in Iranian court rulings.
In a closed court hearing in late December, the prosecution asked for the death penalty for Hekmati.
The U.S. government has called on Iranian authorities to grant Swiss diplomats access to him in prison. The Swiss government represents U.S. interests in Iran because the two countries don't have diplomatic relations.
Hekmati is a dual U.S.-Iranian national. Iran considers him an Iranian since the country's law does not recognize dual citizenship.
Similar cases against Americans accused of spying have heightened tensions throughout the years-long standoff over Iran's nuclear program.
Iran arrested three Americans in July 2009 along the border with Iraq and accused them of espionage, though the Americans said they were just hiking in the scenic and relatively peaceful Kurdish region of northern Iraq.
One of them was released after a year in prison, and the other two were freed in September in deals involving bail payments that were brokered by the Gulf sultanate of Oman, which has good relations with Iran and the U.S.
On Dec. 18, Iran's state TV broadcast video of Hekmati delivering a purported confession in which he said he was part of a plot to infiltrate Iran's Intelligence Ministry.
In a statement released the same day, the Intelligence Ministry said its agents identified Hekmati before his arrival in Iran, at Bagram Air Field in neighboring Afghanistan. Bagram is the main base for American and other international forces outside Kabul, the Afghan capital.
It is not clear exactly when he was arrested. News reports have said he was detained in late August or early September.
Hekmati's father said in a December interview with The Associated Press, that his son was a former Arabic translator in the U.S. Marines who entered Iran about four months earlier to visit his grandmothers.
At the time, he was working in Qatar as a contractor for a company "that served the Marines," his father said, without providing more specific details.
Original article here.
We welcome your comments, but please comply with our
Comment Rules.
You must be registered and logged in to leave a comment. Comments will display your Username and location.
Log In »
Notable Quotables

"Mr. Netanyahu is one of the most media-savvy politicians on the planet. On Friday he appeared live via video link on 'Real Time with Bill Maher,' taking the host's alternately sardonic and serious line of questioning with gazelle-like alacrity."

~  Anthony Grant, jourrnalist who has written for many major newspapers and worked in television at Paris and Tel Aviv, interviewing former PM Benjamin Netanyahu on Monday, at the outset of Mr. Netanyahu's new book (more here).