Archives

AND MORE...


SUCKERED
_____________________


Sweetening The Capitulation
_____________________


Persian Spring
_____________________


Empires & Caliphates
_____________________


Scourge of Mankind
_____________________
July 28, 2015
The Surrender Continues...
The surrender continues. Now Iran wants its own officials to take soil samples at sites where it is alleged to have experimented with ways to detonate a nuclear weapon, and the UN may allow it (see below).
No joke. The more we hear about this Iran nuclear deal, the worse it gets.
Secret side agreements; provisions that the US & Europe will train the Iranians on how to thwart sabotage of their nuclear facilities; the lifting of sanctions and all restrictions on Iran's acquisition of conventional weapons and ballistic missiles; billions of dollars to be handed over to Iran; and many more similarly absurd provisions that have leaked out.
This latest one about Iran taking its own soil samples is beyond absurd. What else is Iran permitted to do under the Iran deal and/or under secret side agreements? And keep in mind that although the US funds 25% of IAEA's budget, the Iran deal provides that NO Americans are to be included in IAEA inspection teams.
Meanwhile, Congress is holding hearings about the deal. Problem is they'll be voting on it in September and they'll likely be voting only on whether or not to lift American sanctions.
American sanctions are only a very small part of the overall sanctions regime imposed on Iran. And as Congress 'investigates' and takes its August recess, businesses from all over the world are flocking now to Iran. Good luck imposing, re-imposing, or snapping back any kind of sanctions on Iran.
Times of Israel  |  July 28, 2015
UN May Allow Iran To Take Its Own Nuclear Site Samples
Oversight of soil-sampling by IAEA could include video monitoring, but potentially allows Iranian tampering in process
By AP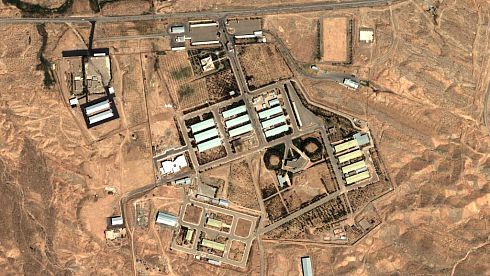 Satellite image of the Parchin facility, April 2012 (AP/Institute for Science and International Security)
VIENNA — Iran wants its own officials to take soil samples at a site where it is alleged to have experimented with ways to detonate a nuclear weapon, and the UN agency probing the suspicions may agree provided it is allowed to monitor the process, two officials told The Associated Press Tuesday.
The investigation by the International Atomic Energy Agency is part of the overarching nuclear deal reached earlier this month between Iran and six world powers. Iran denies any such work but has agreed to give the IAEA access to the Parchin military complex.
Several US senators cited Obama administration officials last week as saying Iran could conduct its own soil sampling at Parchin. The officials who spoke to the AP said a final agreement has not yet been reached between Iran and the IAEA.
The officials said stringent oversight of the soil-sampling could include video monitoring. They did not say what reasons Iran gave for wanting to take its own samples. The samples would be analyzed by the agency for traces left by any nuclear experiments.
The officials come from IAEA member nations and are tasked with following Iran's nuclear program. They demanded anonymity because their information is confidential. The IAEA had no immediate comment.
David Albright, whose Institute for Science and International Security is often consulted by the US government on proliferation issues, said the IAEA "could instruct Iran in where and how to take the sample, as they would an inspector. They could try to keep a close watch on how Iran follows the instructions."
At the same time, "the IAEA could not exclude Iran tampering with the sample in some way," he said.
Iran has refused to give IAEA experts access to people, documents and sites allegedly linked to the suspected weapons work for nearly a decade. But in its quest for the end to nuclear-related sanctions, it agreed earlier this month to work with the agency, and IAEA chief Yukiya Amano has said he expects to be able to deliver a report by December.
The alleged weapons work and the IAEA's investigation are not central to the nuclear deal, which calls for the US and other world powers to end economic and military sanctions in exchange for concessions from Iran in its nuclear program. Tehran says its program is entirely peaceful, but the US and most other nations believe it is aimed at acquiring nuclear weapons.
Still, US lawmakers skeptical of the deal see the matter of whether the UN agency will receive full cooperation from Iran as a core issue. Congress began a 60-day review of the accord last week.
The suspected explosives testing at Parchin, south of Tehran, is only one of 11 alleged cases of nuclear weapons-related work listed by the IAEA, based on US, Israeli and other intelligence and its own research.
Tehran insists Parchin is a conventional military area with no link to nuclear tests. In recent years, it has carried out major construction and paving at the site where the alleged experiments took place, while refusing dozens of IAEA requests for a visit.
Original article here.
We welcome your comments, but please comply with our
Comment Rules.
You must be registered and logged in to leave a comment. Comments will display your Username and location.
Log In »
Notable Quotables

"It was the Palestinian mob that prevented Abu Akleh's funeral from progressing to the church by hearse as the family had wanted. It was the mob that took the body without authorization, which forced Israeli Police to intervene with force to have them return the body to the hospital. Once returned, the body was transported to the church in the hearse under Israeli protection according to plan."

~  Itamar Marcus, Founder and Director of Palestinian Media Watch, on the hijacking of Shireen Abu Akleh's funeral (more here).