Archives

AND MORE...


Anatomy Of Betrayal
_____________________


SUCKERED
_____________________


The Surrender Continues...
_____________________


Sweetening The Capitulation
_____________________
August 5, 2015
Already Sanitizing
The U.S. intelligence community has informed Congress of evidence that Iran was sanitizing its suspected nuclear military site at Parchin, in broad daylight, days after agreeing to a nuclear deal with world powers (see below).
Is anyone shocked, shocked? Seriously, is there anyone out there today who doesn't expect Iran to hide, obscure, or lie about its nuclear program? This latest sanitization was done in broad daylight, for anyone to see. Imagine what can't be seen.
The only person who could possibly deny such evidence, and do it without batting an eye is President Obama, which is exactly what he did on Wednesday at American University. In a speech replete with inaccuracies, misinformation and just plain lies, Obama regurgitated tired soundbites that have since been disproven, and demonized all who disagree.
"America's credibility as a leader of diplomacy" will be lost if Congress rejects the deal, said Obama, as the Iran agreement "builds on a tradition of strong, principled policy diplomacy."
When was the last time America defeated its enemies with "strong, principled policy diplomacy"? That may work with enemies, but only AFTER a military defeat.
Obama continued: "Just because Iranian hardliners chant 'Death to America' does not mean that that's what all Iranians believe. In fact, it's those hardliners who are most comfortable with the status quo. It's those hardliners chanting 'Death to America' who have been most opposed to the deal. They're making common cause with the Republican Caucus."
A cheap shot, which also ignores the fact that those same Iranian "hardliners chanting 'Death to America'" happen to include Iran's LEADERS, the same people America is making deals with.
"If Iran cheats, we can catch them and we will," said Obama.
Which begs the question WHEN, i.e., how long after the fact will we know Iran cheated, and will there be enough time to do anything about it?
Bloomberg View  |  August 5, 2015
Iran Already Sanitizing Nuclear Site, Intel Warns
By Josh Rogin & Eli Lake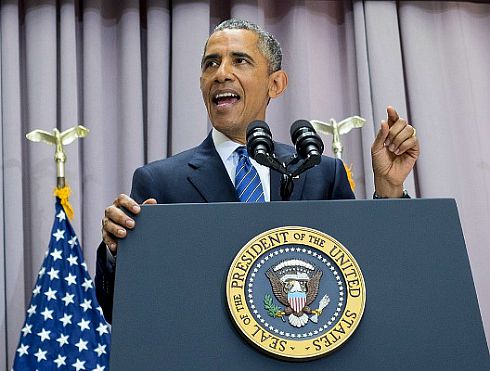 President Barack Obama. Photo: NEWSCOM

The U.S. intelligence community has informed Congress of evidence that Iran was sanitizing its suspected nuclear military site at Parchin, in broad daylight, days after agreeing to a nuclear deal with world powers.
For senior lawmakers in both parties, the evidence calls into question Iran's intention to fully account for the possible military dimensions of its current and past nuclear development. The International Atomic Energy Agency and Iran have a side agreement meant to resolve past suspicions about the Parchin site, and lawmakers' concerns about it has already become a flashpoint because they do not have access to its text.
Intelligence officials and lawmakers who have seen the new evidence, which is still classified, told us that satellite imagery picked up by U.S. government assets in mid- and late July showed that Iran had moved bulldozers and other heavy machinery to the Parchin site and that the U.S. intelligence community concluded with high confidence that the Iranian government was working to clean up the site ahead of planned inspections by the IAEA.
The intelligence community shared its findings with lawmakers and some Congressional staff late last week, four people who have seen the evidence told us. The Office of the Director of National Intelligence briefed lawmakers about the evidence Monday, three U.S. senators said.
"I am familiar with it," Senate Intelligence Committee Chairman Richard Burr told us Tuesday. "I think it's up to the administration to draw their conclusions. Hopefully this is something they will speak on, since it is in many ways verified by commercial imagery. And their actions seem to be against the grain of the agreement."
Burr said Iran's activities at Parchin complicate the work of the IAEA inspectors who are set to examine the site in the coming months. IAEA's director general, Yukiya Amano, was in Washington on Wednesday to brief lawmakers behind closed doors about the side agreements.
"They are certainly not going to see the site that existed. Whether that's a site that can be determined what it did, only the technical experts can do that," Burr said. "I think it's a huge concern."
A senior intelligence official, when asked about the satellite imagery, told us the IAEA was also familiar with what he called "sanitization efforts" since the deal was reached in Vienna, but that the U.S. government and its allies had confidence that the IAEA had the technical means to detect past nuclear work anyway.
Another administration official explained that this was in part because any trace amounts of enriched uranium could not be fully removed between now and Oct. 15, the deadline for Iran to grant access and answer remaining questions from the IAEA about Parchin.
Senate Foreign Relations Committee Chairman Bob Corker told us Tuesday that while Iran's activity at Parchin last month isn't technically a violation of the agreement it signed with the U.S. and other powers, it does call into question Iran's intention to be forthright about the possible military dimensions of its nuclear program.
"The intel briefing was troubling to me … some of the things that are happening, especially happening in such a blatant way," he said. "Iran is going to know that we know." He added the new information gave him "a lot of concerns" about Iran coming clean on military dimensions of its nuclear work.
According to the overall nuclear agreement, sanctions relief for Iran can come only after the IAEA and Iran resolve their outstanding concerns about possible military dimensions of past and current work. But the agreement does not specify how the issue must be resolved, only that it be resolved to the IAEA's satisfaction.
Several senior lawmakers, including Democrats, are concerned that Iran will be able to collect its own soil samples at Parchin with only limited supervision, a practice several lawmakers have compared to giving suspected drug users the benefit of the doubt to submit specimens unsupervised. Iran's sanitization of the site further complicates that verification.
Democratic Senator Chris Coons, a member of the Foreign Relations Committee, told us Tuesday that this area is part of why he is undecided on supporting the Iran deal.
"I have concerns about the vigorous efforts by Iran to sanitize Parchin," he said. "I've gotten some reassurance about how difficult it is for them to effectively conceal what we know to have been their illicit nuclear weapons developments there."  
Coons said he was most concerned about the integrity of the IAEA inspection process going forward and not as concerned about figuring out what happened in the site in the past: "We know what the Iranians did at Parchin."
David Albright, the president of the Institute for Science and International Security, obtained a commercially available image of the Parchin site taken by satellites on July 26 that shows renewed activity at the Parchin site. He told us there are two new large vehicles, alterations ongoing to roofs of two of the buildings, new structures near three of the buildings, and new objects casting long shadows near the building alleged to have contained the explosive chamber.
"You have to worry that this could be an attempt by Iran to defeat the sampling, that it's Iran's last-ditch effort to eradicate evidence there," he said. "The day is coming when they are going to have to let the IAEA into Parchin, so they may be desperate to finish sanitizing the site."
The facility, outside of Tehran, first came to the attention of the international community in 2004 when news reports surfaced that it was being used to test explosives for a nuclear warhead.
A 2007 U.S. National Intelligence Assessment concluded that Iran halted this kind of work in 2003. Between 2005 and today, Iran has allowed IAEA inspectors access to Parchin -- a vast complex with dozens of buildings -- on only five occasions. In 2012, Abright's group reported on satellite imagery that it said showed efforts to clean up evidence of an explosives testing chamber there.
Representative Ed Royce, the Republican chairman of the House Foreign Affairs Committee, said that Amano had told him in recent conversations that the IAEA had "thousands of pages of documentations on tests to weaponize a nuclear device." Royce added, "For a long time, they have been altering sites."
The IAEA has documented this as well. The agency's report from May 29 this year said there was  satellite imagery of vehicles, equipment and "probable construction materials" at Parchin. The report said, "The activities that have taken place at this location since February 2012 are likely to have undermined the Agency's ability to conduct effective verification."
Secretary of State John Kerry has said that the U.S. government has "absolute knowledge" about what Iran has done in the past. Ahead of the vote on the agreement next month, many lawmakers don't share Kerry's confidence. Iran would seem to have its doubts as well, since it's still trying to cover its tracks.
Original article here.
We welcome your comments, but please comply with our
Comment Rules.
You must be registered and logged in to leave a comment. Comments will display your Username and location.
Log In »
Notable Quotables

An ancient Mikveh (Jewish ritual bath) dated to the time of the second temple was unveiled in Jerusalem during archaeological excavating near the Western Wall. 

~  Michal Hever, Hebrew University. On Twitter.