Archives
AND MORE...


"Friending" Terrorists
____________________


Anyone Shocked, Shocked?
____________________


Gratitude, Iranian-Style
____________________


Gutting Defense; Rewarding Bureaucrats
____________________
January 11, 2012
Payback's A Bummer
"From now on, the reciprocation is internationally acceptable and legitimate," says Iranian analyst Mehdi Mohammadi, "Iran is for sure able to enter a new phase of confrontation" (see below).
Which begs the question: Between its massive nuclear weapons program, not to mention massive sponsorship of terrorist activities and terrorist proxies (Hezbollah, Hamas, et al) throughout the world, what "phase of confrontation" has Iran been in?!
As for whodunit, well, conspiracy theories abound (e.g., "the intelligence services of the U.S., U.K. and Saudi Arabia"; "the Zionists"; maybe even the Cookie Monster?!), as do the motivations behind it (e.g., "to reduce the turnout in the upcoming elections"?!) but one thing's for sure: Payback's a bummer, and the Iranians would do well to keep that in mind as they go about terrorizing the world.
Washington Post | January 11, 2012
Iranian Scientist Involved In Nuclear Program Killed In Tehran Bomb Attack
By Thomas Erdbrink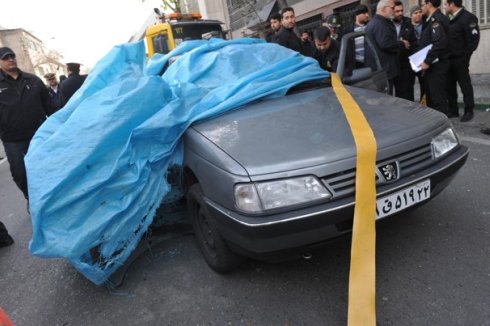 Iranian security forces inspect the site where a magnetic bomb attached to a car by a
motorcyclist exploded outside a university in Tehran on Wednesday, killing a scientist and
injuring two other people, according to Iranian news agencies. Sajad Safari/AFP/Getty Images
TEHRAN — An Iranian scientist involved in purchasing equipment for the Islamic Republic's main uranium-enrichment facility was assassinated Wednesday when a magnetic bomb attached to his car exploded in morning rush-hour traffic, Iranian media reported.
Iranian officials accused the United States and Israel of orchestrating the attack, which also killed the scientist's driver.
Iranian Vice President Mohammad Reza Rahimi blamed the attack on "Zionists" and "those who claim they are against terrorism," the semiofficial Fars News Agency reported.
Foreign Ministry spokesman Ramin Mehmanparast was more explicit. "These actions are being committed by the Zionist regime and its agents with the support of several European countries and especially U.S. officials," the semiofficial Iranian Students' News Agency quoted him as saying.
The killing bore strong resemblance to two 2010 attacks on nuclear scientists and came on the same day as a ceremony for the third anniversary of the killing of another professor, Massoud Ali Mohammadi, who also died in an explosion.
Iranian authorities likewise blamed the United States and its allies for the previous killings of scientists, saying they were part of a covert program aimed at disrupting Iran's nuclear research.
Fars, which has close ties to the Revolutionary Guard Corps that is tasked with protecting scientists, identified the slain professor as Mostafa Ahmadi-Roshan, 32, a chemical engineer. The agency described Ahmadi-Roshan as a chemical engineer who served as deputy director of the Natanz uranium-enrichment facility and as the assistant to the head of procurement there.
Reacting to the killing, members of Iran's parliament shouted, "Death to America!" and pumped their fists in the air in a show of defiance. Parliament's national security and foreign policy committee called an emergency session to debate a response to the "terrorist act," the official Islamic Republic News Agency reported.
One analyst who supports Iran leaders said it was time for Iran to strike back. "From now on, the reciprocation is internationally acceptable and legitimate," said Mehdi Mohammadi, an international affairs analyst who regularly appears on state television. "Iran is for sure able to enter a new phase of confrontation," he told the Asriran Web site.
"It is very clear that it had been planned and was arranged by the intelligence services of the U.S., U.K. and Saudi Arabia," Mohammadi said. "Iran definitely will punish the agents of this terrorism action."
Several officials linked the assassination to parliamentary elections scheduled for March 2, charging that the West is attempting to "provoke riots" ahead of the vote.
"This was a magnetic bomb, like the ones used in previous assassinations," Safar Ali Baratloo, Tehran's deputy governor, told Fars. "It is the Zionists' job. They want to reduce the turnout in the upcoming elections."
Fars said an assailant riding a motorcycle attached the bomb to Ahmadi-Roshan's car. It also said the assassination had been caught on traffic control cameras. Another news Web site, Alef, said witnesses heard gunshots right before the explosion.
Original article here.
We welcome your comments, but please comply with our
Comment Rules.
You must be registered and logged in to leave a comment. Comments will display your Username and location.
Log In »
Notable Quotables

An ancient Mikveh (Jewish ritual bath) dated to the time of the second temple was unveiled in Jerusalem during archaeological excavating near the Western Wall. 

~  Michal Hever, Hebrew University. On Twitter.