Archives
AND MORE...


Gratitude, Iranian-Style
____________________


Beavis and Butt-Head Go Nuclear
____________________


North Korea's Teletubby
____________________


Oh Yeah?!
____________________
January 10, 2012
Anyone Shocked, Shocked?
Anyone shocked, shocked by this revelation that Syria accelerated its killing of pro-democracy demonstrators after Arab League monitors arrived (see below)?
Well, don't be, for as we told you more than a week ago (here), sending an Arab League delegation of "human-rights observers" is in itself a joke, but having it led by a genocidal Sudanese general (who played a key role in creating Sudan's murderous janjaweed militias - the Arab militias that raped and pillaged their way through non-Arab villages in Darfur), is downright Orwellian.
Chicago Tribune | January 10, 2012
U.N. Says Syria Stepped Up Killings After Monitors Arrived
By Louis Charbonneau, Reuters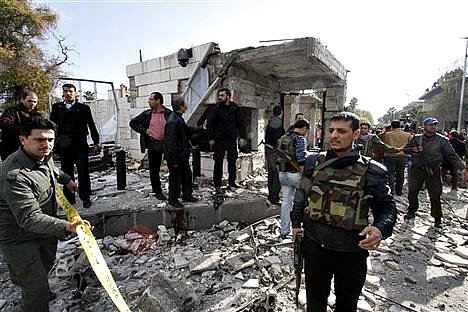 According to U.N., Syria killings rise after monitors arrive Photo: AP / Muzaffar Salman
UNITED NATIONS (Reuters) - A senior U.N. official told the Security Council on Tuesday that Syria accelerated its killing of pro-democracy demonstrators after Arab League monitors arrived, U.S. Ambassador to the United Nations Susan Rice said.
"The under-secretary-general noted that in the days since the Arab League monitoring mission has been on the ground, in fact an estimated 400 additional people have been killed, an average of 40 a day, a rate much higher than was the case even before their deployment," Rice told reporters.
Rice was speaking after Lynn Pascoe, the U.N. under-secretary-general for political affairs, briefed the 15-nation Security Council behind closed doors on Syria and other major crises. She said the figure did not include the more than two dozen people killed in a suicide bombing in Damascus last week.
"That is a clear indication that the government of Syria, rather than using the opportunity ... to end the violence and fulfill all of its commitments (to the Arab League), is instead stepping up the violence," she said.
Earlier on Tuesday Syrian President Bashar al-Assad vowed to strike "terrorists" with an iron fist and derided Arab League efforts to halt violence in a 10-month-old revolt against his rule.
The Arab League recently deployed monitors to check Syria's compliance with an Arab peace plan after suspending it from the 22-member body in November.
Rice reiterated Washington's view that it was time for Assad to "step aside and yield to the wishes of the Syrian people for a government that reflects the will of the people."
The U.S. envoy also criticized Russia, which, together with China, vetoed a European-drafted U.N. Security Council resolution in October that would have condemned Syria's crackdown that the United Nations says has killed at least 5,000 people and threatened Assad's government with sanctions.
Rice said Russia, which last month circulated a draft resolution on Syria that Washington and its European allies had hoped to begin negotiations on, has yet to produce a revised text.
"We think it's long past time that the council passes a strong resolution that supports the Arab League (and) all the elements of the Arab League resolution, including its call for sanctions," she said.
"Unfortunately after a bit of a show last month of tabling a resolution, the Russians inexplicably have been more or less AWOL (absent without leave) in terms of leading negotiations on the text of that resolution," Rice said.
She added that Washington was "deeply concerned" by reports that two Kuwaiti Arab League monitors "were roughed up, harmed, harassed, hurt in the context of their work."
Syrian Ambassador Bashar Ja'afari rejected Rice's allegations, saying the violence in the country was caused by "terrorists" and "armed groups" that were receiving support from foreign countries.
Original article here.
We welcome your comments, but please comply with our
Comment Rules.
You must be registered and logged in to leave a comment. Comments will display your Username and location.
Log In »
Notable Quotables

"Mr. Netanyahu is one of the most media-savvy politicians on the planet. On Friday he appeared live via video link on 'Real Time with Bill Maher,' taking the host's alternately sardonic and serious line of questioning with gazelle-like alacrity."

~  Anthony Grant, jourrnalist who has written for many major newspapers and worked in television at Paris and Tel Aviv, interviewing former PM Benjamin Netanyahu on Monday, at the outset of Mr. Netanyahu's new book (more here).