Archives

AND MORE...


Selective Secrecy
_____________________


Preparing For War
_____________________


N. Korea Orders People Home
_____________________


Fric & Frac
_____________________
February 18, 2012
Let Them Eat Cake!
Michelle Antoinette Obama, who just last month returned from 17 days of relaxation in Hawaii, is in Aspen this President's Day weekend enjoying a skiing vacation (see below).
This is no doubt the "shared sacrifice" that Mr. Obama always refers to in his speeches.
But, hey, a First Lady's gotta chill after relaxing for 17 days in Hawaii, right?
White House Dossier | February 18, 2012
Michelle Obama Decides to Ski Aspen
By Keith Koffler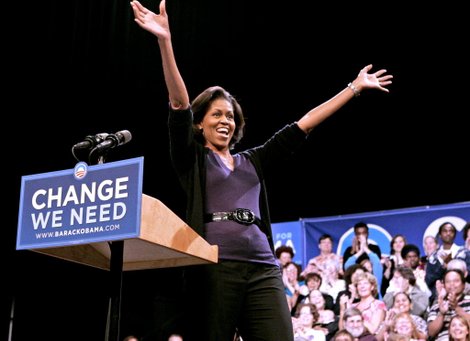 Photo courtesy: weaselzippers.us
Michelle Obama has embarked on a skiing vacation with her daughters in Aspen, Colorado, according to the Aspen Daily News.
The first lady, who just returned last month from 17 days of relaxation in Hawaii, is skiing in Colorado on Presidents' Day Weekend for the second year in a row. Last year she went to Vail.
Michelle's decision to ski out West again instead of hitting slopes closer to Washington would seem an inopportune choice for a first lady who is helping her husband campaign on issues of "fairness."
The Obama campaign has set itself up as the defender of the poor and the middle class against the "One Percent," a theme which clashes with the image a first lady who is taking frequent and exclusive vacations.
Just last August, she sojourned on Martha's Vineyard, and the month before she travelled to southern Africa for a trip that mixed official business with tourist outings like an African safari. In July 2010, she took an exorbitant excursion to the southern coast of Spain, flying out with friends and family on a large jet that often serves as Air Force 2 and then staying at a ritzy hotel.
What's more, as the government struggles to cut the deficit, the symbolism of a first lady jetting out to Aspen with a security entourage at taxpayers' expense to ski would seem to send the wrong message about cutting back on spending.
For her last two Hawaii vacations, Michelle left separately from her husband at extra cost to taxpayers in order to ensure she got the full vacation while the president was forced to remain in Washington a few extra days to finish work with Congress.
President Obama last summer called for "an attitude of shared sacrifice" to solve the nation's deficit woes.
Michelle this weekend is reportedly staying at the Aspen home of a wealthy Obama backer from Chicago. She held a fundraiser at the same residence last July.
Original posting here.
We welcome your comments, but please comply with our
Comment Rules.
You must be registered and logged in to leave a comment. Comments will display your Username and location.
Log In »
Notable Quotables

"The Obama national-security team fell down on the job all too often, and now a veteran of that mess, Avril Haines, will be director of national intelligence. Joe Biden is likely to be a one-term president. He should embrace that and seize the opportunity to run some risks and take some chances. Instead, it's another installment of Night of the Living Dead Democrats."

~ Kevin D. Williamson, writer and journalist, in his piece entitled "Joe Biden cabinet picks are setting presidency up to be 'Swamp Things 2'" (more here).