Archives
AND MORE...


So Where Are The Apologies Now?
_____________________


Spreading Holiday Cheer The Islamic Way
____________________


Al Shabaab Offers Livestock For Obama, Clinton
_____________________


RoP Strikes Again
_____________________



Just Another "Business" Arrangement
_____________________
June 26, 2012
Islamic Terror Metastasizing
Three of Africa's largest "extremist" (aka terrorist) groups are sharing funds and swapping explosives, said General Carter Ham, Commander of U.S. Military's Africa Command, on Monday (see below).
"What really concerns me is the indications that the three organizations are seeking to coordinate and synchronize their efforts," said Ham. "That is a real problem for us and for African security in general."
Is anyone shocked, shocked? We're not, as birds of a feather flock together. And what's the feather that unites ALL these terrorist groups, i.e., in Africa, the Middle East, and throughout the world?
We'll leave it to you to figure out, although here's a hint, and word of caution: If you find yourself in close proximity to someone shouting "Allahu Akbhar!" (i.e., Allah is Great!), then take thyself and run as fast as thou canst!
[Perfunctory Disclaimer: Yes, we know not all Muslims are terrorists, but 99.99 percent of terrorists are Muslim (or followers of Islam).]
Reuters | June 25, 2012
African Extremist Groups Linking Up: U.S. General
By Lauren French, Washington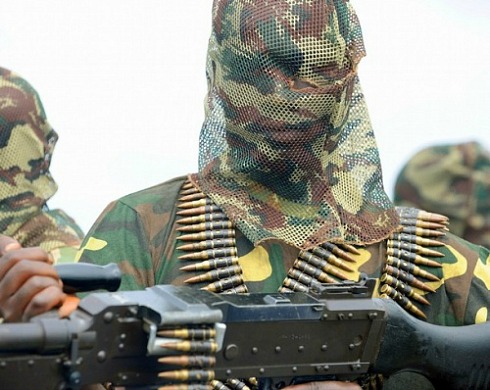 In Nigeria, a radical Islamic sect known as Boko Haram is responsible for carrying out multiple terrorist attacks killing thousands. AFP/Getty Images; Courtesy: frontpagemag.com
(Reuters) - Three of Africa's largest extremist groups are sharing funds and swapping explosives in what could signal a dangerous escalation of security threats on the continent, the commander of the U.S. military's Africa Command said on Monday.
General Carter Ham said there are indications that Boko Haram, al Shabaab and Al Qaeda in the Islamic Maghreb - groups that he labeled as the continent's most violent - are sharing money and explosive materials while training fighters together.
"Each of those three organizations is by itself a dangerous and worrisome threat," Ham said at an African Center for Strategic Studies seminar for senior military and civilian officials from Africa, the United States and Europe.
"What really concerns me is the indications that the three organizations are seeking to coordinate and synchronize their efforts," Ham said. "That is a real problem for us and for African security in general."
The United States classified three of the alleged leaders of the Islamist sect Boko Haram, based in remote northeast Nigeria, as "foreign terrorist," on June 20. But it declined to blacklist the entire organization to avoid elevating the group's profile internationally. Police in Nigeria said members of the group seized a prison there Sunday and freed 40 inmates.
Islamist militant group al Shabaab is active in war-ravaged Somalia and has been blamed for attacks in Kenya. Last year it claimed responsibility for the death of Somali Interior Minister Abdi Shakur Sheikh Hassan.
Al Qaeda in the Islamic Maghreb (AQIM), an affiliate of al Qaeda based in North Africa, is mainly a criminal organization operating in the Sahel region. It kidnaps Westerners for ransom and aids Africa's drug trade, according to intelligence officials.
MALI FEARS
U.S. and regional officials fear that a power vacuum in northern Mali following a military coup in March may open an expanded area of operations for Islamist militants. Some western diplomats talk of the country becoming a "West African Afghanistan."
Ham said AQIM was now operating "essentially unconstrained" throughout a large portion of northern Mali, where Islamists have imposed a harsh version of Shariah law.
The group was a threat not only to the countries in the region, but also has "a desire and an intent to attack Americans as well. So that becomes a real problem," Ham said.
Emphasizing that the U.S. military plays mainly a supporting role in Africa, Ham said the United States is providing intelligence and logistical help in the hunt for Ugandan warlord Joseph Kony, whose Lord's Resistance Army is accused of abducting children to use as fighters and hacking off limbs of civilians.
The International Criminal Court in The Hague indicted Kony for crimes against humanity in 2005, and his case hit the headlines in March when a video entitled "Kony 2012" put out by a U.S. activist group and calling for his arrest went viral across the Internet.
Ham said he was confident that Kony would ultimately be apprehended by African troops.
"This is an African-led effort," Ham said. "It is the African Union increasingly taking a leadership role with a little bit of support from the United States military. We think that is the right approach."
Original article here.
We welcome your comments, but please comply with our
Comment Rules.
You must be registered and logged in to leave a comment. Comments will display your Username and location.
Log In »
Notable Quotables

"Mr. Netanyahu is one of the most media-savvy politicians on the planet. On Friday he appeared live via video link on 'Real Time with Bill Maher,' taking the host's alternately sardonic and serious line of questioning with gazelle-like alacrity."

~  Anthony Grant, jourrnalist who has written for many major newspapers and worked in television at Paris and Tel Aviv, interviewing former PM Benjamin Netanyahu on Monday, at the outset of Mr. Netanyahu's new book (more here).