Archives


Fortress America
____________________


Build It Or Not, They Will Come
____________________


ISLAMophobia or JEWophobia?
____________________


League of Gutless Wonders
____________________
January 15, 2012
'I Was Threatened With Death For Doing My Job'
This is the same Arab League delegation of of "human-rights observers," headed by genocidal Sudanese General Mustafa al-Dabi and made up of delegates representing some the worst human-rights abusers on earth.
So much for the sending foxes to guard the hen house...
Telegraph.co.uk | January 15, 1012
'I was threatened with death for doing my job', says Arab League observer to Syria
ARAB League observers in Syria have been "threatened with death" if they criticise the country's murderous regime, according to a member of the team who quit last week.
By Nabila Ramdani in Paris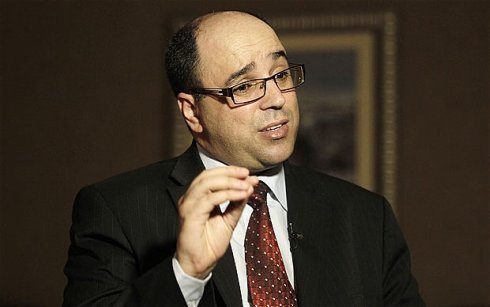 Anwar Malek said he had survived an assassination attempt as he left the 'international
disaster zone' of Homs, the central Syrian city, after 15 days Photo: REUTERS
Anwar Malek, who decided to leave the country week after complaining of "overwhelming intimidation", said he had watched men, women and children being slaughtered as the popular uprising against President Bashar al-Assad intensified.
But it was fears for his own safety which eventually prompted 40-year-old Mr Malek to "find my own way out of the country so I could tell people exactly what was going on".
In an exclusive interview with The Sunday Telegraph in which he spoke at length for the first time, the former officer in the Algerian Army said he had survived an assassination attempt as he left the "international disaster zone" of Homs, the central Syrian city, after 15 days.
"That's the moment I decided I couldn't take any more," said Mr Malek, who is now in France, where he lives with his wife and daughter. "Blackmail ranged from threats of death, to public humiliation.
"We were meant to be monitoring a peace-keeping effort but instead watched people being killed, beaten up, and arrested by police, soldiers and militiamen."
His comments came as the Emir of Qatar became the first Middle Eastern leader to propose sending Arab troops into Syria.
In an interview with the US television network CBS, to be broadcast today, Sheikh Hamad bin Khalifa al-Thani was asked if he favoured Arab intervention. He replied: "For such a situation to stop the killing... some troops should go to stop the killing."
Qatar's prime minister heads the Arab League committee on Syria and has said killings have not stopped despite the presence of the Arab monitors. The emir's intervention is significant because Qatar was among countries which backed last year's Nato air campaign in Libya to help topple Colonel Muamar Gaddafi in Libya.
Mr Malek, now a professional writer, was selected to join the monitoring mission by the Paris-based Arab Committee for Human Rights because of his record criticising abuses in Algeria, but in Syria found his position "utterly compromised."
His testimony will increase fears that the mission will be unable to quell repression of the protests which has already claimed more than 5,000 lives since March, according to the United Nations.
The situation became so intimidating that Mr Malek left in a hurry on Wednesday, boarding a flight to Doha while still wearing the bright orange vest worn by the 165 Arab League monitors.
His sudden exit infuriated some senior members of the mission, who accused him of "being ill" and of criticising the Syrian government unnecessarily.
But Mr Malek said: "Any negative comments were ignored, and the authorities tried to blackmail us into keeping what we saw a secret. Our mobile phones were blocked, and we were told not to use email or social networking sites like Facebook to post information.
"This included reports of young children being shot dead, or being left to starve along with the rest of their families. They did not even have the most basic provisions, while prisoners were given one snack a day if they were lucky. Those that survived were terrorised daily.
"Spies were watching us the whole time – with cameras, with binoculars, and with secret surveillance equipment. All of our minders and drivers worked for the intelligence services too.
"I was ordered to stay in my hotel room for long periods, and was later told that I was being pictured at all times, including when I came in and out of the shower.
"The idea was that they had naked photographs of me and that they would be used to humiliate me if I became a problem."
The mission, only agreed to by Syria after weeks of stalling, is the first of its kind undertaken by Arab observers inside an Arab country, leading some to accuse it of collusion. Mr Malek said: "Some of the monitors were clearly on the side of the Syrian authorities, especially those in charge.
"It was ultimately orchestrated to stop western countries taking action, and especially those who want to use military force."
Mr Malek said that Homs, Syria's third city, should be declared an "international disaster zone" so that aid agencies could get in. He said: "I saw the bodies of three soldiers in a barracks who had been shot in the back as they tried to get away. It was clear that they had been summarily executed for defying the regime."
President Assad insists that the uprising is being orchestrated by "terrorists" who want him overthrown in the same violent manner as Colonel Muammar Gaddafi.
Mr Malek said he arrived in Syria on Dec 26, at the start of Arab League mission. Since then at least 400 have died, according to the UN figures.
"The situation deteriorated from day one," he said. "Snipers were opening up on anyone who came into the street. Civilians who were nothing to do with the violence were carted away by police too."
The final straw came on Monday, he said, when there was an apparent assassination attempt as he and other mission members were driven from Homs to Damascus. While passing through the turbulent Baba Amro district of Homs, which has been the scene of fierce fighting, they came under sustained gunfire.
"The government was risking killing some of us," said Mr Malek. "The stretch of road was controlled by the army and Shabiha fighters, who are on their side. The attack had been planned in advance."
Mr Malek also suggested that the mortar attack on Wednesday which killed French cameraman Gilles Jacquier, who was working with France2 television in Homs, was also orchestrated by the Assad regime. Mr Jacquier, who was on a government- approved trip, was the first foreign journalist killed since the protests began.
Nicolas Sarkozy, the French president, joined the chorus of dismay at his death, saying: "France expects the Syrian authorities to shed light on the death of a man who was simply doing his job - reporting."
An Arab League peace plan was meant to involve the Army pulling out of civilian areas across Syria, political prisoners being released, and the al-Assad government negotiating with its opponents.
But Mr Malek said there had been no progress on any of the measures. "Tanks are just hidden away until the monitors move on," he said. "No prisoners have been released, and dialogue between opposing forces is zero."
He was particularly critical of Mohammed al-Dabi, the Sudanese general who is leading the Arab League mission, but who has been criticised for alleged human rights abuses himself in the Darfur conflict. "His main aim is not to annoy the Syrian authorities," said Mr Malek. "He does not want to intimidate anyone."
A spokesman for the Arab League said many of Mr Malek's claims were "unfounded", and accused him of spending much of his time in Syria "ill in bed", rather than joining field missions to cities like Homs.
Original article here.
We welcome your comments, but please comply with our
Comment Rules.
You must be registered and logged in to leave a comment. Comments will display your Username and location.
Log In »
Notable Quotables

An ancient Mikveh (Jewish ritual bath) dated to the time of the second temple was unveiled in Jerusalem during archaeological excavating near the Western Wall. 

~  Michal Hever, Hebrew University. On Twitter.