Archives
AND MORE...


Top Threat of 2012
____________________


League of Gutless Wonders
____________________


ISLAMophobia or JEWophobia?
____________________


I-n-d-e-f-e-n-s-i-b-l-e
____________________
January 13, 2012
Build It Or Not, They Will Come
Isolationists and searchers of root causes will have a field day with this latest terror plot in Bangkok (see below), figuring how, why, what or who to blame, except for the plotters, perpetrators and sponsors, that is.
What does Lebanese terrorist group Hezbollah, a proxy of Iran, have against Thailand? What are the root causes for such behavior?
Who cares, as anyone who knows anything about these Islamic terrorist groups knows their motivations have nothing to do with what we, or the rest of the civilized world, do or don't do!
Why, for example, do Arab/Muslim countries hate each other? Why does the Arab League, for example, send a "human rights" delegation, headed by a genocidal Sudanese General no less, to observe the extent of the massacres being perpetrated by the Syrian government against its people? (Of course, the delegates high-tailed it outta there the moment they realized hey, it's dangerous hangin' around here.)
There will never be a dearth of excuses, root causes or people/nations to blame for others' bad behavior. The only thing we (and our allies) can do is make it known, in word and, more importantly, in deed that certain things are UNACCEPTABLE to us. Terrorism/barbaric behavior (attempted, perpetrated or merely a glimmer in someone's eyes), against us and/or our allies, should be #1 on that hit parade.
Things will only change when Islamic terrorists and their pals are the ones worrying about root causes, not us.
The New York Times | January 13, 2012
Arrest in Thailand After U.S. Terror Alert
By J. David Goodman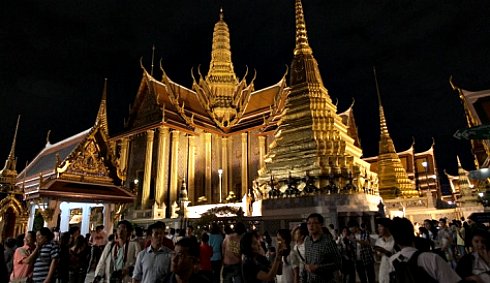 Thai and foreign tourists tour the Temple of the Emerald Buddha in Bangkok, Thailand. Courtesy: Haaretz.com/ Photo by: AP
Amid public warnings from the United States and Israel of a possible terror attack, Thai officials said Friday that they had arrested a Lebanese man believed to be a member of Hezbollah in connection with a plot to strike tourists in Bangkok.
Thailand's deputy prime minister, Chalerm Yubamrung, said that the arrest came after weeks of coordination with Israel that began with a tip-off in late December. In an interview with Thai television, he said the Israeli government had informed Thai officials that "a group of people who appear to be from the Lebanese group Hezbollah" were planning to strike tourist sites in Bangkok in mid-January.
The country's defense minister, Gen. Yuthasak Sasiprapha, said the plot may have involved using a car bomb at tourist sites, synagogues and the Israeli Embassy. He said Israel intelligence agents first informed authorities in Thailand on Dec. 22 that two or three men were suspected of plotting an attack in Bangkok, the Thai capital.
On Sunday, the agents again warned of an attack, possibly set to occur the following weekend at a site popular with Western tourists, like Khao San Road, where many backpackers and other visitors congregate, General Yuthasak said in an interview with the Thai newspaper Naewna.
He said that security agencies from Thailand and Israel cooperated in tracking the men and that one of them had been arrested and was now being questioned. "Apart from this, U.S. officials have asked Thai officials to track down the terrorists," he said, adding that some Israelis living in Thailand also have American citizenship.
Earlier Friday, the American Embassy in Bangkok issued an emergency message on its Web site, warning of a possible attack by "foreign terrorists" against Americans in Thailand.
The Israeli government's counterterrorism bureau followed suit shortly afterward, issuing an unusually stern warning to Israeli citizens to avoid visiting Bangkok in the near future. For Israelis already there, it urged them to avoid places where Israelis are known to congregate and to reject packages from unknown people there. It also told them to obey the instructions of Thai security officials.
The warning by Israel highlighted its concern that an attack could be carried out against Israeli tourists or residents.
An Israeli official, speaking on the condition of anonymity, said that while he could not officially confirm what the Thai deputy prime minister said about cooperation between the two countries' security services, it was clear from the warning that there had been communication and coordination. He added that despite the arrest, the danger was far from over.
Thai officials, however, attempted to calm nerves in the capital by reassuring residents that they had control over the situation. "I would like to tell the Thai people and foreigners that you can be free of worries from what the U.S. Embassy has warned because Thai authorities have known about this before New Year's Day," Mr. Chalerm, the deputy prime minister, said. "Thailand is a polite country. Terrorism can happen anywhere else, but in Thailand? No, we will not allow you to do so."
The embassy alert, addressed to American citizens, warned that "foreign terrorists may be currently looking to conduct attacks against tourist areas in Bangkok in the near future" and urged "caution when visiting public areas where large groups of Western tourists gather in Bangkok."
Tourism is one of Thailand's major industries, and millions of foreigners visit the capital each year, according to Thai government statistics.
Mr. Chalerm told The Associated Press that the authorities had been tracking at least two men but arrested only one, who was being held in connection with possible immigration violations. "Technically, the two men have not committed any crimes under the Thai law, so we could only use the immigration law to keep this one suspect in custody," he said.
Poypiti Amatatham contributed reporting from Bangkok and Ethan Bronner from Jerusalem.
Original article here.
We welcome your comments, but please comply with our
Comment Rules.
You must be registered and logged in to leave a comment. Comments will display your Username and location.
Log In »
Notable Quotables

"Obviously, if Iran has nuclear weapons, it's very bad news for basically everyone. It's very bad news for Israel, clearly, but it's also very bad news for America. You do not contain an Islamist bomb, you prevent it."

~  Former Israeli prime minister Benjamin Netanyahu, telling Congress in a special Congressional virtual mission on Thursday (more here).