Archives

AND MORE...


Turkey (or U.S.) Problem?
_____________________


Heartwarming Capture
_____________________



Another Good Ship Lollipop
_____________________


Obama's Turkeys
_____________________
June 4, 2012
Turkeys
Why in the world should Israel apologize to Turkey for the 2010 flotilla incident, i.e., the Gaza-bound flotilla that illegally attempted to breach a legal naval blockade?! You know, the one with all those so-called human rights activists on board, seen waving metal pipes, guns, knives and such other instruments of love to use against Israeli soldiers who would board the Turkish Mavi Marmara after multiple warnings to turn back went unheeded?
The blockade was LEGAL. The flotilla's attempts to breach it were ILLEGAL. In fact, even the rabidly anti-Israel UN issued a report vindicating Israel (see "A United Nations Miracle"). It's not that complicated, folks. If someone tried to break into your home, waving a knife, a gun or a metal pipe and ignored repeated warnings to leave, what would you do? Chances are you'd shoot the bugger, call the police, and then NOT issue an apology to the intruder for defending your family!
Israel should tell the Turks to put a sock in it. (And btw, for a people who are so big on "apologies," have the Turks ever apologized for the Armenian Genocide, i.e., their systematic slaughter of 1.5 million Armenians?)
And to the oh-so-wise Michele Flournoy, "who played a key role in shaping US President Barack Obama's national security policy" [what national security policy?!], Israel should ask Ms. Flournoy about her comment that "Turkey was one of the strongest and most influential voices in the region, remained a close and valued NATO ally for the United States, and shared 'our interest in preventing Iran from becoming a nuclear weapon state.'"
Would this be the same close and valued NATO ally, who in 2003 refused to allow U.S. troops ingress to Iraq from Turkish territory? The same close and valued NATO ally whose refusal caused a myriad of problems for the U.S., not least of which was cutting off a major resupply route to U.S. troops? Or the close and valued NATO ally, whose Islamist prime minister, Recep Tayyip Erdogan, has declared himself a servant of sharia and, after consolidating control of the media, has fed his people a "steady diet of anti-Americanism and religious incitement"? Perhaps this is the close and valued NATO ally, who consistently spits on a real U.S. ally, i.e., Israel?
If Michele Flournoy "played a key role in shaping" President Obama's so-called national security policy, no wonder Mr. Obama has difficulty differentiating between friend and foe.
Jerusalem Post | June 4, 2012
FM Cites US Precedent For Refusing Turkey Apology
Liberman says if US does not apologize over killing of Pakistanis, Israel should not have to apologize over 'Mavi Marmara' raid.
By Herb Keinon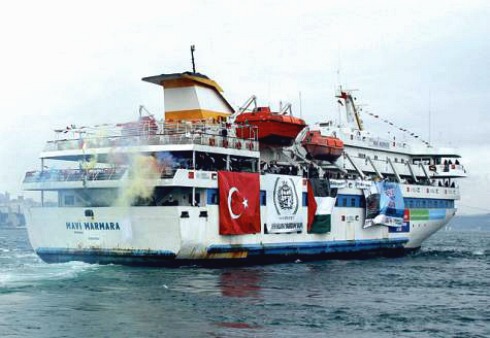 Mavi Marmara Photo: Stringer Turkey / Reuters
If the US adamantly refuses to apologize to Pakistan for the accidental killing of 24 Pakistani soldiers last November, Israel certainly need not say sorry to Turkey for the Mavi Marmara deaths, Foreign Minister Avigdor Liberman said Monday.
Liberman, speaking at an accountants' conference in Eilat, said Israel should not hesitate to make this position clear to Washington.
"The Pakistanis asked the US to apologize, and the Americans said 'no way'," Liberman said in reference to the November incident where US forces accidentally fired on two Pakistani border posts.
The US has since expressed regret for the incident, something Israel has also said it was willing to do regarding the killing of nine Turks on the May 2010 flotilla that aimed to break the blockade of Gaza.
"So when they come to us and pressure us to apologize over the Marmara, because of this or that constraint, sometimes even to best friends you must say 'no.' Otherwise, no one will respect you," Liberman declared.
Liberman said the commandos who boarded the Mavi Marmara and clashed with those on the ship were clearly exercising their rights of self defense. The Turkish pressure on Israel to apologize now is to "deter us from using the legitimate right for self defense," he said.
Last week a Turkish court decided to indict former IDF chief of staff Lt.-Gen. (res) Gabi Ashkenazi and three other former top IDF officers for involvement in the Mavi Marmara incident.
Liberman said his position on the issue remains the same as it was immediately following the incident: "We were right, and you don't apologize over something right, regardless of the pressure."
Michele Flournoy, who served as the third top official in the Pentagon before stepping down earlier this year, said last week at Institute for National Security Studies conference in Tel Aviv that it was very important for "Israel to repair its relationship with Turkey."
Flournoy, who played a key role in shaping US President Barack Obama's national security policy, hinted that Israel should apologize, saying Turkey was one of the strongest and most influential voices in the region, remained a close and valued NATO ally for the United States, and shared "our interest in preventing Iran from becoming a nuclear weapon state."
While acknowledging that "she understands that past events have made concrete steps towards reconciliation quite difficult," Flournoy said "if there is ever a time for Israel to rise above past differences and recriminations with Turkey, now is that time. Israel must act more strategically, and I think there is tremendous opportunity to rebuild its partnership with Turkey and with other partners where it can. This is really important at a time of such [regional] uncertainty."
The Wall Street Journal reported in May that during discussions last December in Washington over whether it should apologize to the Pakistanis, Flournoy suggested language whereby the US would apologize for the "unintentional and tragic" deaths, but would not accept full responsibility. According to the paper, she argued that the "US risked the issue festering."
No US apology has yet been forthcoming, and the Journal quoted a senior administration official as wondering how Washington could apologize to a country that was providing, at least through some parts of its government, tacit support to those attacking US troops.
"This isn't about politics," the official is quoted as saying. "This is about the message that would send to our troops and that's what no one in the military or the White House could countenance."
Original article here.
We welcome your comments, but please comply with our
Comment Rules.
You must be registered and logged in to leave a comment. Comments will display your Username and location.
Log In »
Notable Quotables

"Mr. Netanyahu is one of the most media-savvy politicians on the planet. On Friday he appeared live via video link on 'Real Time with Bill Maher,' taking the host's alternately sardonic and serious line of questioning with gazelle-like alacrity."

~  Anthony Grant, jourrnalist who has written for many major newspapers and worked in television at Paris and Tel Aviv, interviewing former PM Benjamin Netanyahu on Monday, at the outset of Mr. Netanyahu's new book (more here).