September 26, 2011
Obama's Turkeys
"What role the Obama administration expects Turkey to play in its regional strategy has yet to be made clear," writes Lee Smith. Perhaps, although it woulda been nice to know their "role" before we agreed to sell them Predator drones (see below).

Other than cozying up to Iran's Ahmadinejad, and sending armed "aid" flotillas to Gaza, what has Turkey done for us lately?

Leading from behind doesn't even begin to to describe the national security mess this Obama presidency has created for us and our allies.


The Weekly Standard | September 26, 2011
Obama Sold Turkey Drones
By Lee Smith
In Newsweek, Eli Lake reports that "Obama Sold Israel Bunker-Buster Bombs." Actually, as the story notes, it was George W. Bush who ordered the bombs toward the end of his second term. Former Israeli prime minister Ehud Olmert wanted them delivered in 2007, but Bush told him to wait until 2009-2010, and in 2009, according to Lake's story, "Obama finally released the weapons."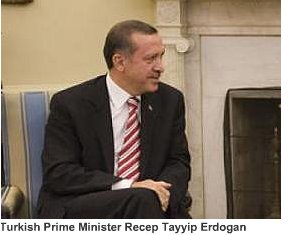 Maybe it's not the case, as some have speculated, that "news about the bunker buster sale was leaked now" for domestic reasons, "to prove [Obama] is as good a friend to Israel as any of his predecessors." However, it's worth noting another U.S. arms deal receiving considerably less attention.
Yesterday, the Turkish media reported, "Turkey … agreed with the US on a deal involving the transfer of US-engineered unmanned aerial vehicles (UAVs) that could prove crucial in combating terrorism." The Predator drones, expected to be delivered in Jun
2012, are supposed to help the Turks combat terrorists,which in Ankara's narrow definition means the Kurdistan Workers' Party (PKK) crossing into Turkey from the Iraq border.
The Predators, said Turkish defense minister ?smet Yilmaz, "are UAVs with better qualities and features than the [Israeli-made] Herons." Ankara, the report explains, was "disappointed by Israel's failure to return six Herons it had sent to the country for maintenance."
Presumably, Jerusalem held on to the drones to maintain some sort of leverage with Prime Minister Recep Tayyip Erdogan, reminding him that he was risking the two countries' strategic alliance with Turkey's new anti-Israel foreign policy posture. The White House has reportedly tried to patch up relations between Turkey and Israel but by selling the drones, Obama has effectively reinforced Ankara's worldview—that it doesn't need Israel and is free to take whatever position it likes since Washington will fill the gap.
The point, finally, is not whether Obama is anti-Israel but whether or not he understands that Israel is the keystone in America's regional security architecture. Right now, it seems, the White House is only capable of seeing Israel as a hot-button domestic issue, but those bunker-busters are meant to address and perhaps solve a shared strategic concern—Iran's nuclear program. Jerusalem believes that Iranian nuclear weapons are an existential threat to the Jewish state—and whether Washington recognizes it, they are also an existential threat to American hegemony in the region. The Turks explicitly do not share that concern.
Mahir Zeynalov, the night news editor of Turkey's Today's Zaman, reported today on his Twitter feed that Erdogan explained Ankara's regional sensitivities regarding the basing of a NATO radar system in Turkey designed to warn against Russian and Iranian missiles: "Turkey's [sic] won't ever allow any strike on Iran unless its territory is under attack." What role the Obama administration expects Turkey to play in its regional strategy has yet to be made clear.
Original article here.
We welcome your comments, but please comply with our
Comment Rules.
You must be registered and logged in to leave a comment. Comments will display your Username and location.
Log In »
Notable Quotables

"Mr. Netanyahu is one of the most media-savvy politicians on the planet. On Friday he appeared live via video link on 'Real Time with Bill Maher,' taking the host's alternately sardonic and serious line of questioning with gazelle-like alacrity."

~  Anthony Grant, jourrnalist who has written for many major newspapers and worked in television at Paris and Tel Aviv, interviewing former PM Benjamin Netanyahu on Monday, at the outset of Mr. Netanyahu's new book (more here).