Archives

AND MORE...


Strangle The Funding
_____________________


The Winners
_____________________


Travel Alert
_____________________


Benghazi Minus Bodies
_____________________
April 6, 2015
Sleazy & Sleazier
Apparently, Saudi Arabia's media outlets are expressing a sense of betrayal loud and clear, over the framework nuclear agreement reached Thursday in Lausanne between world powers and Iran. You can read about the Saudis lamenting & whining below.
CONVERSELY, you can also read about the Saudis welcoming the interim deal between Iran and the world powers, here and here.
So why would the betrayed Saudis welcome the deal?
Well, it could have something to do with the fact that the U.S. Department of Defense cleared the way on Thursday for American military planes to start refueling Saudi Arabian jets bombing Huthi fighters in Yemen.
One can always rely on the duplicitous SaudIs to play it both ways, which is more than we can say about fickle America under Obama.
Sleazy and sleazier, take your pick.
Times of Israel  |  April 6, 2015
Obama Sold The Sunnis Down The River, Saudi Media Say
Gulf states are prepared to 'go it alone' against Iran if need be, writes prominent Arab journalist
By Elhanan Miller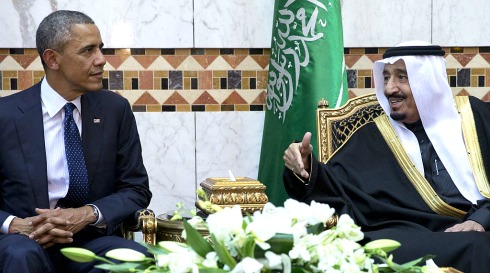 President Barack Obama meets with new Saudi Arabian King, Salman bin Abdul Aziz, at Erga Palace in Riyadh, Saudi Arabia, Tuesday, January 27, 2015 (photo credit: AP/Carolyn Kaster)
Saudi officials may have been masking their dismay over the framework nuclear agreement reached last week in Switzerland between world powers and Iran, but the kingdom's official media outlets are expressing a sense of betrayal loud and clear.
"Gulf states — and especially Saudi Arabia, the Emirates, Qatar, Kuwait and Bahrain — have been experiencing the nightmare of an Iranian attack for decades," the former editor-in-chief of Saudi-owned daily A-Sharq Al-Awsat, Abdul Rahman Rashed, wrote in an op-ed titled "Iran vs. Saudi Arabia" on Monday. "Now, after the nuclear agreement, there is no doubt that the danger has doubled. People are angry with the Obama administration for selling this region cheaply. He left it to its own devices to face an evil state."
US President Barack Obama's vague recent promise to defend Saudi Arabia's borders from possible Iranian aggression requires better clarification, Rashed insisted.
"As long as the Americans don't explicitly state their commitment to defend Saudi Arabia from Iran and Iraq, we will face large-scale regional anarchy as a result of the nuclear deal," he asserted. "The Iranians are claiming that Obama is uninterested in the security of the Gulf and his American allies in the region. This Iranian thinking will lead to more regional wars."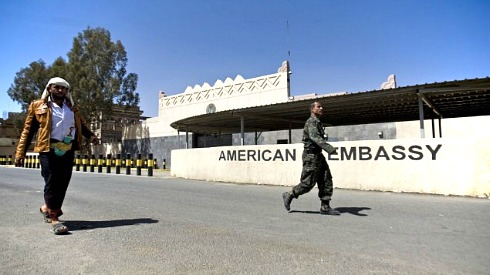 Houthi Yemenis walk past the gate of the main entrance of the closed U.S. embassy after Yemeni police opened the road in front of it, in Sanaa, Yemen, Wednesday, March 4, 2015 (photo credit: AP/Hani Mohammed)
By regional wars, Rashed was referring primarily to the Shiite Huthi insurgency in Yemen, believed to be politically backed and funded by Iran. Saudi Arabia is leading a Sunni Arab coalition in a campaign of aerial strikes against Huthi strongholds across the country.
Frustrated with America's perceived weakness, Rashed threatened that Gulf Arabs could "go it alone," but at a terrible cost.
"Saudi Arabia, together with four Arab states — the Emirates, Qatar, Kuwait and Bahrain — are able, if need be, to confront Iran. But such a war will be very costly, leading to anarchy and destruction. People are angry with the Obama administration because it has limited the conflict to the nuclear issue, while Tehran continues to mull further geographic gains. Iran's wars were actually always against Gulf states; not against Israel."
Iran has actually been emboldened even before the agreement was signed merely by its negotiating posture, argued Ghassan Charbel, the editor-in-chief of Al-Hayat, the London-based Saudi-owned liberal newspaper of record.
"In the shadow of the latest round of nuclear negotiations, Iran has launched the most dangerous episode of its regional onslaught, namely the Houthi revolution, which has reached the borders of Aden and [the strait of] Bab el-Mandeb," wrote Charbel in Al-Hayat's apocalyptic editorial Monday, titled "It is a regional battle."
"Perhaps [Iran] relied on three things: first, Obama's reluctance to take a firm position that would hamper negotiations. Second, that Saudi Arabian anger would not reach the point of deciding to go to war. And third, that Egypt and Turkey's resolve would not match Saudi Arabia's."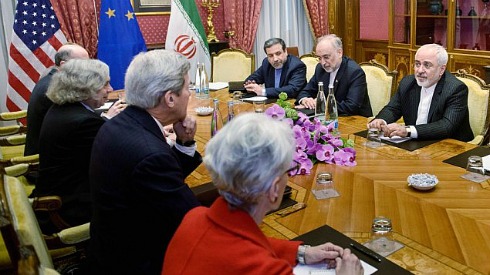 From left: Robert Malley, of the US National Security Council, US Secretary of Energy Ernest Moniz, US Secretary of State John Kerry, US Under Secretary for Political Affairs Wendy Sherman, Iranian Deputy Foreign Minister Abbas Araghchi, Head of Iranian Atomic Energy Organization Ali Akbar Salehi and Iranian Foreign Minister Mohammad Javad Zarif wait for a meeting, Friday, March 27, 2015 in Lausanne, Switzerland (photo credit: AP/Brendan Smialowski)
"It is a regional battle," Charbel concluded. "It is too early to predict how the ramifications of the nuclear deal will affect it. Experience has shown that the international management of the region is lacking, poor, or transitional. Regional players can make the big ones face new facts."
One of those regional players, King Salman of Saudi Arabia, met on Sunday in Riyadh with another, the president of Azerbaijan, Ilham Aliyev, Iran's northern neighbor and an ally of Israel. According to a cryptic report by the official Saudi news agency, the two leaders "discussed developments in the region and the world."
Indeed, an op-ed published Monday in the Saudi daily al-Watan clearly demonstrated that self-reliance is the new name of the game for Gulf Arabs, led by Saudi Arabia.
"America and Iran both know that objections by Congress, Israel or Iran to the agreement signed are worthless, since the agreement touches on Arab and Gulf national security," wrote columnist Ahmad al-Ghaz. "The world has clearly witnessed how Iran has violated Arab states, declaring its control of four Arab capitals, after having kidnapped the Palestinian cause by supporting the political divide [between Fatah and Hamas]."
"Obama… has allowed these states to crumble and collapse without lifting a finger, under the slogan of 'protecting [the nuclear] negotiations.' Now, the Arabs will no longer allow the American silence to continue in the face of Iran's tampering with the security of Arab nations," he concluded.
Original article here.
We welcome your comments, but please comply with our
Comment Rules.
You must be registered and logged in to leave a comment. Comments will display your Username and location.
Log In »
Notable Quotables

An ancient Mikveh (Jewish ritual bath) dated to the time of the second temple was unveiled in Jerusalem during archaeological excavating near the Western Wall. 

~  Michal Hever, Hebrew University. On Twitter.